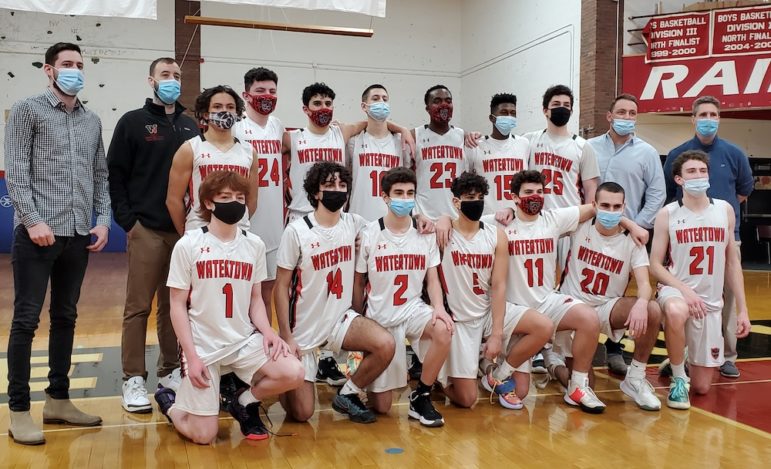 An empty Watertown High Gym does not have the same feel as a rowdy TD Garden, but Saturday's Middlesex League Boys Basketball Championship on Saturday had a special feel for the victorious Raiders.
The league tournament was the only postseason on offer during COVID-19, and senior Gabe Spinelli put an exclamation mark on the win by dunking the ball as time ran out in Watertown's 64-57 defeat of Winchester.
"It's not the state championship but it's something," Spinelli said. "The fact that we had (a game with) a postseason feel is huge, and that helped us a lot in this game."
The Raiders jumped out to an early lead and maintained a five point lead at the end of the first quarter, and a 10 point lead at the half — 29-19. Watertown Head Coach Steve Harrington was happy how other players stepped up when the team's usual high scorer, Spinelli, was held to just two points.
"(Junior Adam) Patterson really kept us in it. I think he was four-for-four from the three point line," Harrington said. "We had to make some threes, I figured that — they are a little bigger than us. (Patterson) in particular, (when) they were doing a good job on Spinelli, he kind of got us that lead there."
Along with Patterson's three point prowess, junior Tyler Temperio added two treys and senior Matt Oliveira made one.
Winchester whittled down the lead in the second half, and with 6:25 left in the fourth an Omar Shakeel three-pointer narrowed the lead to 46-45.
At that point, Spinelli took over the game. He responded with 15 points down the stretch.
"I saw the clock winding down and it was kind of a close game up to that point and not everything was going our way, so I just wanted to finish strong and close out the win," Spinelli said.
Harrington pointed to his guard's ability to control the ball, and his speed, which allowed him to drive to the basket and score layups, draw a foul, or both. He also liked Spinelli's patience in the first half.
"He realized (the situation) and got guys shots. He didn't force it too much, and in the second half he got it going," Harrington said. "I think he had some key two point baskets for us when they really started to extend out their guys on the three."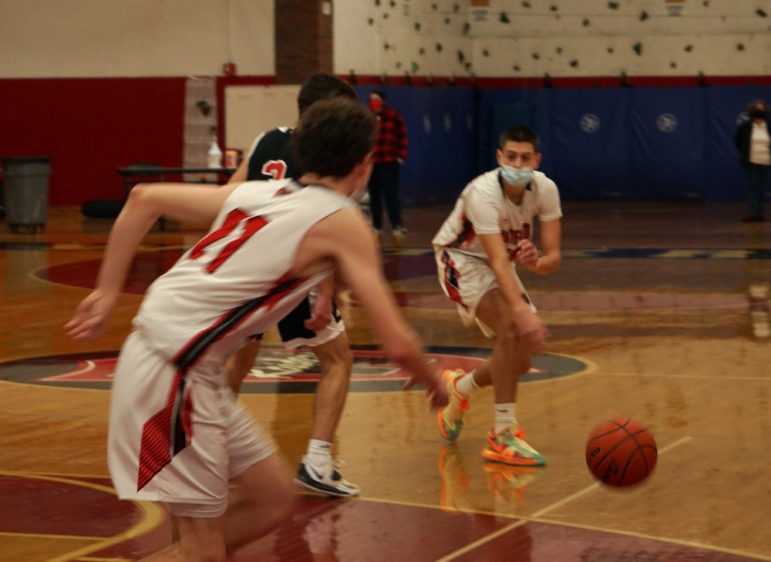 Watertown's assistant coaches — Anthony Coppola, Matt Coffey and Cory Fitzgerald — provided words of encouragement when Spinelli wasn't getting his points, early.
"Sometimes it's hard, when the other team frustrates you and is closing the gaps," Spinelli said. "You have (the coaches) in your ear saying, 'Keep going, you'll find your opportunities to score.' So that's what I did."
Spinelli led Watertown with 23 points, Patterson scored 14, and senior Jonathan Kimera added 13. Temperio had 8 and Oliveira scored 6.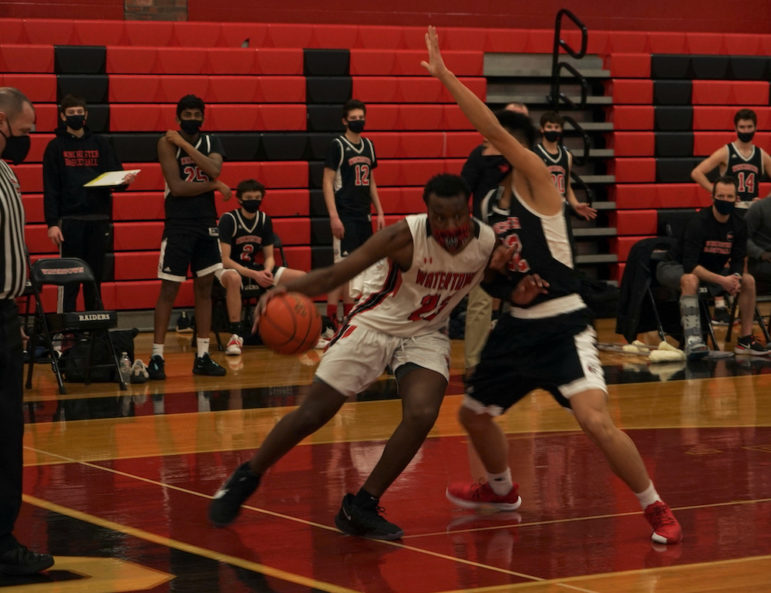 Watertown got to host the final after winning a coin flip with Winchester, according to Watertown Athletic Director Ryan Murphy.
The Raiders completed the season with a 12-1 record. Harrington enjoyed the special postseason tournament, and hoped it may not be a one-off.
"Imagine if we had this every year. We would have something before the State Tournament," Harrington said.