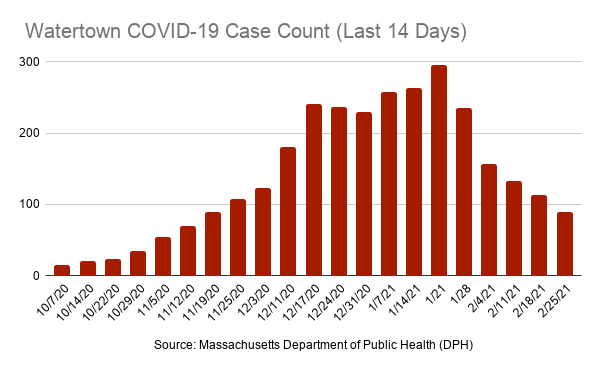 Watertown's COVID-19 cases dropped below 100 for the fist time since before Thanksgiving. Also, the list of those eligible for the vaccine will soon include teachers, and those looking for vaccines have a new option in the area.
The town had 89 cases over the previous 14 days according to the Mass. Department of Public Health's most recent report on Feb. 25. The number is the lowest since the same number was reported during the report of Nov. 19, 2020.
The total number of cases in Watertown during the pandemic is 2,009. The positive test rate dropped to 1.65 percent.
Watertown, MA COVID-19 Trends – Watertown Data (5) by Charlie Breitrose on Scribd
Vaccines
The State's COVID-19 vaccination program currently allows residents age 65 and older, as well as those with two or more comorbidities, to get vaccinated.
Beginning March 11, teachers in the Bay State will be able to get vaccination appointments, Gov. Charlie Baker announced on Wednesday, according to WBZ Channel 4. Teachers also are on the eligible list for sites getting doses from the federal government, including CVS pharmacies, due to a directive from the Biden Administration made Tuesday.
Vaccine sites in the area include the CVS in Coolidge Square (655 Mt. Auburn St.) and the one near Stop & Shop (189 Watertown St.). The closest MassVax site is at Fenway Park. See the locations by clicking here.
Charles River Comm Health's COVID-19 vaccine clinics have begun. On-site vaccine clinics are on Mon and Weds by appt only. They are open to Allston-Brighton, Watertown, and Waltham community members eligible for vaccination in alignment with the state's 3 phases. See flyer atch: pic.twitter.com/xPNNmMmtgf — City Of Waltham (@CityofWaltham) March 2, 2021
A new location for vaccines is offered by Charles River Community Health. They are open only to qualifying residents of Watertown, Waltham and Allston-Brighton. Clinics will be held in Waltham at 43 Foundry Ave. and in Brighton at 495 Western Ave. Find out more by clicking here.