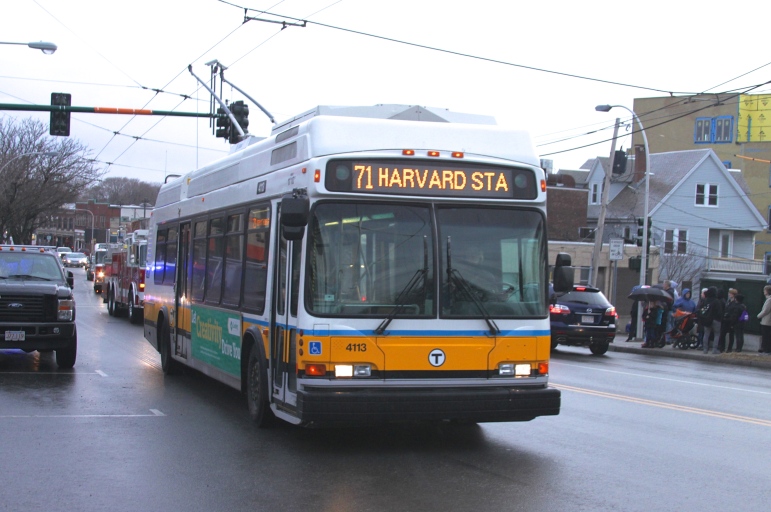 Several bus routes serving Watertown will see service decreased by the MBTA beginning on March 14.
Among the routes affected by the service reduction are the 71 and 73 buses. The 70 and 57 buses will see increases at some times of day and decreases at other times.
The Red, Green and Orange subway lines will also see significant reduction in frequency.
The changes were made by the MBTA in response to a drop of ridership in 2020 to only about a quarter of amount of riders before the COVID-19 pandemic. See more details of how the decisions were made here: https://www.mbta.com/forging-ahead.
Changes to Watertown Bus Routes
(Click on the route name to see the schedule)
52 (Watertown Yard to Dedham) – Seek alternate service with trip planner.
57 (Watertown Yard to Kenmore Square) – Weekday frequency increases in the afternoon and decreases throughout the rest of the day.
70 (Waltham to Central Square, Cambridge, via Main Street and Arsenal Street) – Weekday frequency increases in the midday and decreases in the morning and afternoon.
71 (Watertown Square to Harvard Square, via Mt. Auburn Street) – Weekday, Saturday, and Sunday frequency decreases throughout the day
73 (Waverley Square to Harvard Square via Belmont Street) – Weekday, Saturday, and Sunday frequency decreases throughout the day
502 (Express Watertown Yard to Copley Square) – Continues to be suspended.
Subway Changes
Around 20 percent frequency reduction to Green Line, Orange Line, and Red Line service
Up to 5 percent frequency reduction to Blue Line service
The RIDE Changes
As a result of changes to subway, bus, and Commuter Rail service, The RIDE will implement the following changes in the coming weeks:
Some RIDE ADA trips may become premium fare trips, complementing the changes to fixed route changes. RIDE service boundaries will not change.
Trips will be scheduled 40 minutes from request time instead of 30 minutes.
Premium service hours will be adjusted to complement Commuter Rail hours of operation.
RIDE customers impacted by these changes will be notified in the coming weeks.
For more information, visit mbta.com/ForgingAhead, mbta.com/servicechanges, or connect with the T on Twitter  @MBTA, Facebook /TheMBTA, or Instagram  @theMBTA.