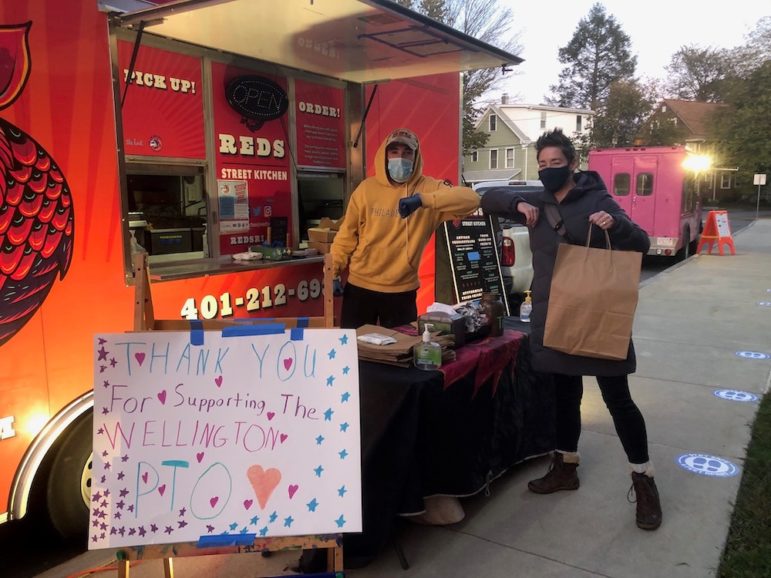 The pandemic has made fundraising for schools and PTOs more challenging, but a Watertown-based company has provided a way for schools to bring in money and also provide a tasty meal.
This school year, Food Truck Ventures started offering StrEATS for Schools, where food trucks can come to the school or neighborhood and provide food and bring in some funds. Several schools in the area, including Lowell Elementary School in Watertown, have taken advantage.
In a typical year, Lowell would have a Walk-a-thon to raise money, and also host a bake sale, said Jennine Tambio, who is co-president of the Lowell PTO with Liz O'Toole.
"We are always trying to raise money for the fifth graders. We do a lot of special things at the end of the year, graduation, some kind of class trip — this year a class event — and a year book," Tambio said. "We are trying to see how we can fundraise in creative ways because some of the traditional things, we couldn't do this year."
The idea of bringing food trucks to schools helps both the food truck owners and the schools, said Food Truck Ventures founder and Watertown resident Anne-Marie Aigner.
"Like the rest of the world, in March 2020 we pivoted. We had been doing food truck festivals around the country, mostly in New England," Aigner said. "When pandemic hit, we knew we wouldn't be able to do the festivals. We are close with the food trucks and wanted to do something for them."
Just as food establishments with brick and mortar locations have struggled during the pandemic, so have food trucks. Most relied on serving meals to people on their lunch break from work, or at big gatherings and events.
"It is really tough for small trucks. What's sad is they are all small businesses, usually a wife and husband running the food trucks," Aigner said.
Last year, Food Truck Ventures started food trucks to neighborhoods, and then Aigner came up with the idea for having them come to schools.
"The trucks pull up to the front of the school (or designated spot) and people have an assigned time," Aigner said.
People order the food ahead of time online, and select a time to pick it up. There are 15 minute blocks with a set number of spots. Trucks can come at lunchtime or in the evening. Aigner said the prices are designed to be reasonable so that they cover the costs for the food truck as well as bringing in money for the school.
"We've been in Belmont for months and Newton. Watertown just started participating and we also started in Waltham," Aigner said.
Tambio said Food Truck Ventures helps PTOs and schools to organize the event.
"Its very easy, (Aigner) said she would do basically everything: make flyers and handle the website that you do the ordering through," Tambio said. "My responsibility is to put it on social media and put in principal's newsletter." 
Lowell School will hold its food truck fundraiser on March 26 from 4-7 p.m. The location may not be at Lowell School, but will be in the neighborhood, Tambio said. The school requested two different food trucks to come.
"If works we can continue doing it next year for the overall (Townwide) PTO," Tambio said.
While a specific truck cannot be guaranteed, Aigner said schools can choose from a variety of cuisines: Asian, burgers, pizza, tacos, and they even have a lobster truck.