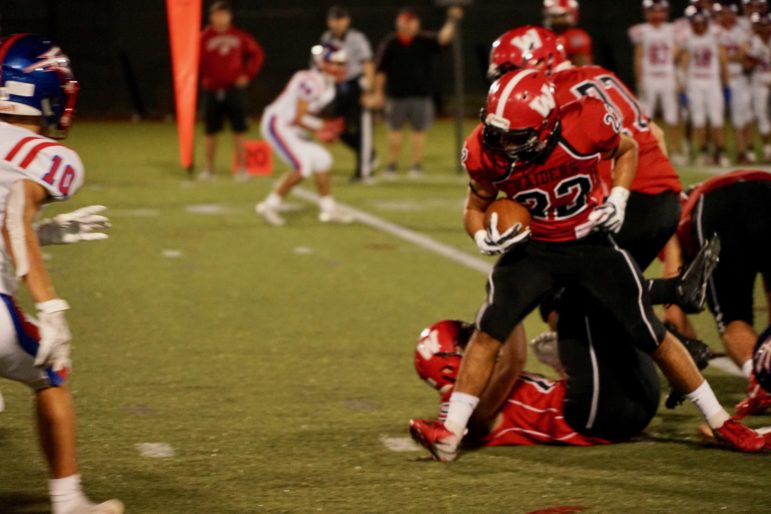 March traditionally is primetime for basketball, but during the COVID-19 pandemic in Massachusetts it is also time for some high school football.
The MIAA delayed the football season from the fall to March, in what has been dubbed "Fall II." Watertown High School will kick off its season Saturday, March 20 at 11 a.m. against Wakefield at Watertown's Victory Field.
"After 12 months of not having a lot to do, this is a real treat for us and I believe everybody in our program understands that and is treating it as if it's something special," said WHS Head Coach John Cacace.
The time of year may be different, but Cacace said his team has prepared in the same way as it has in prior years.
"Obviously, it's been a little different but when you come down to it, football is football and it's been great to be out with the players and coaching and preparing for a game," Cacace said.
The Raiders will have to deal with some special rules due to COVID-19.
"It's mainly the protocols that we have to abide by," Cacace said. "We can't be in the locker room and players need to be spaced out on the sideline and things like that that we have to just deal with. But once we get on the football field, a lot of it feels very familiar, and we are so excited to have the chance to play even if it's a shortened season."
Watertown has a core of returning players to provide leadership and skill on the field, Cacace said. The Raiders will have two experienced running backs, David Manoukian and Mason Andrade, and some skilled receivers: Will Dolan, Nate Master and Adam Patterson. The line returns several members, including Colin Owens, Hrachya Tonyan and Cam Reed.
"All in all, I think we have a talented group and I'm excited to see what they can do as we get underway this weekend," Cacace said.
Only a limited number of fans will be able to watch games in person. Home games will be shown live on Watertown Cable's Education Channel (Comcast Channel 8, RCN Channel 15), or online at WCATV.org.
Currently, the Raiders have five games scheduled, but Athletic Director Ryan Murphy said he hopes to schedule a game against Belmont at the end of the season.
2021 WHS Varsity Football Schedule
Saturday, March 20, 11 a.m. Home vs. Wakefield
Saturday, March 27, 11 a.m. Home vs. Melrose
Saturday, April 3, 11 a.m. Home vs. Stoneham
Saturday, April 10, 1 p.m. Away vs. Wilmington
Saturday, April 17, 10 a.m. Away vs. Burlington