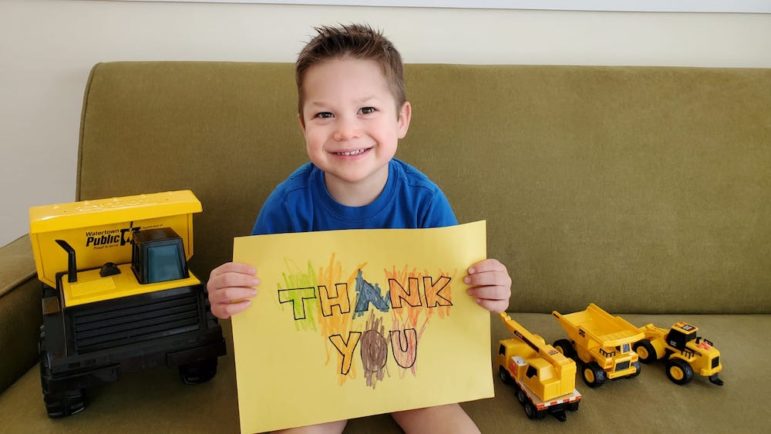 A 3-year-old Watertown boy had some special visitors Friday to help him celebrate the news that he has a clean bill of health after more than a year of cancer treatments.
Noah McManus waved to the police cruisers, fire trucks and Public Works vehicles that drove by his home Friday afternoon. He watched dozen of vehicles roll past with his parents and older brother Lucas and baby sister Lilah.
"This is more than we expected," said Noah's mother, Jessica.
The celebration came about in a roundabout way. Two weeks ago, Noah received the gift of a playhouse from Make-A-Wish Massachusetts and Rhode Island. The gift was so large that a crane truck was needed to come to lift it over the McManus' home and into their backyard. The foundation contacted the Watertown Police to get help with the truck that day, and Lt. James O'Connor told them that the family could reach out to the WPD if they needed anything.
Noah underwent a year of chemotherapy at Dana-Farber's Jimmy Fund Clinic after being diagnosed with a rare childhood cancer, his father Sean said.
"On the 23rd (of March) he had his MRIs, and we just got word that he was totally clear," Sean said.
Jessica reached out to the Watertown Police to see if they could help make a special day for Noah. O'Connor asked if the other town departments wanted to join the WPD in the parade.
"I put word out and the DPW and Fire Department jumped on it," O'Connor said.