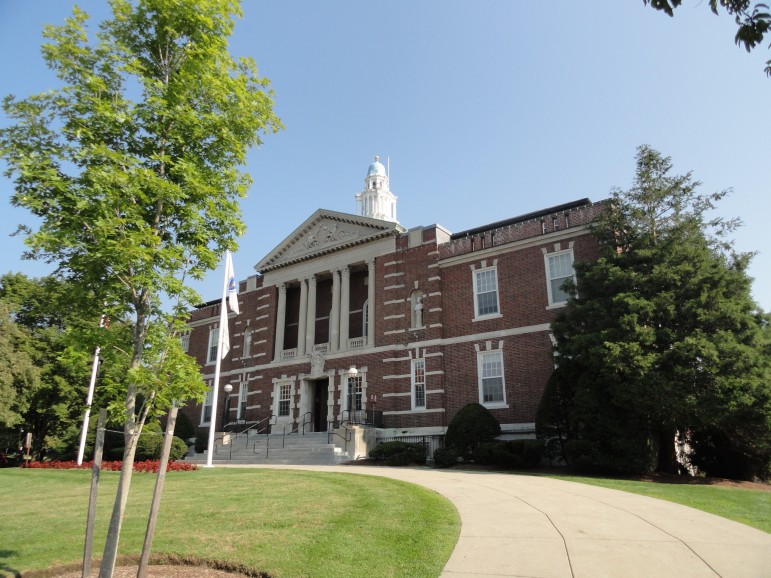 The Town Council voted down the proposed Noise Ordinance with those opposed saying they thought the proposal was too complicated and difficult to enforce, but the issue will likely be taken up by the Council again.
The Council held a special meeting Tuesday night to discuss the proposal and to hear from residents.
Some residents gave examples of noises that they said impact their quality of life, including noise from amplified music at parks, loud activities at churches not having to do with religious services, and leaf blowers and other landscaping equipment. Others talked about activities on construction sites starting before 7 a.m. when it is allowed.
People who opposed the ordinance worried about their ability to do yard work if they cannot finish by 5 p.m., the end of the allowable period. Others said that requiring equipment to be under certain noise levels would be costly to landscaping companies, or even put them out of business. Some residents said they worried that items specified in the ordinance, such as air conditioning units and animals, would become illegal or lead to conflicts between neighbors.
The ordinance called for enforcement by a variety of departments and officials in Town: the Police, Fire Department, Health Department, the Building Inspector and Zoning Enforcement Officers. The proposal called for first giving a warning, and then having fines of $100 to $300 based on first, second and third offenses
Watertown Police Capt. Raymond DuPuis said the Police Department would enforce the ordinance if passed, but members of the WPD worry about the added workload that could come with enforcing the ordinance, and stated that "it is not going to be making us friends."
Also, with many entities enforcing the ordinance, DuPuis said he worried about keeping track of what action had be taken previously with a resident or business.
Former Councilor Susan Falkoff, who worked on the ordinance when it was first taken up in 2017, said she had concerns about the proposal.
"I find the ordinance really difficult — it's so complicated," Falkoff said. "I like simple things, so I am not going to throw my wholehearted support or wholehearted opposition behind it."
After public input, the Council weighed in on the proposal. Council Vice President Vincent Piccirilli had a number of concerns, including some conflicting language in the ordinance, as well as the ordinance being confusing. He also noted that, if approved, it would go into effect immediately and he preferred a transition time for residents and business to adjust.
"I cannot vote for new law that leaves contractors and homeowners uncertain if they are breaking the law and leaves residents uncertain whether people in the neighborhood are breaking the law," Piccirilli said.
Councilor Tony Palomba said he has received some letters from people saying that the Council should be focusing on more serious issues. He said, however, that he has heard from other residents who are very concerned about noise and noise pollution.
"I have been approached by people who see excessive noise and noise pollution as a health problem and a quality of life problem, so we wrote that in the declaration of findings and policies in the ordinance itself," Palomba said.
With most lots in Watertown being small, and houses located just feet apart in many cases, Councilor Anthony Donato worried that the ordinance would be too harsh. He noted that the measurement of noises would be made at the property line, which in some cases is just feet from a neighbor's home.
"My concern, if this passes as is, it is possible this ordinance be weaponized and neighbors would use it against neighbors," Donato said.
Councilor Angeline Kounelis noted that the green area of her house is just seven feet from one neighbors bedroom and five feet from another neighbor's patio. This could be a problem when mowing her lawn or using other equipment.
Councilor Caroline Bays said she has heard from several residents who have been deeply impacted by noise.
"Before COVID, noise was one of the top complaints I got. I've sat with people crying on my shoulder, I have sat with people who were so upset the felt they had to move," Bays said. "It is not a minor complaint, it is a life altering complaint for these people. We're trying to come up with something that would give the police, the Health Department and other people a mechanism that they would be able to measurably enforce it, and this is what I think this ordinance does."
Councilor Lisa Feltner said that she thought the ordinance was rushed to a vote, and that the committees working on it, the Rules and Ordinances and Human Services committees, did not get all the assistance that they requested. They had asked Town staff for information about economic impacts, legal advice on creating the ordinance. She added that Town staff requested that the enforcement be spread between multiple departments.
Feltner added that the current noise ordinance dates back to 1983 and she believes it is in dire need of updating.
"I know (discussion on the ordinance) has been going on for a long time and I can tell you that we do need to update our noise ordinance. What we have now is not adequate to address our concerns," Feltner said. "So, I hope people don't get the impression that Watertown just needs to rely on good manners and everything will be taken care of. Then we wouldn't need a bunch of other ordinances — whether reducing plastic bag use or the Zoning Ordinance — because people don't do the right thing and people do what they want and don't always care about their neighbors."
Council President Mark Sideris said that he sees noise as a problem, but could not support the proposal.
"I will steal something (resident) Elodia Thomas said, 'Is it reasonable, realistic and clear? Is it straightforward, practical and simple to enforce?' I don't think this is or does that," Sideris said. "Is noise a problem, yes, but I think we need to do a better job as we try to address it."
The Council voted 7-1 (and one present vote) against the proposed noise ordinance. Bays supported it and Palomba voted "present."
Sideris said at the next Town Council meeting, on April 13, he would make a referral to the two subcommittees to work on the Noise Ordinance.
"We had two committees work for three years on it," Sideris said. "I think we need to simplify it and potentially go in a different direction."