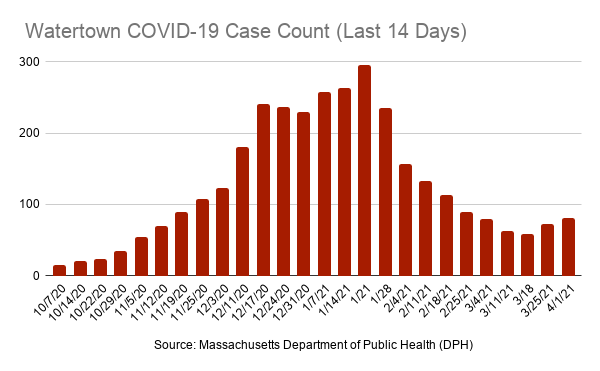 COVID-19 cases rose for the second straight week in Watertown, as did the rate of positive tests. Some new groups of people are now eligible to receive the vaccine, including people age 55 and older.
The number of cases reported by the Mass. Department of Public Health was 81 over the previous 14 days, according to the April 1 report. That is up eight from the previous week. The percent of positive tests went from 1.29 percent on March 25 to 1.48 percent on April 1.
Testing
The Town of Watertown is offering one free COVID-19 test for Watertown residents. The tests by appointment only. People do not need a medical referral and do not need to have COVID-19 symptoms to get tested. Pre-registration is required to receive a test.
Testing will be held inside the Commander's Mansion, 440 Talcott Ave., on the following dates and times:
Tuesday, April 6 from 1:00 PM to 7:00 PM
Wednesday, April 7 from 8:00 AM to 2:00 PM
Tuesday, April 13 from 1:00 PM to 7:00 PM
Wednesday, April 14 from 8:00 AM to 2:00 PM
In order to obtain an appointment a Watertown resident must pre-register by clicking on the following link:
https://proemscovidtesting.as.me/watertown
Vaccine
Beginning April 5, Massachusetts opened eligibility for the vaccine to people age 55 and older, as well as people with one or more qualifying conditions. The list of qualifying conditions include people who are considered overweight according to CDC guidelines (click here to calculate your BMI).
Others who already qualified include: low-income and affordable senior housing residents and staff, health care workers, long-term care residents and staff, first responders, congregant care residents and staff, educators (including teachers, childcare workers and school staff), and certain workers (click here for the list). People over 16 will be eligible on April 19.
More than one in five Watertown residents have been fully vaccinated, according to the state's report. 7,429 people have been fully vaccinated, or 22.4 percent. About one-third of the Town's residents, 12,717, have received at least one dose (38.5 percent).
Statewide, 1.49 million residents have been vaccinated, according to the MassDPH April 5 report. That is up about 160,000 since March 28. A total of 3.94 million doses have been administered, including 2.44 million first doses of the Moderna and Pfizer (which required two shots), and 100,550 doses of the Johnson & Johnson vaccine, which requires one shot.
The Health Department is working with the Watertown Fire Department to vaccinate the homebound, when vaccine is available. If you live in Watertown and are homebound or have any questions about the program, please contact Emily Laflamme at elaflamme@watertown-ma.gov or 617-972-6446.
According to the Watertown Town Manager's Coronavirus Update, veterans can get the vaccine from the Veterans Administration (VA). The report said: "Bedford VA Health Care system is Accepting Veterans enrolled in the VA regardless of age. Veterans must be enrolled in the VA Health Care system to receive the vaccination; they can call the Bedford Campus: (781) 687-2275 to determine eligibility. If they are already enrolled, they can call 781-687-4000
to schedule their vaccination appointment."
To preregister to get an appointment for a vaccine shot at one of the state's Mass Vaccination sites when you become eligible, click here. See other options for vaccinations by clicking here.