Planners of the new Watertown High School looked at a variety of options for the school's temporary location during construction before landing on the Moxley Field site next to Watertown Middle School, the School Building Committee heard Wednesday night.
Architect James Jordan, from Ai3 Architects, said he had heard some concern that designers immediately jumped toward the two options presented at the last meeting — Moxley Field and the property where Phillips School is located — without looking at other options.
Some residents complained that the decision to use Moxley Field was made without having a public meeting beforehand where all abutting residents would be alerted. A meeting with neighbors has been scheduled for April 14 at 6 p.m. on Zoom, said Christy Murphy, from owner project manager firm Compass. Postcards have been sent to neighbors of Moxley Field. For more information about the meeting click here.
Under the proposal, a temporary campus made up of two-story modular classrooms would be put on the field at the park named for a Marine from Watertown killed in Vietnam. The tennis courts and playground area would be preserved. WHS students would also have access to classroom in the basement of Watertown Middle School, which sits across the street from Moxley Field. The high school would also have exclusive access to the small gym at WMS and share the auditorium.
Architects also looked at the Phillips Site, but that would mean renovating the former Phillips School and the Senior Center to be used as classrooms, Jordan said. The site would not give the school access to an auditorium, Jordan said. There is a gym next to the Senior Center, but it does not have locker rooms. Additionally, the temporary site would be right across from the WHS construction site.
Using Moxley would have some drawbacks, including having pickup and drop-off for two large schools right next to each other, and Moxley has one of only two full-sized baseball fields in Watertown (with the other at Victory Field). Former Recreation Director Tom Sullivan said it would add significant time for students from East Watertown to get to WHS. Instead of taking the 71 bus, they would have to take that bus and change to the 70 bus in Watertown Square.
Alternates Ruled Out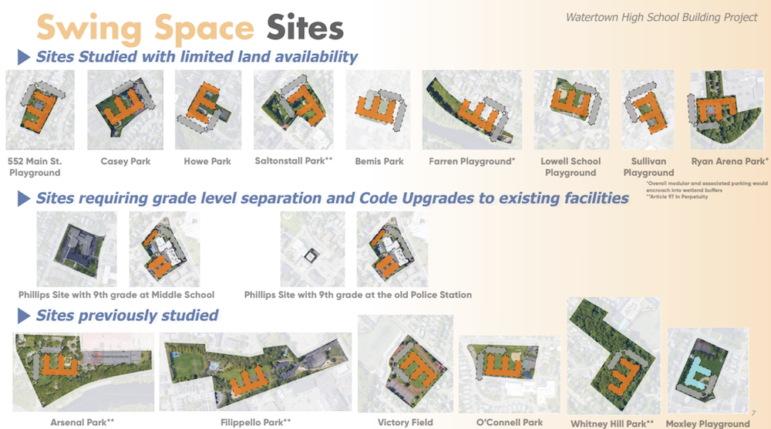 Looking at the other sites that were eliminated, some sites had space limitations, Jordan said, which would not allow them to fit a temporary school with enough room for the entire high school as well as parking for 119 parking vehicles so that faculty and staff would not have to find parking in surrounding streets. Those include:
552 Main Street playground
Casey Park
Howe Park
Saltonstall Park
Bemis Park
Farren Playground,
Lowell School playground
Sullivan Playground
Ryan Arena park
Other sites were looked at but ruled out because they required moving one grade level to another site and code upgrades. Those options include using the Phillips School site, including the Senior Center and gym, for grades 10-12, and having the ninth grade either at Watertown Middle School or the Old Police Station.
"Watertown High School is not set up with a separate ninth grade, with teachers only for that grade level," Jordan said. "It would not be a viable option." 
Some sites had enough room but posed other problems. Arsenal Park, Filippello Park and Whitney Hill Park are under Article 97 protection, which would require a 2/3 vote by the State Legislature to allow placing the modular classrooms to be placed on those sites, Jordan said. Also, Whitney Hill, a forested area, is very hilly and has many mature trees on it, he added.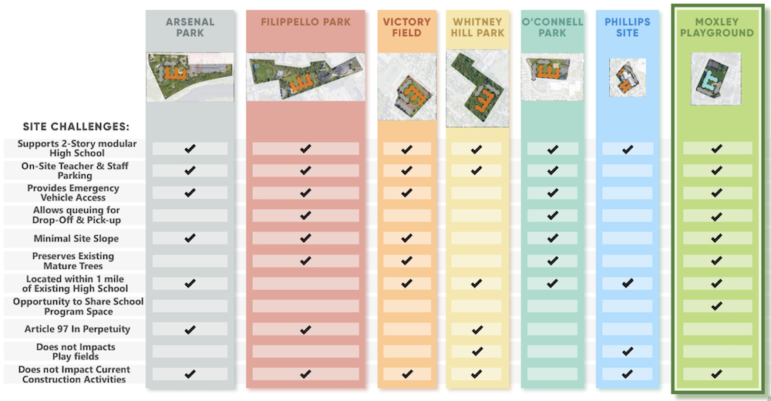 Victory Field could be used, Jordan said, but it would be a tight fit.
"If put two story modulars with associated parking it would take over entire stadium as well as the track and it would still have issues with circulation and drop off around the campus and impacting the community surrounding it," Jordan said.
O'Connell Park, next to Hosmer School was also considered. Superintendent Dede Galdston said the O'Connell Park option would not provide the same opportunities as Moxley Field.
"(With that option) we don't have access to middle school for extra space for the CTE (Career & Technical Education) Program," Galdston said. "I would be concerned from an educational standpoint that would not be able to accomplish an education program without access to that space."