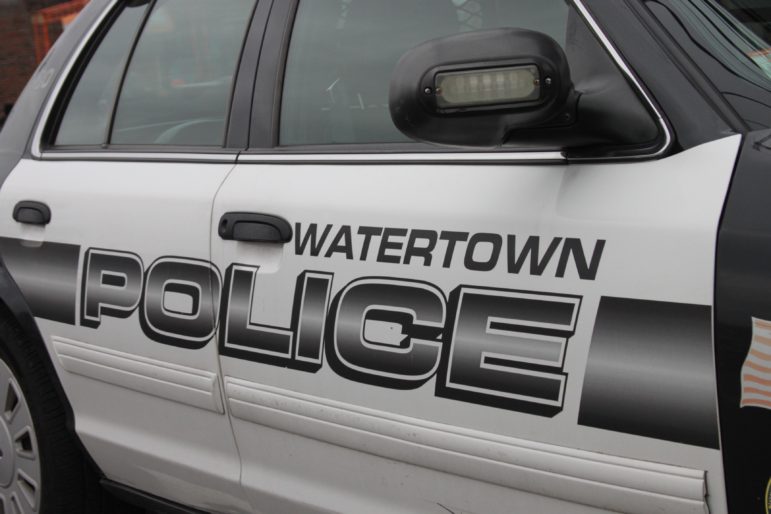 The following information was provided by the Watertown Police Department.
Arrests
March 29, 1:19 p.m.: Police were called to the office building at 6 Galen because a woman was refusing to leave the front vestibule. Police spoke to the woman and found out that she had two active warrants for her arrest, both from Suffolk County. The 52-year-old Quincy man was arrested on the warrants.
March 30, 11:15 p.m.: A vehicle struck a utility pole at the corner of Main and Myrtle streets and knocked the pole over. The vehicle was heading eastbound when it veered off the road and struck the pole, causing wires to fall across the street. It sustained heavy front-end damage. Police spoke to the driver who showed signs of intoxication, including having a strong odor of alcohol on his breath. The man admitted to consuming eight beers before driving. He was transported to a hospital for evaluation of minor injuries and was placed under arrest. Police also learned did not have a driver's license. The 29-year old Watertown man was charged with charges of driving under the influence of alcohol, unlicensed operation of a motor vehicle and was cited for marked lanes violation.
April 1, 11:53 a.m.: A man was spotted on a scooter near the intersection of Belmont and Prospect street, and someone called police saying the rider possibly had an open container of alcohol. Police located the man nearby and did not find any alcohol, but they learned he was wanted on an outstanding warrant from Boston District Court for shoplifting. The 60-year-old Waltham man was arrested on the warrant. 
April 1, 1:18 p.m.: A customer was bothering others in Best Buy, so the store called Police. The store received numerous complaints about the man who was asking people to pick up something for him that he had ordered online. When officers spoke to him they found he had five outstanding warrants for his arrest: the first for six counts of larceny from a building from Waltham District Court, the second for one count of shoplifting out of Brookline District Court, the third had two counts of assault and battery and one count of threatening to commit a crime from Boston District Court, the fourth was for one count of assault and battery on a pregnant woman out of Boston District Court, and the fifth one was for resisting arrest out of the Cambridge District Court. The 28-year-old Lynn man was placed under arrest.
Incidents
March 29, 1:20 p.m: A shoplifter was spotted at Home Depot, but he left prior to police arriving. He was seen fleeing down Arlington Street. The suspect was described as a Hispanic male with black hair wearing a high-visibility green shirt. The man placed numerous items into the carriage and left the store without paying. The suspect took three DeWalt drills worth a total value of $600 and two DeWalt nail guns worth a combined $1,000. 
March, 2:33 p.m.: Police responded to the parking garage of 45 Bond Street for a vandalized vehicle. The owner of a vehicle, a man from Boston, said he parked his 2014 Mercedes at 12:30 pm. and when returned 2:30 p.m. he discovered his right front tire had been slashed. He is not sure who would have done it. 
March 30, 5:13 p.m.: A woman from York Avenue reported a credit card fraud. About 2-3 weeks prior, her bank told her that there was a $100 charge to Apple on her account and later she was notified of a $500 charge to an unknown gaming website. She did not make the charges and is working with the credit card company to sort it out. 
March 31, 4:51 p.m.: A vehicle was vandalized on Riverside Street. The owner said she parked her 2018 Ford van in her designated spot on Riverside Street at about 5:30 p.m. She came out next morning and noticed a sticky note on her driver's side window that said "Are you single," with some vulgarities written afterward. She then noticed her driver's side tire was flat. It appeared someone had let the air out. There were no marks or slashes on the tire. Police are investigating. 
April 2, 12:21 p.m.: The manager of Ethos Cannabis on Elm Street reported a customer causing problems. The manager said a man came in about 10 a.m. to pick up a purchase he ordered ahead. The customer only had a picture of his identification on his phone. Employees explained they cannot sell anything to him unless he had a hard copy of his ID. The customer, a 39-year-old man from Boston, began to swear in front of other customers, and yelled at the security guard and the manager. He refused to leave, and wasn't following the security guard's requests. He finally left and said he hoped the building burns down. He returned later that day with the hard copy of his ID, however, because of his previous behavior the manager said Ethos didn't want to do business with him anymore. They didn't let him in the store, and the man began yelling and swearing. He eventually left. Police contacted the man and he said he was at the store twice, but said he did not cause a disturbance. Police explained the store does not welcome him back and trespassed him from the store. 
April 3, 10:01 a.m.: An employee of Elan Union Market Apartments was checking vacant apartments, and when he went into one of the units he found a man charging his cellphone. The man removed the cell phone and charger, took a butter knife from his pants and said "I'm not going to jail." The man immediately ran out of the unit. He never pointed the knife at the employee and never made any threatening gestures or verbal threats. After leaving the apartment, the man was seen on the street, running across Arsenal Street. The suspect is described as an Asian male, 20-30 years old, with a slim build, shoulder length black hair who wore black dress pants and a black sweater. There were no signs of forced entry. It appears the door was accidentally left unlocked. The man left some trash behind. It is not clear how long he was in the apartment.
April 3, 3 p.m.: A Watertown woman came into the Police Station to report a lost or stolen wallet. She believes she lost the wallet while walking around Watertown the previous day. The following day she was notified of two unauthorized charges on her card: one from Gordon's Liquors for $17 and the other from CVS for $105. It is not clear at which locations of the stores the charges were made.