Watertown Youth Hockey won two championships over the weekend, and another team played in the final.
The teams played in the Valley Hockey League championship games in the Peewee, Squirt and Mite divisions. The Watertown Peewees and the Watertown Squirts A teams both won the division and conference championships, while the Watertown Mite As lost in the final.
The Squirts came back after being down 3-0 in the first period to defeat Concord-Carlisle 6-3 in the division championship game on Saturday. On Sunday, team beat Tewksbury in the conference final. After Tewksbury tied the game 3-3 with 1:08 left in the third, Watertown scored twice in the final minute of the game to win 5-3.
The Pewees beat the Wizards 2-0 in the division title game on Saturday. Watertown iced the conference championship game on Sunday scoring the third goal of the 3-1 victory over Winthrop 3-1 with under 2 minutes left in the game.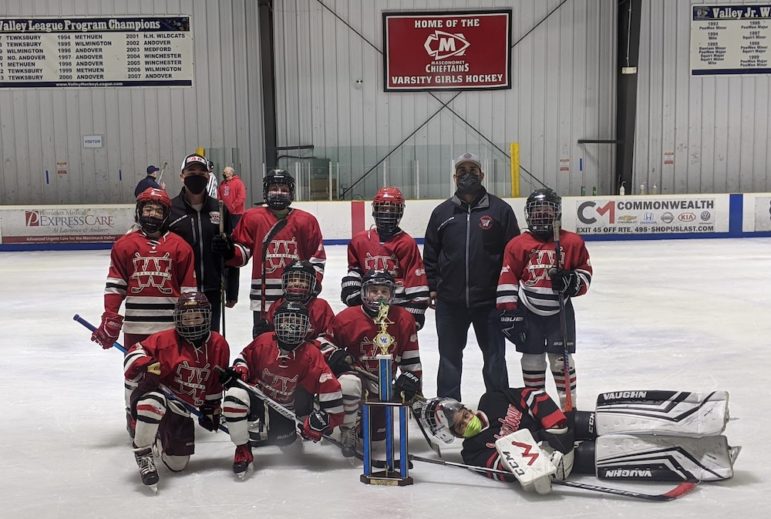 Watertown Peewees
Anthony Berte #21, Alexander Lubov #63, Finnley MacDonald #18, Isaac Maillis #81, Kaylee Master #8, Derek McAuliffe #17, Benjamin Meyer #11, Tigran Minasyan #7, Andrew Reilly #88, Charlie Ryan #87, Liam Tourville #97, Tage Weeden #72, Tyler Ye #20. Coaches: Jason Tourville, Eric Maillis, Derek Nadeau
Watertown Squirt A's
Michael Cedrone #62, Maguire Cruz #27, Joseph DiBona #88, Jake Fijux #3, Asher Kain #29, Archie Kapetanakos #9, Oli Mercer #25, Jake Mosca #2, Nico Taormina #14, Lukas Wynn #31. Coaches: Justin Mosca, Ray Cruz
Watertown competed with more than 16 teams in each division.
Kids interested in playing hockey should contact watertownyh@gmail.com or visit watertownyh.com