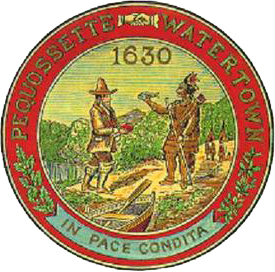 The Town Council approved a change to Watertown's Zoning Ordinance that would allow life science labs as well as light industrial uses in the downtown area near Watertown Square, but only in structures built 84 years ago or before.
The amendment was proposed by Berkeley Investments, the new owners of the building now occupied by Sasaki at 64 Pleasant St., which plans to create life science lab space and preserve the historic mill building, said Assistant Town Manager Steve Magoon.
The Zoning amendment changes allowable uses for structures built before the Zoning Ordinance was adopted in 1937, and would allow light industry, non-nuisance manufacturing, laboratory/research, and renewable research. It only applies to the Central Business (CB) zone, which is around Watertown Square. The uses would be allowed by right in the qualifying buildings under 4,000 sq. ft. if it does not require significant changes to the structure. If it is more than 4,000 sq. ft. it would require site plan review by the Planning and Zoning Boards.
Town Councilor Tony Palomba said he received messages from residents concerned that life science labs would take over Watertown Square. He asked how many places would be eligible for those uses under the new zoning.
Looking at the Town Assessor's map, there are about 59 parcels that might qualify as being constructed in 1937 or prior, said Watertown Senior Planner Gideon Schreiber. Some are on Main Street and Mt. Auburn Street as well as most of the buildings along Pleasant Street within the Central Business Zone. He noted that some no longer qualified because significant changes had been made, such as the parking garage at the former mill building right on the Watertown Square Delta. Others are single-family or two-family homes.
Additions and major changes would alter the existing historic structure so it would no longer qualify for the new zoning.
"Even if it were 4,000 sq. ft. within a structure, (the developer) would not be able to build a four or five story building or build a new building or build a fancy new facade," Magoon said. "It has to be within the existing building."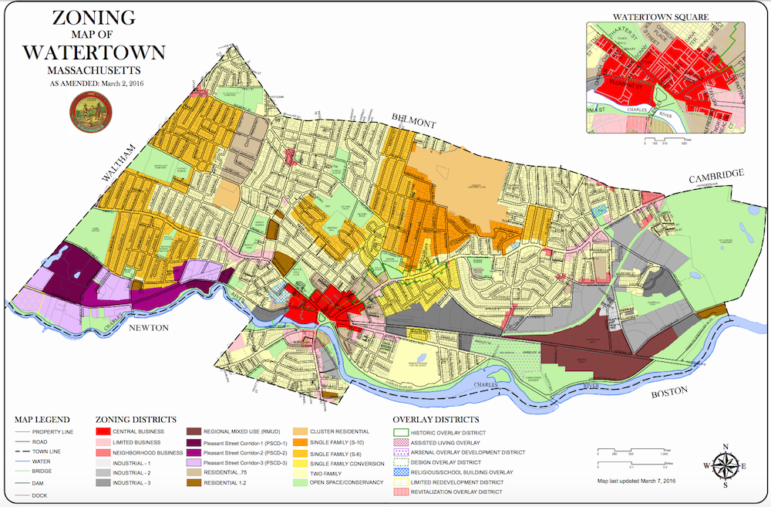 Councilors also wondered what types of businesses would fit into the light industry category. Magoon gave some examples of a bakery or a small brewery as light industry that could fit in smaller spaces.
Councilor Angeline Kounelis said she was concerned that a larger building, such as the Otis Building (the brick building next to CVS in Watertown Square) could be converted in sections smaller than 4,000 sq. ft. that, combined, would be over the 4,000 sq. ft. limit. She asked it that could happen without going before the Planning and Zoning Boards because each project was under the limit.
Magoon said that the Department of Community Development and Planning staff would keep track of the conversions and if the combined amount went above 4,000 sq. ft. the developer would have to get approval from the Town's boards. Kounelis said that she wanted to see the rule put in writing, because staff will change and she wanted to make sure the rule applies in the future.
An amendment to the Zoning change was made to the 4,000 sq. ft. limit so it applies to a cumulative facility built in multiple projects or phases.
Magoon said that Sasaki had also been approached by developers who wanted to put up residential or office space on the site, but Sasaki wanted to preserve the building.
Council Vice President Vincent Piccirilli said that if the Town was writing the zoning from scratch, it would not have written it in this way, and he called it "confusing, convoluted and perhaps complicated." However, he said he liked the outcome of preserving one of Watertown's few remaining mill buildings.
"My support of this is driven solely by our desire to preserve some of Watertown's history," Piccirilli said. "This will allow us to have the new owner preserve the building and have a 21st century use instead of a 19th century manufacturing use. Anybody driving by won't notice the difference of what's going on inside the building."
The Town Council unanimously approved the amendment proposed by Kounelis and the zoning change.