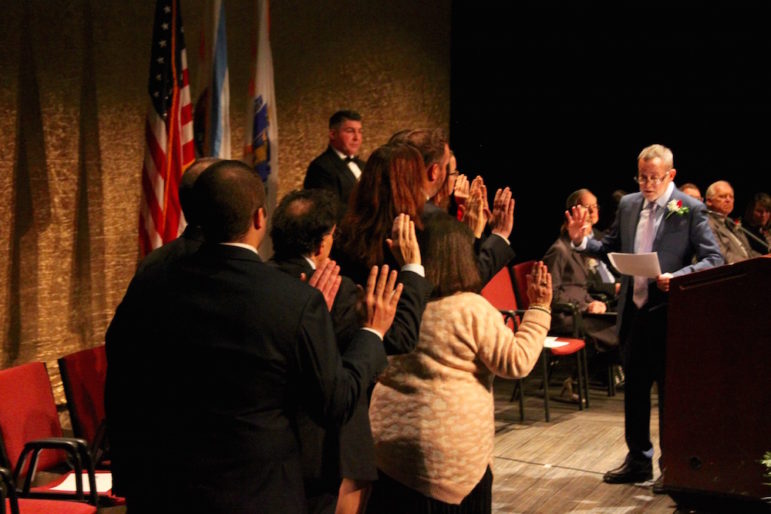 A fixture in Town Hall whose smiling face welcomed many to the Town Clerk's office has retired after more than a quarter century serving the residents of Watertown.
Watertown Town Clerk John Flynn stepped down after 26 years in the position that oversees elections and Town records among many duties.
Flynn, along with the Board of Election Commissioners, oversaw dozens of town, state and federal elections in his time, but the elections of 2020 posed a particular challenge. At Tuesday's Town Council meeting, Town Manager Michael Driscoll noted that in 2020 Flynn and his office had to adjust to the COVID-19 restrictions, handle thousands of mail-in and absentee ballots (12,000 for the Preliminary Election in September and 18,000 for the presidential election in November) and also find some alternative voting places for precincts located at schools that are under construction.
"In my opinion, given the changes in the State Election laws during the COVID pandemic and the inherent challenges of both the Town's election, the efforts in 2020 were John's crowning moment in his long, distinguished career," Driscoll said.
Town Council President Mark Sideris congratulated Flynn on his retirement and noted how committed he was during the week of early voting in August and two weeks in October during the 2020 elections.
"John went above and beyond the last election. He was (at Town Hall) seven days a week from 7 o'clock in morning to all hours at night," Sideris said. "There were people in this community that thought this was never going to get done and it got done."
Flynn came to Watertown after working as the assistant city clerk in Cambridge and worked in municipal government for 40 years. Driscoll said he still remembers the sweltering day that Flynn came in for his interview in 1995.
"What impressed me was how professional he is and was, but mostly his intelligence and his Irish sense of humor," Driscoll said.  
When not dealing with the business of the Town, Flynn would often speak about two of his greatest loves: the Boston Red Sox and his family. He became a welcoming presence in Town Hall.
"John not only collected statistics and records for the Town, he also collected friends," Driscoll said.
One such friend was a woman who lived in Watertown senior housing who would come in and volunteer her time to do clerical work in the Clerk's office, Driscoll said. To thank her for her efforts, Flynn would buy her lunch from her favorite sandwich spot — Guido's in Newton.
Driscoll noted how, as Clerk, Flynn was there for many momentous occasions for residents, both happy and sad. He issued birth and death certificates, and also marriage licenses, including the first for a same-sex couple.
In another duty as Clerk, Flynn swore in members of Watertown's elected and appointed boards and commissions, as well as members of the Watertown Police and Fire Departments.
When the founder of the Faire on the Square stepped down in 2012, Flynn and the Clerk's office took over organization of the annual event in Watertown Square.
Driscoll worked closely with Flynn, whom he entrusted as acting-Town Manager when needed.
"John and I have worked together the last 26 years as colleagues, but most important to me is our friendship," Driscoll said. "I thank you, John, for a job well done. The Town of Watertown is a better place due to your efforts." 
The Town Clerk's job opening was posted on the Town of Watertown's website in March and remains open until the position is filled. See details here.