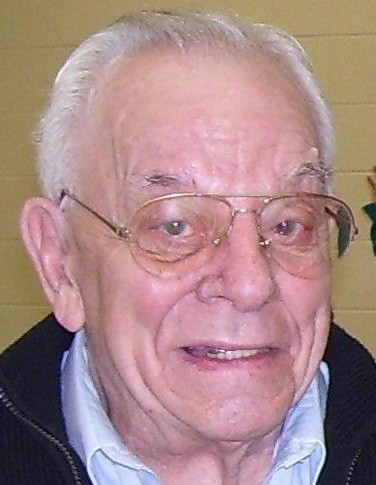 A life-long Watertown resident who earned a Bronze Star and a French Legion of Honor for his service in World War II died and made it over the age of 100 died recently.
Anthony Basile, 102, of Watertown, passed away on June 14, 2021.
Basile was drafted in 1941, before Pearl Harbor, and served in the U.S. Army's Yankee Division during World War II, said Bob Duncan, who married Basile's daughter Sandra. He served most of the war in a communication unit. During his service, Basile earned the Bronze Star and the Purple Heart.
"He got the Bronze Star when he came into machine gun fire as he was running communication cables. He and a buddy were holding the spool between them and when they got into the woods they ran into a German patrol, which they fought off," Duncan said. "They kept going and got the communication wire to the front. For that he and his buddy got the Bronze Star."
He saw action in the French city of Metz, and also in the Battle of the Bulge in the Ardennes Forest of Belgium.
Basile got the Purple Heart after being injured in fighting in Metz, Duncan said. For that he earned an award from the French government.
"About five years ago he was awarded the Legion of Honor from the President of France," Duncan said. "You have to write a letter to the President of France telling them what they did for the French people. You do it locally, and they send it to France and get it approved."
Duncan said the award was originally created by Napoleon in 1804, and is only given to people who are alive.
Basile continued into Germany and wound up in Czechoslovakia. Late in the war, Basile joined an armored unit that was transporting vehicles back to Normandy where they were being put on ships bound for the U.S. military in Japan, Duncan said. On the way there he stopped in Paris and was able to meet up with his brother, Thomas, who was in the Military Police (MP) stationed there.
For his military service, Basile was honored by having an intersection near his home named in his honor in 2014.
"(Watertown Police officer) Ken (Swift) and the neighbors got together and said this intersection at Worcester and Springfield streets should be named after him, and so they did," Duncan said. "That was very nice. His was the last one that they ever did for someone that was living."
When he returned home, Basile had a number of odd jobs, Duncan said, including becoming a milkman.
"He ended up working at MIT in the graphic arts department," Duncan said. "He used to love meeting the geniuses at MIT, at that point Einstein was still there, I think."
Basile was one of 15 children born to Italian immigrants who met in the North End of Boston before moving to Watertown. Basile's father worked at Hood Rubber in Watertown. Basile spent most of his childhood on Fayette Street, but they lived on Cottage Street when he was young.
He married Mary (Paone) and they had three children, Robert, who died when he was 6 months old, Sandra and John. Mary died a couple years before Basile retired. In his retirement he enjoyed working in the yard, and spending time with his grandchildren, Duncan said.
Basile was the beloved husband to the late Mary (Paone) Basile. Loving father of Sandra Duncan and her husband Robert, John Basile and his wife Kathryn and the late Robert Anthony Basile. Cherished grandfather to Robert A. Duncan and his wife Robin, Anthony C. Basile and John M. Basile and his wife Katy. Great-grandfather to Emma and Noah Duncan. Dear brother of Eddie and Joseph Basile and predeceased by 12 other siblings.
Family and friends are welcome to come celebrate Anthony's life by gathering for visiting hours in the Nardone Funeral Home, 373 Main St. in Watertown, on Thursday, June 16 from 4-7 p.m., and again on Friday, June 17 at 9 a.m., followed by a 10 a.m. Funeral Mass in St. Patrick's Church. Burial with Military Honors in St. Patrick's Cemetery.