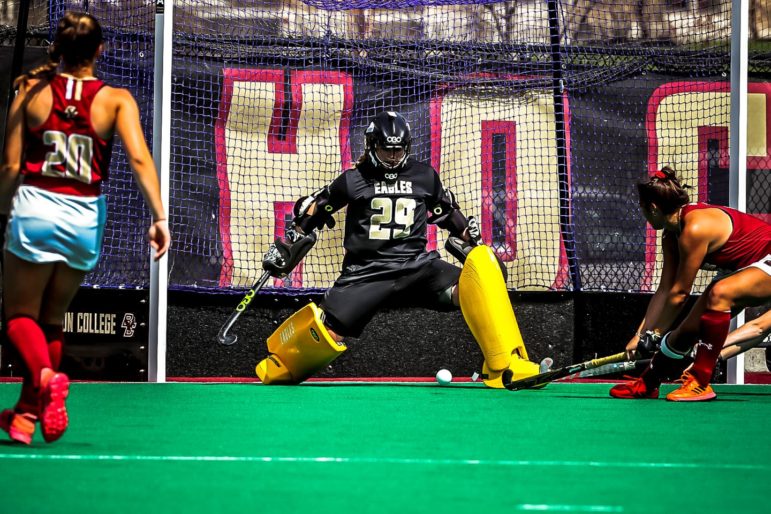 Watertown's Jonna Kennedy recently garnered end-of-season awards at the conference, regional and national levels for her play with the Boston College field hockey team. She also received recognition for her work in the classroom.
The Watertown High School graduate was named to the the National Field Hockey Coaches Association (NFHCA) All-American Third Team, the Boston College Athletic Department announced.
For her success on the field, the NFHCA named Kennedy the Northeast Region Player of the Year, as well as making the NFHCA All-Northeast Region First Team, BC Athletics announced.
In the Atlantic Coast Conference, Kennedy not only made the All-ACC first team for the spring season, the Eagles' goalie was also named the Defensive Player of the Year, the Boston College Athletic Department announced.
Kennedy led the ACC in save percentage of .794 and saves per game, with 6.75. She had a 7-5 record over the 2020-21 campaign, which included three games in the fall and nine in the spring. Her record in the spiring portion was 7-2, and she had a 1.76 goals against average (GAA).
Kennedy, an applied psychology major, also made the All-ACC Academic Team, according to an announcement from the conference. She earned Dean's List honors for the spring of 2021, and could be named to the ACC Honor Roll for the second consecutive year.
To qualify for the All-ACC Academic team, athletes must have at least a 3.0 grade point average for the previous semester and a 3.0 cumulative average during their academic career. The conference also considers the person's athletic achievements during the most recent season when selecting the All-ACC Academic Team.