The Watertown Farmers Market opened on Wednesday, June 16, with the white peaks of vendors' tents once again lining Saltonstall Park. After having restrictions last year due to the COVID-19 pandemic, the market is now fully open once again, and has introduced a handful of new vendors for the 2021 season.
Shoppers streamed back and forth around the outdoor market and queues even formed in front of some of the more popular vendors, including the stalls for Clear Flour Bread and Boston Smoked Fish Co. Everyone seemed excited to have the market fully open again, whether they be vendors, shoppers, volunteers, or the market manager, Stephanie Venizelos.
While Venizelos described the 2020 season as "an exceptional year," saying that the market actually saw an uptick in business as shoppers worked from home and tried to avoid supermarkets, she is hopeful for another successful year.
"We love the park, we love the vendors, so we're confident that the market will do well again this year," Venizelos said. "We know that our vendors and the market are really appreciated by the community."
That sentiment was echoed by multiple shoppers and volunteers alike, who gushed about how nice it is to have fresh, local produce sold right in town. One patron, longtime Watertown resident Simon, was especially impressed by the market as it was his first time attending despite walking by it many times in the past. Carrying three big bags of fresh market goods, he explained that he was going to go home and cook dinner for himself and his injured neighbor, who could not make it to the market herself.
As for his experience at the market, he said, "Everyone has been very nice, great variety" and added that the market was a great alternative to supermarket shopping: "I like supporting independent businesses."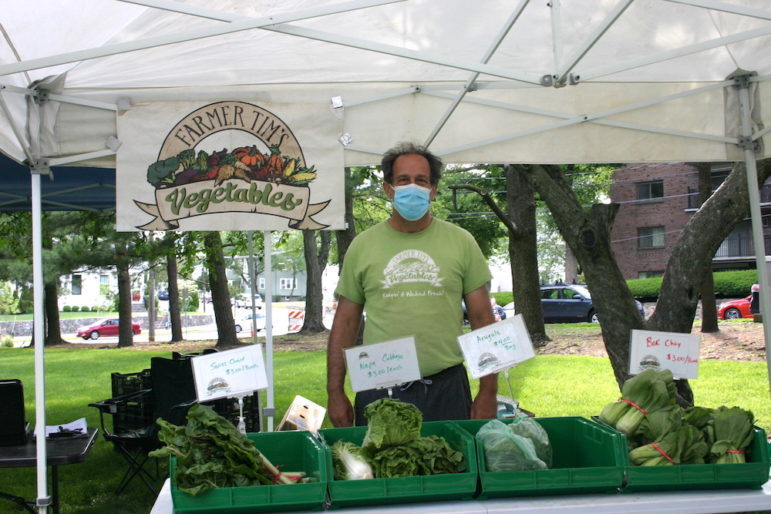 Paul Strout with Zen Bear Foods is a new vendor at the Watertown Farmers Market and said he liked the environment at the Market. He received lots of good reviews on his homemade sauces and cookies but joked that, "chocolate bars are on hold until I figure out how to keep them from melting." As for the loosening of COVID-19 restrictions, he simply said that his motto was to "adapt, stick with what they're saying, and go with it", a sentiment echoed by many shoppers and vendors alike.
Some changes visitors will see at the market this year, Venizelos explained, are three large produce stalls as well as a microgreen vendor and other specialty shops, which she and the volunteers "are so thrilled about." Another Watertown resident and longtime market patron (who wished to remain anonymous) also explained why the addition of more produce vendors was a definite improvement: last year there was only one that did not require pre-ordering and it always had very long lines, which discouraged her and other shoppers from buying produce there.
Farmer Tim Carroll of Farmer Tim's Vegetables is excited to be back at the market after taking last year off to focus on community-supported agriculture, or CSA, during the pandemic. He was sad to miss it last year and that being back was "kinda coming home again in a lot of ways." Also adding that "people are really nice here, (Market Manager) Stephanie (Venizelos) is terrific."
As for structural changes to the setup and layout of the market, Venizelos said that they are using a lot of the same park space, but don't require patrons to come in one end and out the other, like they did last year, due to social distancing requirements. The market is following the latest state and CDC guidelines in terms of COVID-19 regulations, so patrons do not have to wear masks if fully vaccinated and are advised but not required to wear a mask and social distance if not vaccinated.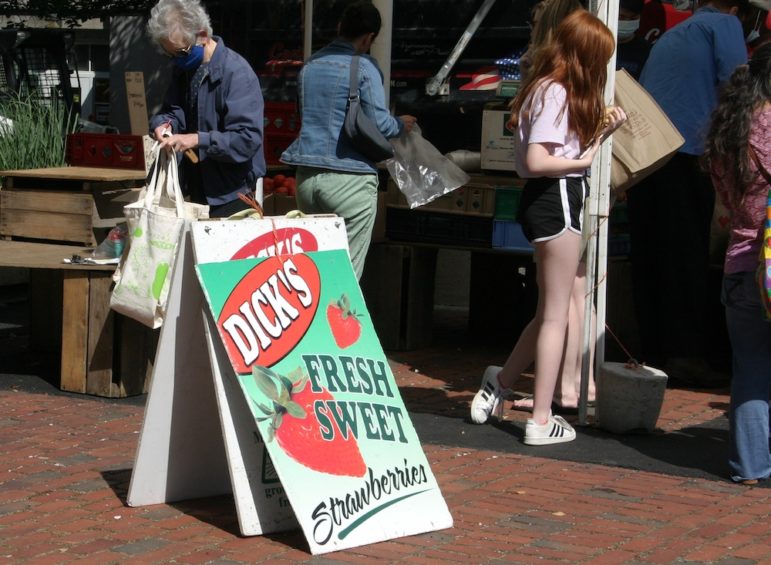 More changes and additional features may be added going forward this summer and fall, said Venizelos.
"Hopefully starting in July we'll be bringing back our community guests and bringing in some local musicians," she said, explaining that the Market is "slowly adding in various enhancements but first [wants] to get settled with new vendors."
Venizelos hopes that word will get out to the community "that we're back, we're here."
The Watertown Farmers Market will be open in Saltonstall Park on Wednesdays from 2:30 to 6:30 p.m. through Oct. 20. For more information about the Market and a list of the 2021 Market Rules, visit the Live Well Watertown page about the market.