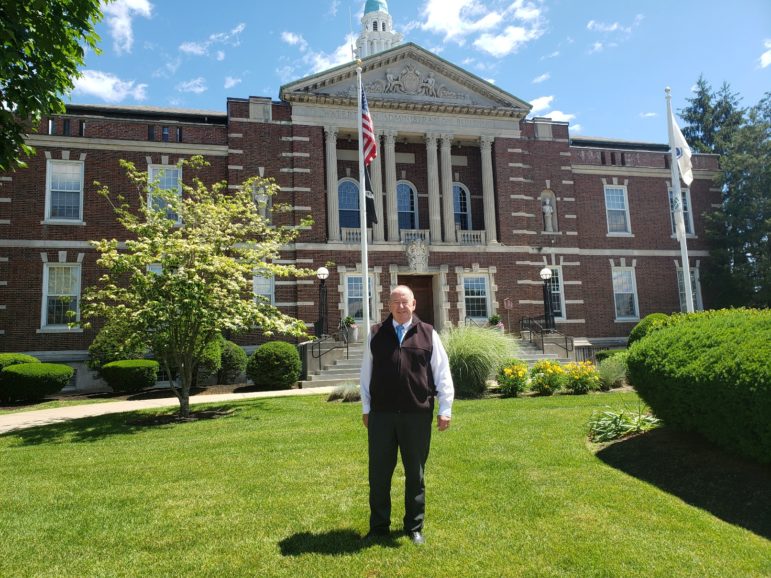 After nearly three decades leading Watertown's government, Town Manager Michael Driscoll told the Town Council Tuesday night that he soon will be retiring.
"On August 18, 1977, I began working for the Town of Watertown at the young age of 24!," Driscoll said Tuesday. "Tonight, I am announcing my intention to retire as Town Manager the end of January 2022, when I will be 69 which will be 45 years of serving our community, with the last 29 years as Watertown's Town Manager."
Driscoll said he has recently been contemplating retirement.
"The past year and a half have been a time of reflection for all of us. We have much to be proud of over the past months, years and decades," Driscoll said.
He listed some of the Town's accomplishments during his time as Town Manager, including building a three elementary schools and a new high school with no debt exclusion override, fully funding the Town's retirement system, the curbside recycling program, and creating the Faire on the Square. His list also included other capital projects, such as building the new Police Station and Senior Center, expanding the Library and Public Works Facility, and renovating the three Fire Stations.
"As I have mentioned many times throughout the years, the goal of this administration and all of the Town departments is to provide the highest level of services to the citizens of Watertown while utilizing the taxpayers' dollars as efficiently as possible," Driscoll said. "I believe the 29 budgets that have been submitted beginning with Fiscal Year 1994 and through Fiscal Year 2022 are consistent with this goal."
Before becoming Town Manager, Driscoll served as Treasurer/Collector/Parking Clerk from 1985-93, and stated working for the Town as the skating rink Manager, a position he held from 1977-85.
"It has been and is a privilege and an honor to serve as Town Manager for all the citizens of Watertown," Driscoll said.
See Driscoll's entire statement by clicking here.