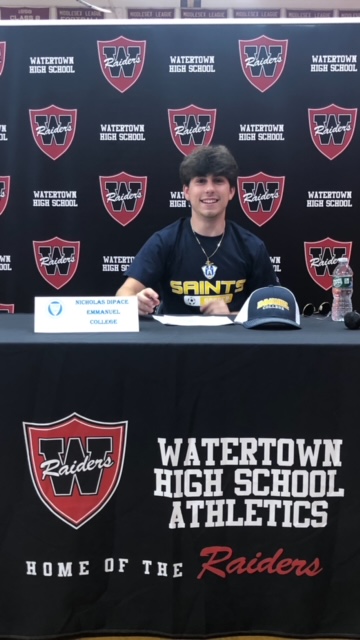 Recent Watertown High School graduate Nick DiPace had a small celebration before graduation where he signed a letter of intent to play soccer in college.
Next year, DiPace will play on the Emmanuel College soccer team.
"It's amazing that I get to continue playing soccer in college," he said. "Soccer has really opened up a lot of opportunities for me, for example getting to meet new people who also love the game of soccer."
He signed the letter of intent to attend the Boston-based college in a ceremony at WHS in late May.
"I decided to go to Emmanuel because I thought it would be a perfect fit for me. Plus I love the city and I've always wanted to go to college in the city," DiPace said.
He liked the campus in Boston, as well as Emmanuel's soccer coach, Dan Roberts.
"He was very friendly and talked to me about ways to be better on the field and in the classroom which no other coach did," said DiPace, who is looking to study business marketing.
At Emmanuel, DiPace hopes to play left back.
"I just have to prove myself and work hard and I should be good," he said.
DiPace started for the Watertown High School varsity soccer team for four years, and he said he learned a lot playing for head coach Frank Cacia.
"Freshman year, starting on varsity has made me stronger, more intelligent and faster because playing with all those older kids really pushed me to become better," DiPace said. "Also my coach has pushed me all four years to become a great soccer player."
For high school athletes hoping to take their sport to the next level, DiPace's advice is: "to work hard and put in the time and effort to get better every time you step on that field."