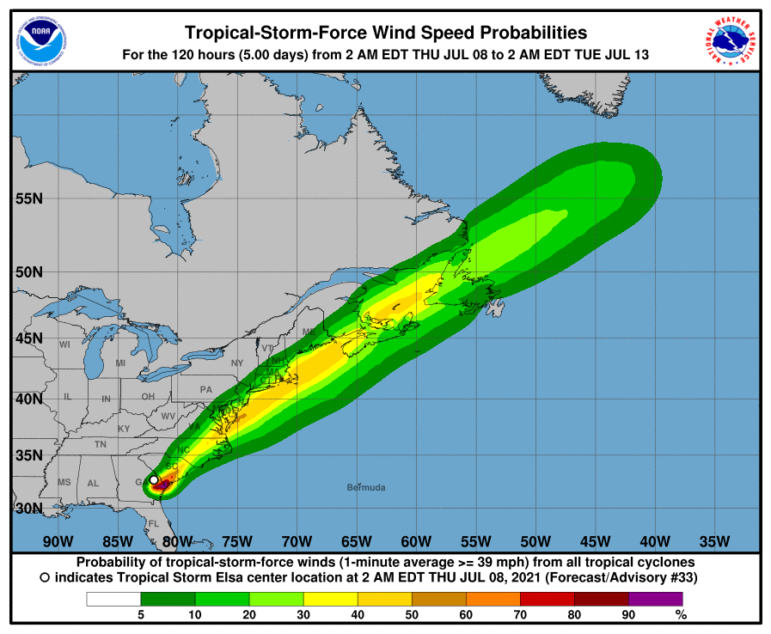 Tropical Storm Elsa will pass over southern New England on Friday, and Watertown is forecast to get heavy rains and wind from the storm.
The National Weather Service (NWS) issued a Tropical Storm Warning at 5 a.m. on Thursday, July 8, 2021, for southeast Middlesex County, as well as for Cape Cod, the Islands and Southeast Mass. The Warning means that Tropical Storm force winds are expected within the next 36 hours.
The storm is expected to kick up winds of 5 to 10 mph, with gusts up to 30 mph. Potential power outages and road closures could result from tree limbs and other items falling on power lines and roadways. Other potential damage could occur when unsecured objects are blown around, as well as possible damage to porches, awnings, carports and sheds, the NWS warning said.
One to three inches of rain is forecast from the storm, with some areas receiving more. This has resulted in a Flash Flood Warning from the NWS. Most of the rain is expected to fall in the early hours of Friday and up to noon. Rain and possible thunderstorms are expected Friday afternoon and evening.
The storm also raises the possibility of tornados in impacted areas.