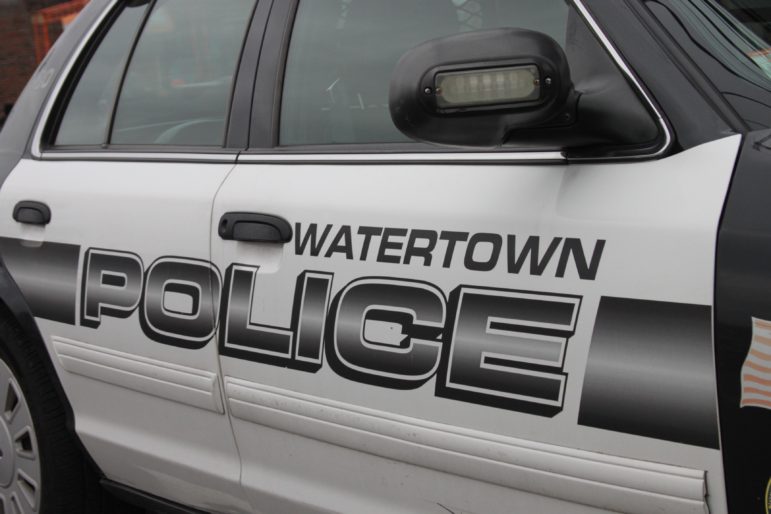 The following information was provided by the Watertown Police Department.
Arrests
June 28, 2:49 p.m.: A motorist observed another vehicle swerving in the roadway for about two miles and the driver appeared to doze off at one point. The motorist called police and a Watertown Police officer located the grey Hyundai Sonata on Main Street near Whites Avenue. The officer saw the vehicle cross the double yellow line and straddle the line, so the officer put on the blue lights. The vehicle abruptly went back into the right lane and cut across two travel lanes and struck the curb. The driver stopped on Main Street near Galen Street, and told police that she had been distracted by her cellphone. The driver slurred her words and appeared to be lethargic. She said she had taken two doses of Suboxone, which is used by people treating opiate addiction. The woman failed one field sobriety test and passed another. When searching her car, Police found a hypodermic needle with a brown substance in it, a glass pipe that can be used to smoke crack cocaine, a digital scale, and a small amount of white rock substance. Police arrested Gina Mottola, 43, of Billerica, on charges of driving under the influence of drugs and marked lanes violation. Other charges could be made pending analysis on items found in the vehicle.
July 2, 3:37 p.m.: The Probation Department at Middlesex Superior Court notified Watertown Police that a man was violating probation by removing his electronic monitoring device. The man had been arrested in Watertown on three charges: carrying a loaded firearm without a license, communicating a bomb or hijack threat, possession of ammunition without a license. Police located Shawn D. Reilly, 21, of Watertown, at his home and arrested him on the probation warrant.
Incidents
July 28, 12:35 p.m.: A vehicle was vandalized while parked on Columbia Street. The owner said the windshield had been cracked sometime on June 22 between 5 and 6 p.m. The Subaru had been parked on the street, and it is not clear what caused the damage.
June 29, 11:29 a.m.: A package was stolen from the apartments on Woodview Way. The resident received confirmation that UPS had delivered the package at 2 p.m., but when she went to retrieve it from the mailroom it was not there. The package contained a bottle of therapeutic lotion that cost $21.57.
June 30, 11:04 a.m.: A Watertown resident reported that she had been scammed by someone she met on a dating website. She had communicated with the man for more than 4 months and he convinced her to send $4,000 to help pay bills and buy a plane ticket. She was asked to send another $6,000, and did so. She thought it might be a scam and was able to stop payment on the $6,000 payment but the $4,000 check had been cashed. The checks were sent to an address in Victorville, Calif.
June 30 11:57 am.: A Francis Street resident reported that someone had scammed her. She received a report that her PayPal account had been hacked and money was missing. When she attempted to access her account she was given a number to call to rectify it. She called and was told her account had been hacked and $1,100 has been charged on it. She received a popup message on her computer saying she needed to provide her bank and credit card information to resolve the issue. She sent her bank information and driver's license number, and later saw that $2,000 was missing from her bank. She was able to lock down the account. The call was traced to a satellite phone made from outside the U.S.
June 30, 6 p.m.: A woman attempted to buy a pair of sneakers on Facebook Marketplace, and sent $180 on CashApp. The seller said the sneakers would be sent to her address. Once the money was gone, she did not hear from the person, and attempts to contact the person failed. Police found a possible location for where CashApp account was located in Arkansas. The incident is under investigation.
June 30, 6:50 p.m.: A husband and wife from Spring Street said they had been scammed by someone posing as a representative of the Federal Government. The husband received a call and the person said that they had information that the couple had committed a crime by not updating their residential address. The caller said they would be arrested if they did not pay $9,500 for attorney's fees to cover the cost of the case. They were told not to contact police or tell anyone else about the incident. They purchased 23 Target gift cards and one Apple gift card for a total of $9,500 and sent the information to the caller.
July 1, 3:08 p.m.: A bicycle was stolen from the parking lot of the Watertown Mall. The owner had ridden over to go to Best Buy, and he left the bike unsecured parked next to a cement pole in front of the store. He went in for about five minutes and when he came out the bike was gone. The 2017 Trek Domaine 5 was valued at $2,100. Police obtained surveillance footage which showed a man taking the bicycle. Images of the suspect were put up on a crime information network and within 30 minutes Watertown Police received a positive ID of the man. A warrant was obtained for the 35-year-old man whose last known address was in Cambridge.
July 2, 6:29 a.m.: An employee at the Hamilton Place Apartments on Main Street called police after discovering that the glass door to the office had been shattered. The employee left work on July 1 at about 9:30 p.m. When he returned at about 6:30 a.m. the next day he found the entire door had been shattered and a large rock was found inside the office. The employee was confident that no one had entered the building, and it appears to be an act of vandalism. The estimated cost of repairing the glass is $2,000. Police are investigating.
July 3, 2:24 p.m.: An employee of Athenahealth reported a scam. She received an email sent by someone she thought was her boss asking for her to run an urgent errand. The email asked her for her cellphone number, which she provided. Then she received a text message asking her to purchase $1,800 in Target gift cards and then she was told to send the gift card info as soon as possible. She did so. Later, she received a general email sent to Athenahealth employees saying that there was an email scam being sent to company employees, and realized she had been scammed. She contacted police. When investigators tried to contact the number it had been disconnected.
July 4, 11:33 a.m.: A report of a shoplifter at Best Buy was received by police. The man had been seen in the audio section of the store taking a wireless speaker system out of the box and concealing it in a shopping bag. He also put two wireless headphones into the same bag. The man exited the store and left in an unknown direction. The items cost a total of $285.93. The suspect is described as an African-American male with a black beard, wearing a black stocking hat, a black jacket, a blue medical face mask, and was carrying a Marshalls tote bag.