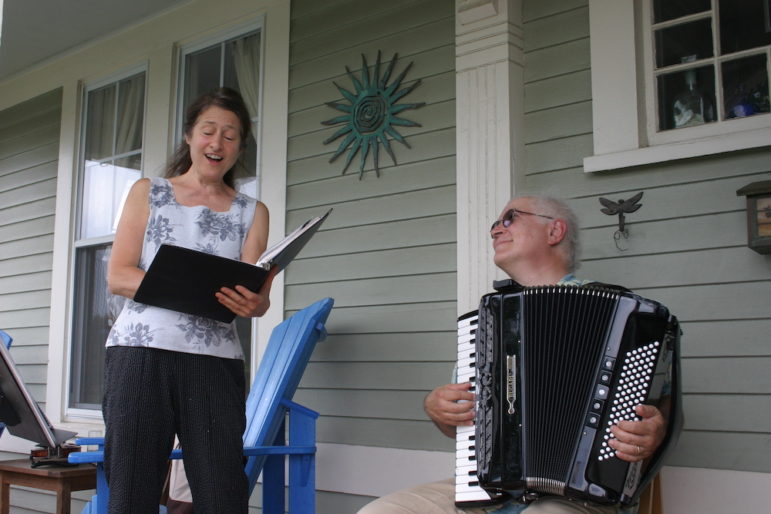 This past Sunday saw the first Watertonics concert since the beginning of the COVID-19 Pandemic, an event welcomed by many Watertown residents.
The Watertonics, self described by co-founder Thomas Michel as "Watertown's leading front porch busking group" is a local music group who have been giving concerts from Michel's front porch for a few years.
The Watertonics' front porch concerts began with Michel and his friend Ted Sharpe simply practicing together on Michel's porch, which overlooks the back parking lot of the Watertown Free Public Library (WFPL). They noticed many library patrons stopping to listen to the music as they got in and out of their cars and decided to make it more official, naming themselves the Watertonics and establishing a weekly concert schedule of Sunday afternoons. .
Michel and Sharpe met in graduate school at Duke University and have been playing music together for many years. Michel on accordion and Sharpe on violin make up the core of the Watertonics but they are often joined by other musicians for their front porch concerts. On Sunday their friend Maria Ferrante, a professional singer, joined in the fun, singing everything from showtunes to opera as Michel and Sharpe accompanied her.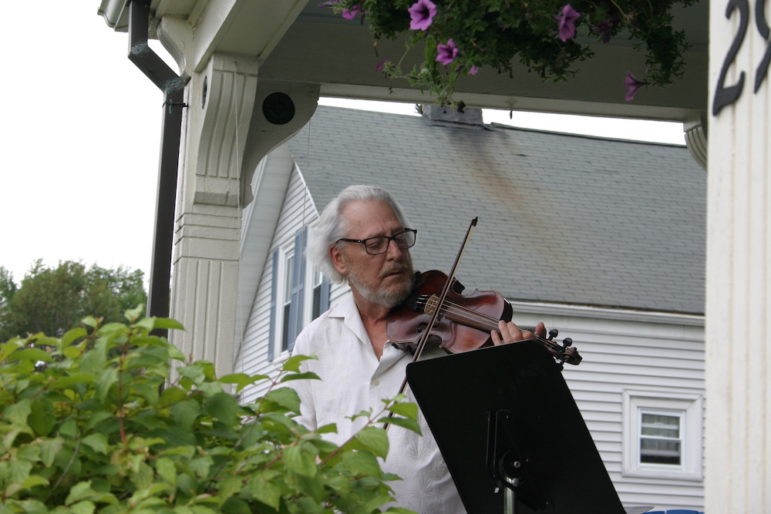 The Watertonics had to stop performing during the COVID-19 Pandemic, but when the WFPL resumed their pre-Pandemic hours (meaning they are now open on Sundays) it provided the perfect opportunity for the Watertonics to reinstate their porch concerts.
Though there were fewer spectators than usual because it was the first concert of the season, the Watertonics show was a lively and fun event, reflecting Watertown's unique community.
A plate of cheese and crackers was set out on the steps up to the porch and all passersby were invited to come listen to music, eat, and even join in the music-making if they'd like. Any newcomers to the event were given the opportunity to request a song or genre, showing the musicians' incredible skills as they played pieces beautifully without any prior practice. At many points, Michel shouted down to people in the WFPL parking lot, inviting them to come join in the fun and giving them a list of musical genres to choose from including Irish, Italian, Opera, and Klezmer. One library patron shouted up that she'd love to hear some Polka and the musicians immediately played a fun tune on the spot.
State Representative Steve Owens even stopped by to listen with his son after a visit to the WFPL and posted a picture and short message on his Twitter account about the event.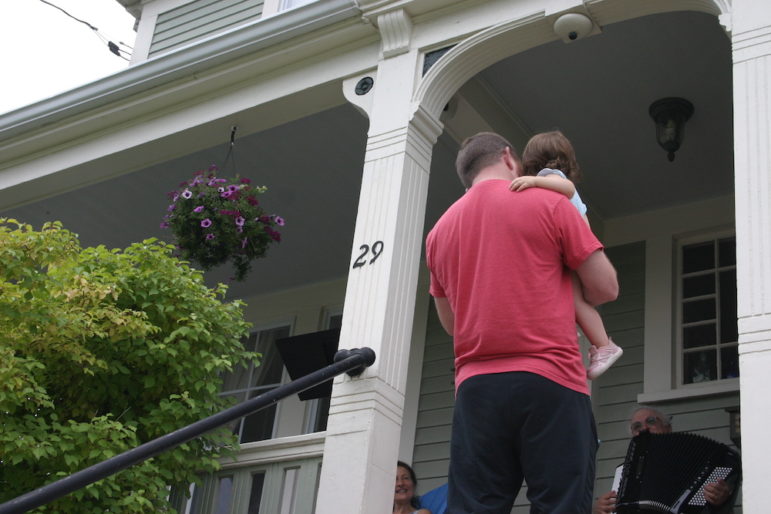 Michel also goes "way back" with Ferrante as they have been making music together for about 13 years now. The pair initially met at the Ig Nobel Prize Awards event, which is a satirical awards event to "honor achievements that make people laugh, then think", according to the official website. Ferrante directs the event and Michel now plays in it every year, leading to a wonderful friendship between the two. They also mentioned that they have been working on an album together for a few years in which they take songs traditionally made for a tenor and an orchestra and adapt them for soprano and accordion. Throughout the Watertonics concert this Sunday, they praised each other's musical abilities, with Ferrante describing Michel as "a force of musical life."
While Ferrante is a professional singer who has sung all over the world, Michel and Sharpe joked about their "day jobs" which turned out to both be very accomplished careers. Sharpe is a computational biologist at the Broad Institute of the Massachusetts Institute of Technology (MIT) and Harvard University. Michel is a professor of medicine at Harvard Medical School as well as a cardiologist at Brigham and Women's Hospital and the associate director of the MIT MD-PhD Program. They also both happen to have perfect pitch, which lends itself very well to their accomplishment as musicians.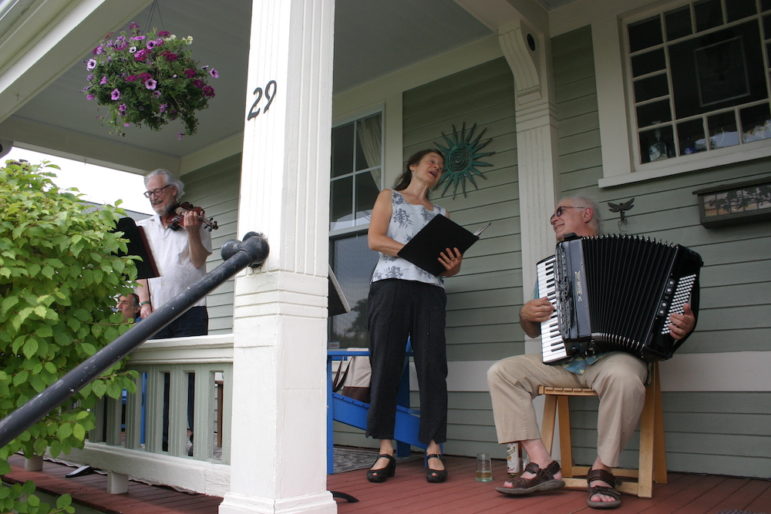 As Michel, Sharpe, and Ferrante played music, talked, and laughed together, it was easy to see that they love creating music together.
"We play for love, not for money," Michel said. "We love the people, we love the town, we love each other."
The Watertonics plan to host front porch concerts from 3 to 5 p.m. every Sunday — "rain or shine" — on Winter Street in Watertown, (located right across from the back parking lot of the WFPL). All are welcome to come and enjoy the music.