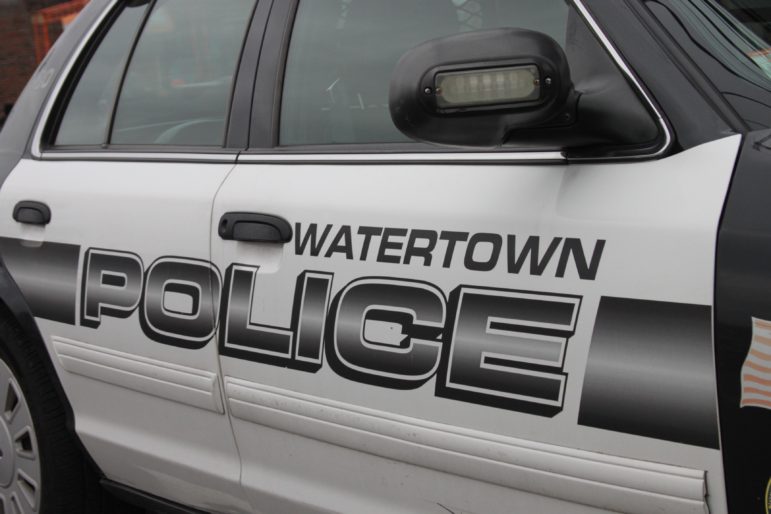 The following information was provided by the Watertown Police Department.
Arrests
July 15, 1:54 a.m.: An officer who stopped at a red light on North Beacon Street heading toward Watertown Square when he heard a loud scraping noise coming from behind him. He looked in the mirror and saw a grey Ford SUV, with the driver's side tire completely off the rim. The SUV was driving on its rim, and sparks were coming from the rim as it traveled past the cruiser. When the officer stopped the vehicle, the driver said he had not been in an accident but that he got a flat when he drove over a nail. The driver slurred his words and had bloodshot eyes. He said he had not consumed any alcohol. He failed three field sobriety tests. Bryan Santospago, 32, of Waltham was arrested on charges of driving under the influence of alcohol and an equipment violation.
July 16, 2:25 p.m.: The Middlesex Superior Court Probation Department alerted Watertown Police that a resident was in violation of his probation. Police arrested Shawn Reilly, 22, of Watertown, on a probation violation after his GPS bracelet ran out of charge.
July 16, 9:42 p.m: Target security spotted a man taking a pair of pliers and the taking items off the shelf. He attempted to take the security devices off the electronic merchandise. He was stopped with several items, worth a total of $1,168. The items were: a Nintendo Switch controller, a PS4 game console, a wireless PS4 game controller, four JBL wireless headphones, a PC gaming accessory, and a coffee machine. Police found that he also had 14 warrants for his arrest from Somerville, Boston, Brookline, Malden, and Cambridge, all for property crimes. He was taken to the Police Station and when they searched his belongings they found a small amount of fentanyl. Marc Jacob, 34, of Milton, was arrested for shoplifting and possession of a Class A substance.
Incidents
July 13, 8:30 a.m.: A resident parked on Prospect Street at about 5:30 p.m. and the next morning he came out and found that someone had ripped up flowers from his garden and threw them on his vehicle. There was no damage and he did not know who might have done it.
July 14, 7:20 p.m.: A cyclist parked his bike outside Deluxe Town Diner and went in to eat. He had locked the bike with a small wire bike lock. When he came out, the charcoal grey Trek hybrid bike was gone and the lock was cut. Police canvassed the area but could not find any witnesses or suspects.
July 15, 12:26 p.m.: A woman received a call from someone representing themselves as an investigator from Amazon. She was told her account had been compromised and $400 in merchandise was purchased in another state. The caller told her to open her bank account online and give the caller access. There appeared to be $5,000 that had been added to her account by accident. The caller told her to purchase $4,500 in gift cards to make up for the money accidentally put into her account. She bought $2,500 in gift cards from Best Buy and $2,000 in Apple gift cards, and gave the information to the caller. The man called back asking for more money and she realized it was a scam. She called her bank to make sure no more money had been taken from her account. None had, but the $5,000 deposit was fraudulent.
July 15, 5:29 p.m.: A man who lives on Arsenal Boulevard alone noticed some of his belongings had gone missing from his apartment. He left his home at 11:30 a.m. and returned at 4:50 p.m. He discovered a MacBook, a MacBook charger and Airpods were gone. Also, an empty watch box and an empty jewelry box were missing. Police are investigating.
July 16, 5 a.m.: An officer on Main Street spotted smoke coming from the alley next to CVS, known as Merchants Row. He found a smoking Duraflame log. The officer put out the fire with a fire extinguisher. Police located a suspect, who was a 49-year-old woman from Newton.
July 17, 3:31 p.m.: Police received a 911 call from Home Depot about two men fighting over a moped. The owner realized someone had taken his moped and was riding around the parking lot. He then left the area on the moped. The vehicle was recovered a short time later back at Home Depot. Police are investigating.
July 18, 3:45 p.m.: A woman was crossing Mount Auburn Street near Irving Street when a black Toyota Camry started driving. The woman was in the crosswalk and the car made a U-turn, faced in her direction, and appeared to accelerate toward her. She was able to get out of the way, and she was not sure why the driver would drive at her. U-turns were not allowed at that intersection. The driver was described as a light-skinned African-American man, about 30 years old with short hair. Police are investigating.
July 19, 8 p.m.: A bike was stolen from Target. An employee left his bike near the main entrance, locked to a bike rack. The Schwinn mountain bike with yellow, orange and red writing, is worth $354. He parked it there between 12:30 and 1 p.m. and when he went out at 8 p.m. it was gone. Police are investigating.