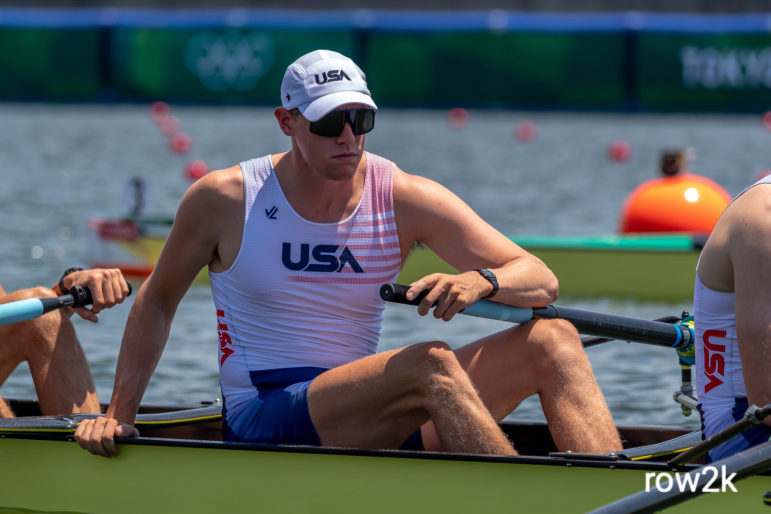 Team USA's Men's eight rowers, including Watertown's own Alexander Richards, finished a close third late Tuesday night to book a spot in Thursday's Olympic Final.
Richards and the USA crew raced against Great Britain, Australia, New Zealand and Romania for spots in Thursday's final at the Tokyo Olympics. The top four in the repechage race advanced to compete for medals.
The Americans hit the 500 meter mark in third place, behind the Brits and New Zealand. It was the same order at the 1,000 meter mark. New Zealand took the lead at the 1,500 mark, and the U.S. remained third — just ahead of Australian boat, which started fifth but moved into fourth.
The Americans made a surge in the last part of the 2,000 meters, racing bow to bow with Great Britain, and just missed out on second place. The U.S. finished with a time of 5:23.43, just 0.11 seconds behind the British team, the defending Gold Medalists.
Richards, a Belmont Hill School and Harvard University grad, trains in Oakland, Calif., runs a clothing embroidery business, and wants to become a physician. His father Chris coaches crew at Belmont Hill, and coached his son. Richards has competed for Team USA since 2017, and prior to that at the junior level from 2013-17.
Seated in the fifth spot from the front, Richards, joins the American men's eight Olympic boat. His teammates are Julian Venonsky (Malvern, Pa./University of California, Berkeley), Liam Corrigan (Old Lyme, Conn./Harvard University), Conor Harrity (Weston, Mass./Harvard University), Nick Mead (Strafford, Pa./Princeton University), Austin Hack (Old Lyme, Conn./Stanford University), Alex Miklasevich (Pittsburgh, Pa./Brown University), Justin Best (Kennett Square, Pa./Drexel University), and Ben Davison (Inverness, Fla./University of Washington).
On July 23, Team USA finished second in the first race of the Olympics — the heats — narrowly losing to Germany.
The U.S. will be in lane one of the six boat final, facing New Zealand, Germany, The Netherlands, Great Britain and Australia. The race is scheduled for 9:25 p.m. on Thursday. USA Network will show the event on tape delay beginning at 11:30 p.m. The final will be streamed live on the NBC Sports website and the Peacock app. See more information here.