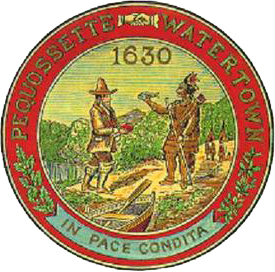 Firearm stores would be allowed in the same areas where marijuana dispensaries and adult stores can go in Watertown under the proposal recommended by a Town Council subcommittee.
On Monday night, the Economic Development and Planning Committee heard the language drafted by Town administrators for limiting areas where gun dealers and related businesses could go in Watertown. Several other communities in the area have looked at firearms store regulations, including Newton where elected officials looked at a firearms store ban but instead voted to restrict them to a few spots in the city. Councilors in Watertown thought it was a good time to look at the Town's zoning regarding such shops.
"The thought process we had, from a staff perspective, is to keep this pretty simple," said Assistant Town Manager Steve Magoon. "I don't think we have any existing proposals for gun-related businesses in town, but several Councilors indicated they want to regulate it. We do want to keep in front of it, and we also didn't want to go down the route of being over restrictive and precluding it from being allowed in town and then running afoul of the issue of to what extent it is or isn't protected, and those types of things."
Firearms businesses would be allowed in certain zones after getting a special permit approved by the Planning or Zoning Board, depending on the zone. A firearms business would be a retail or wholesale operation involved in the purchase or sale of firearms, ammunition, and/or firearm accessories, including: repairing, altering, cleaning, polishing, engraving, blueing, or performing any mechanical operations on a firearm, Magoon said. 
The zones where firearm dealers would be allowed include the major business areas, and those zoned for industrial uses. This includes the Central Business District in Watertown Square; the Limited Business districts such as parts of Main Street, Mt. Auburn Street and Galen Street; and the Industrial 1, 2 and 3 districts (mostly in the East End along Arsenal Street). Other areas include the Pleasant Street Corridor District (PSCD), and the Regional Mixed Use District (RMUD) on the east end of Arsenal Street.
The proposed restrictions within those areas include properties within 500 feet of existing public or private schools, and/or within 500 feet of a public park, playground or areas that are part of the Charles River Reservation. Also, no firearm business can be located within 500 feet of another such business.
With these rules, there would be areas where a firearms store could go on parts of Arsenal Street, North Beacon Street, Pleasant Street, Galen Street, and in Watertown Square.
The Committee discussed whether it preferred to have firearms businesses in high visibility locations, such as a major roadway, or on less frequented streets. Magoon said those types of businesses would likely cater to people from a wide area who would know about the store, rather than just happening upon it. Councilor Lisa Feltner said she was thinking the opposite, since there is little transition between commercial or industrial areas and residential areas in Watertown.
Councilor Vincent Piccirilli noted that the map used by Magoon to show the areas where firearm stores could go, appears to be out of date. He noted that the Council is updating the Open Space Plan and he believes there are more areas along the Charles River that belong to the state — particularly west of Watertown Square. Magoon said he would update the map.
The Watertown Greenway, the path that runs along the former railroad track behind Target and extends to the Cambridge line, is another area not included in the restrictions, Feltner said.
Magoon said he thinks it is important not to be too restrictive, so that there are essentially no places where a firearms business could go.
Councilor Anthony Donato said he believes it is important to have the map be the same as other restricted uses, such as marijuana dispensaries.
"Following what we are trying to do with cannabis, someone trying to challenge (the Town's firearms zoning) might have a steeper hill to climb if we can show we are treating these things similarly," Donato said.
Councilor Tony Palomba wondered what would happen if there was an antique store that had an antique gun which did not operate anymore.
"I was thinking of other antique weapons, such as knives and swords," Palomba said. "Is there any way to have an exception (for guns), such as if they are not functioning?"
Magoon said he thinks under the current rules the antique store owner would have to get a firearms dealer license, but there may be a way to create an exception. If the gun is inoperable, Piccirilli said, he believes it would not fall under the definition of a firearm.
Councilor John Gannon, who worked as municipal attorney with many communities, said that he believes there are state regulations and the Town could not make rules that go against the state's. He suggested having the Town's law firm, KP Law, look into the issue before adding an exception to the proposal.
The Economic Development and Planning Committee voted 2-0 to send the recommended zoning changes to the full Town Council, which would then send the proposal to the Planning Board before it comes back to the Council for final approval.