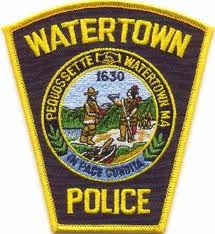 A Boston man faces charges for firearm offenses after he got into an accident in Watertown.
On Aug. 2, at about 4:45 a.m., Watertown Police went to Watertown Square for a vehicle that had rolled over during an accident. Both people involved said they were OK, and one of them, later identified as Jahvon Burton, had cuts to the head and body, said Watertown Police Sgt. Ken Swift.
"The vehicle he was driving rolled over on its side," Swift said.
A towing company was called, and the car was put back on its wheels but was un-drivable. Before the vehicle was towed the contents were inventoried.
"Located inside the car was a loaded handgun," Swift said, noting that it was a Remington 9 mm handgun with four rounds inside. "He did not have a license to carry the gun."
Burton received treatment for his injuries before being placed under arrest.
Jahvon Burton, 22, of Roxbury, was arrested on charges of carrying a firearm without a license and carrying a loaded firearm without a license.