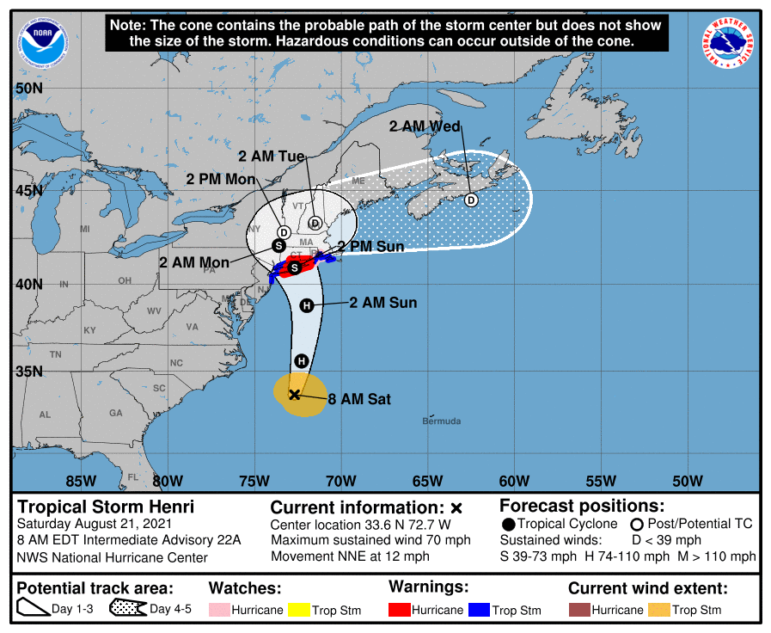 The forecast on Saturday morning shows that Hurricane Henri has shifted will make landfall further west, meaning Eastern Massachusetts will not take the full brunt of the storm.
The eye of the storm is now forecast to hit Eastern Long Island, N.Y., at about 2 p.m. Sunday, and continue over Connecticut and the Berkshires early Monday morning, before making a turn east over the southern parts of Vermont and New Hampshire on Monday afternoon and Tuesday morning.
The National Weather Service removed the Flood Watch for Eastern Massachusetts, but Worcester County and areas west could still see flooding. Watertown could get between half and inch to an inch of rain on Sunday, according to the NWS. Periods of heavy rain are expected Sunday, and there is a chance of thunderstorms from 7 to 9 p.m. Sunday.
Cape Cod no longer is under a Tropical Storm Warning, but it remains in effect for Southeastern Mass., Martha's Vineyard and Rhode Island, according to WBZ Channel 4. The Cape and Islands, along with Southeast Mass. and Rhode Island, could still get storm surges of 3-5 feet.