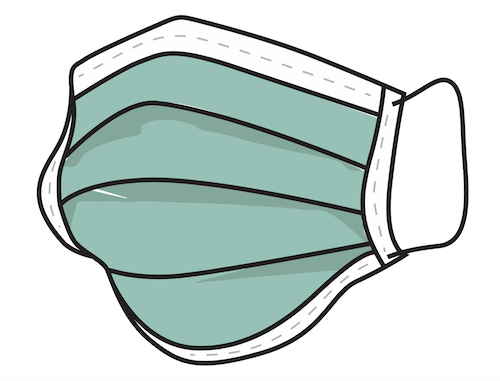 (Updated Aug. 23, 2021 at 6:35 p.m.)
The Watertown Board of Health approved a requirement for face coverings to be worn indoors in Town. The requirement begins Wednesday, Aug. 25.
The board voted unanimously in favor of the order at a special board meeting on Monday evening. The requirement applies to residents 5 years old and up.
Health Department Director Larry Ramdin said that the rates of COVID-19 infection and the number of breakthrough cases are rising in Watertown and Middlesex County.
"There is a significant part of the population that is not vaccinated and we have seen too many breakthrough cases," Ramdin said. "Before we end up with significant breakthroughs, hospitalizations and even death I am grateful the Board is considering this order, as we in public health are in the business of prevention, as much as we can."
Ramdin provided the latest numbers of infections throughout the pandemic. As of the end of the day on Aug. 23, Watertown has had 2,575 cases, 40 fatalities, 2,486 people have recovered, and there are 49 active cases.
In May, Watertown had 29 active cases, a daily case count of 0.93 and four breakthrough cases (people who contracted an infection after being vaccinated). In June, there were five cases, an average daily count of 0.16, and all were breakthrough cases. In July, the town had 72 cases, an average daily count of 2.3, with 41 breakthrough cases. As of Aug. 24, Watertown has had 86 cases, and average daily cases count of 3.7, and 37 breakthrough cases.
Board of Health member Barbara Beck said she "firmly supported" the order.
"We are seeing increases in breakthrough cases," Beck said. "It is consistent also with what a number of neighboring towns are doing,"
Board of Health member Richard Arnold said he hopes this is a temporary move.
"I do support this. Obviously it is, for lack of a better term, I think it is a temporary status. As we do see things changing, but we need to adjust accordingly to protect the community," Arnold said. "I think we can anticipate, if things do trend to a better level, we can reconsider and adjust accordingly."
Board of Health Chair John Straus said he hopes the move will help keep the Watertown Public Schools open during the pandemic.
"I think this is a good move to make the town as safe as we can be. This is obviously not where we wanted to be six months ago, but it is where we are," Straus said, adding, "Hopefully, this will keep kids in school longer by keeping ahead of the infection. The last thing we want is to have our kids at home again."
The indoor mask mandate follows the CDC guidelines, Ramdin said. The guidelines indicate they are recommended for counties that fall in the high transmission rate. Arnold noted that Middlesex County moved this week from the substantial risk of transmission of the virus category to the high risk category.
The Board of Health's order is posted online. Some changes were made, including adding the date of the order, and also adding a separate sentence saying that face coverings will be required in both private clubs as well as houses of worship.