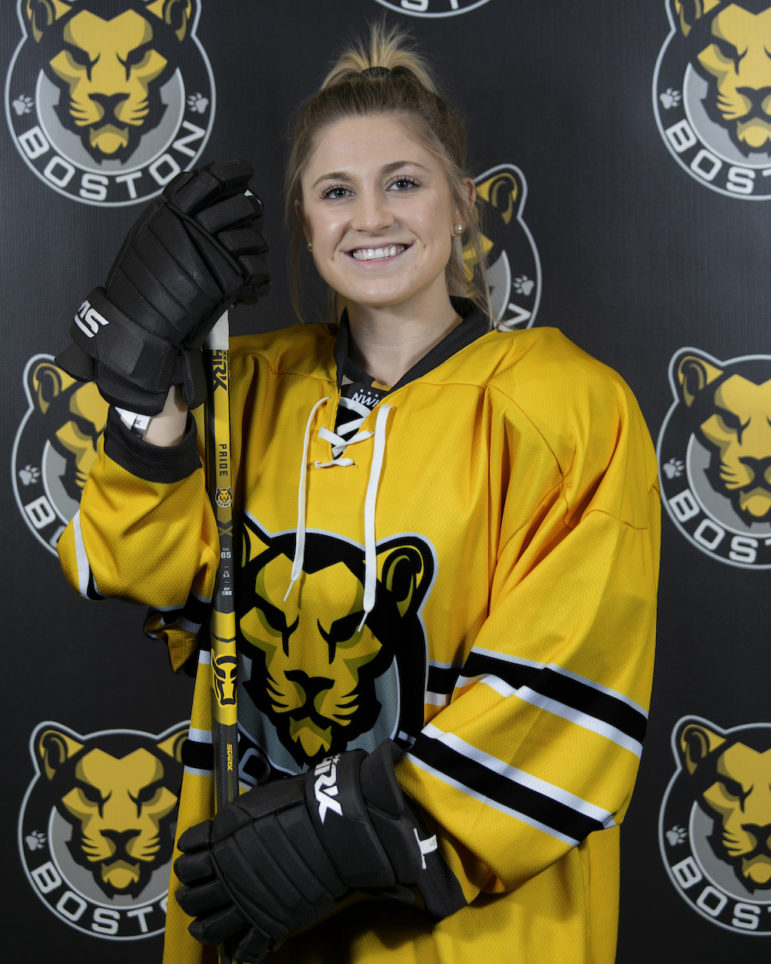 Watertown's Lauren Kelly will return for her fourth year playing with the Boston Pride, the reigning champion of the National Women's Hockey League (NWHL).
Recently, the Pride announced Kelly would return to be part of the team's 2021-22 roster. The Boston Pride are a professional women's ice hockey team and are one of the NWHL's four charter franchises.
In her three seasons in Boston, Kelly has played 48 games on defense, scored five goals, and added 14 assists, including two in the playoffs. Before being drafted 17th overall by the Pride in 2017, Kelly played four years at Northeastern. She attended high school at The Winchendon School.
Boston won the inaugural Isobel Cup — the NWHL's version of the Stanley Cup — in 2016 and were first the NWHL team to win two titles when they won again in 2021. The Pride play at Warrior Ice Arena, which is also the practice facility for the Boston Bruins. The 2021-22 season begins in November.
Watertown News reached out to Kelly to find out more about her hockey careers and more:
Lauren, you recently re-signed with the Boston Pride to play your fourth season in the NWHL. How does it feel to be a professional hockey player in the area where you grew up?
Playing professional women's hockey is a dream come true. Like many girls, I dreamt of playing professional hockey growing up, but knew women's hockey was not at that stage yet —locally. Nonetheless, I still dreamt that I would be able to have a career after college. I was so honored and proud that I was drafted by the Boston Pride, and I cannot wait to start year four! Not only did I achieve my dream of playing professional hockey, but playing for my hometown team, with family, friends, and local fans made it that much more special for me! 
The Pride won the Isobel Cup in 2021, can you describe what it was like to win the NWHL championship? 
Winning the Isobel Cup in 2021 was a very hard fought, yet fitting end to a two-year chapter. It was one of the greatest hockey experiences I have had. All of our hard work had paid off and winning in our own city made it that much sweeter. Having our 2020 season end the way it did, just hours before our championship game against the Whitecaps was heart wrenching. That day created the revenge tour in all of us, and we all knew we had something to prove in the 2021 season. We all worked hard individually at home during the quarantine and really put our foot on the gas when we eventually got to practice together. Although the season didn't go exactly how we had hoped at first. I don't think anyone in that locker room ever doubted that Isobel was coming home to Boston!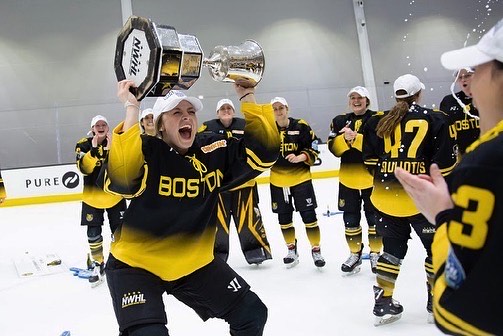 What are some other highlights of your career with the Pride?
I think one of the greatest highlights of my career aside from winning the Isobel Cup of course, is how honored I feel everytime I get to step on the ice in the Boston Pride sweater and represent the greatest city. I never take for granted that honor, and as a team we will continue to do our best to make Boston proud!
The 2021-22 starts in November. Where can people see you play and support the Pride when the team is at home? 
The Boston Pride's home rink is the Warrior Ice Arena where the Boston Bruins practice! In the 2020 season we had an amazing home crowd at every game, and I'm so excited to see those fans (in person) once again!
You were selected 17th overall by the Pride in 2017. What was that like? Is it televised like the NHL, or how did you find out you were drafted?
I was so excited to find out I was drafted by a NWHL team, but to learn that Boston had drafted me was truly a dream come true. They announced the draft via Twitter!
What do you do when you are not playing hockey, and in the off season?
When I am not playing hockey, I am working in my local middle school with some amazing students as a para-professional in the special-ed department. I also coach three sports as well as coaching along-side two of my Boston Pride teammates at Lady Militia in Braintree.
Do you have any tips for young aspiring pro hockey players? What was your path to the NWHL?
One tip I tell the athletes I coach now is to work hard when no one is watching. You may not be the best player on your team, but that shouldn't stop you from grinding day in and day out to be the best player you can be FOR your team. My path to the NWHL was through hard work, determination, and finding and understanding my role on my respective teams throughout my career. I was never the fastest, strongest, or had the most points in a game, but I found my role, and I work hard each day to make sure my role is done to the best of my ability. My advice to any young girl playing sports would be to keep working hard, but also remember to have fun along the way, the friendships and memories you will make will be some of the greatest of your life!