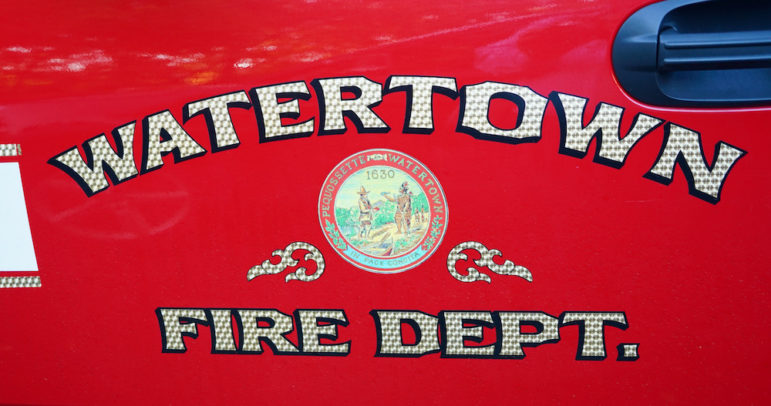 Five residents of a two-family home on Spruce Street have been displaced by a two-alarm fire that Firefighters from Watertown and four other communities battled on Monday night.
Smoke detectors in the second floor unit of 143 Spruce St. woke up the residents, who were able to get out and wake up the residents of the first floor. Five people and a dog all got out safely, said Watertown Assistant Fire Chief Ryan Nicholson, but the house was significantly damaged.
"The fire got a good head start. It was already well developed when we got there," Nicholson said. "It was nighttime, and no one was awake."
The call for the fire came in at 10:13 p.m. on Sept. 6, and when Watertown Engine 2 arrived flames were coming out of the rear of the house. A working fire was called at 10:18 p.m.
"They took quick action, and got a hose inside and up to the second floor," Nicholson said. "They saw the fire on the third floor as they came up the second floor stairs."
#WaterTown: 2nd Alarm residential structure fire mostly contained to the attic. No one was reported injured. Neighbors tell me they could smell burning rubber and plastic for several minutes prior to any visible smoke or flames were seen. #Fire #StructureFire pic.twitter.com/MwPSzBX196 — LLN Boston | Jack (@LLN_Boston) September 7, 2021
A second alarm was called by Deputy Fire Chief Daniel Tardiff at 10:34 p.m. The street is narrow, and neighboring homes sit nearby, Nicholson said, which required a different approach.
"Some of the other firefighters came from Lincoln Street, behind the house, to get access from the rear," Nicholson said.

Firefighters rotated periodically during the blaze, Nicholson said, to prevent overheating.
One Watertown firefighters suffered minor injuries when he was hit by falling debris, Nicholson said.
"He was treated at the hospital and was released," he said.  
Firefighters from Belmont, Cambridge, Newton and Waltham helped fight the fire, as well as covering the Watertown stations.
"We always thank our mutual aid partners, they help us just like we go to help them at times," Nicholson said. "It is good system." 
The cause of the fire remains under investigation by the Watertown Fire Department and the Massachusetts State Fire Marshal's Office, but Nicholson said that the incident does not appear to be suspicious.
The blaze cause an estimated $750,000 in damages, according to the WFD's fire report.
"Unfortunately, that house is probably a teardown," Nicholson said. "The third floor was fully burned out, and there was water damage to the bottom two floors." 
See footage of the fire from WHDH Channel 7 by clicking here.