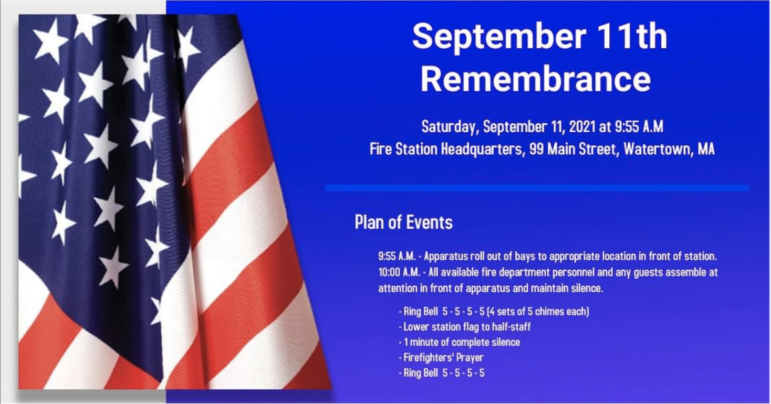 The Watertown Fire Department will mark the 20th anniversary of Sept. 11, 2001 on Saturday at the Main Fire Station.
The Town of Watertown sent out the following information about the ceremony:
The Watertown Fire Department will be conducting a brief remembrance ceremony for the 20th Anniversary of 9/11 on Saturday, September 11, 2021 at 9:55 a.m. at Fire Station Headquarters, 99 Main St., Watertown, MA. Everyone is welcome to attend.
Plan of Events
9:55 a.m. – Apparatus roll out of bays to appropriate location in front of station.

10:00 a.m. – All available Fire Department personnel and any guests assemble at attention in front of apparatus and maintain silence.
Ceremony
– Ring Bell 5 – 5 – 5 – 5 (4 sets of 5 chimes each)
– Lower station flag to half-staff
– 1 minute of complete silence
– Firefighters' Prayer
– Ring Bell 5 – 5 – 5 – 5