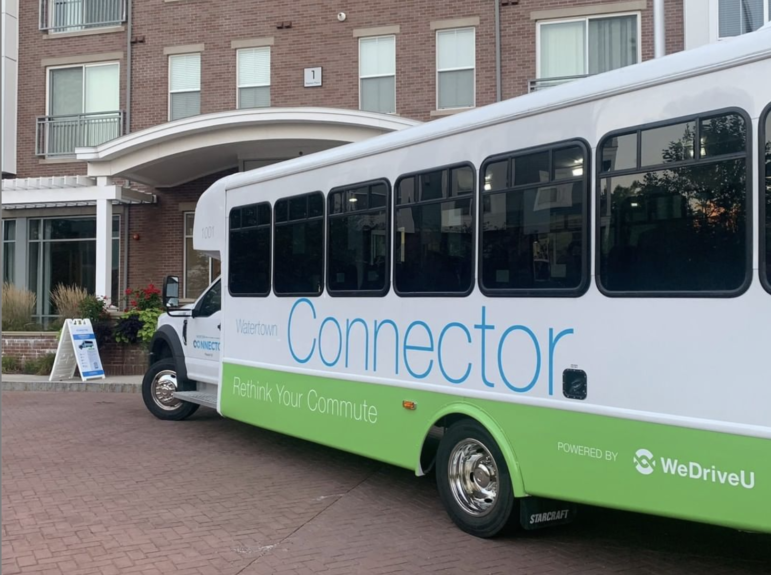 Watertown residents have a new public transportation option with the addition of the Watertown Connector, which runs along Pleasant Street and ultimately takes people to Harvard Square.
For about a decade, the Town of Watertown and residents have been working to start a shuttle to the westside corridor that would serve not only businesses and apartment complexes that help fund it, but also the general public. This became a reality this week when Watertown's Pleasant Street shuttle began operations.
"I'm excited," said Assistant Town Manager Steve Magoon. "It has definitely been a long time. There are a lot of reasons it has taken a long time. We wanted to make sure it would be successful and certainly COVID did not help with that. People stopped commuting all together, and certainly not by bus."
The Town chose the post-Labor Day start over the summer, said Watertown Transportation Planner Laura Wiener.
"I don't think there is a lot of ridership, yet. A lot of companies have not opened yet. A lot of people are working from home," Wiener said. "We expected after Labor Day offices to be opening up, but because of the (COVID-19) Delta variant a lot of businesses are holding off."
Since 2012, Watertown has required developments of certain sizes to become part of the Watertown Transportation Management Association and contribute to the shuttle. There were enough businesses on the Arsenal Street corridor to start a shuttle in 2019, but that one is not open to the general public.
Pleasant Street has not had as many new developments since 2012. A combination of existing apartment complexes and new developments have signed, along with the Town of Watertown, to create the new Pleasant Street shuttle.
The Town also got a $244,480 grant from the Baker-Polito Administration's Workforce Transportation Grant Program to help pay for the shuttle, which helped open the shuttle to the general public.
"I think there are a couple things that went into that, probably the biggest one was we got grant funding to help close the financial gap," Magoon said. "With the Arsenal Street one we didn't have that. It was completely funded by projects along that corridor. The combination of the Town funding and grant funding in the Pleasant Street Corridor gave us the opportunity to make it available to the public as well."
The Town contributed $96,000 this year for the shuttle, and Magoon said a three-year contract has been signed with the operator of the shuttle, the Watertown TMA.

Shuttle Stops
Riders will be able to find the shuttle stops, which are marked by signs.
"There is a sandwich board sign at each of the stops," Wiener said.
The shuttle goes down Pleasant Street, making a few stops before going to Watertown Square and then goes to Harvard Square in Cambridge.
The stops are:
Watertown Mews, 1 Repton Place (across from Russo's)
Riverworks, 480 Pleasant St.
Watermills at Bridgepoint, 330 Pleasant St.
The Aver apartments, 345 Pleasant St.
Watertown Square, 9 Galen St. (on the bus loop on the Watertown Delta where the MBTA buses stop)
Harvard Square, 1 Bennett St. (Across from the Charles Hotel)
Schedule
In the mornings, the shuttle makes four runs starting from Watertown Mews and picks up/drops off at Harvard Square three times. In the afternoon/evening, there are four shuttles leaving Harvard Square, and three pick ups/drop offs at Watertown Mews.
The shuttles run an hour apart, so in the morning they leave Watertown Mews at 6:30, 7:30, 8:30 and 9:30 a.m. It takes about 25 minutes to get to Harvard Square. In the afternoon and evenings, shuttles leave at 4, 5, 6, and 7 p.m., and are scheduled to take 27 minutes to get to Watertown Mews.
A sample run in the morning is: Watertown Mews at 6:30 a.m., Watermills/Aver at 6:32 a.m., Watertown Square at 6:34 a.m., and Harvard Square at 6:55 a.m. On the return trip, the shuttle leaves Harvard Square at 7 a.m., arrives at Watertown Square at 7:15 a.m., Riverworks at 7:18 a.m. and Watertown Mews at 7:20 a.m.
See the complete Pleasant Street Watertown Shuttle schedule by clicking here.
Riders
The shuttle is available for workers of participating businesses, residents of participating apartment complexes, and the general public.
Employees of businesses and residents of complexes that are part of the shuttle program ride for free. They can sign up for the Tripshot app using an email sent to them.
The shuttle costs $1 per ride for members of the general public. Riders can download the Tripshot app and load money onto it, or buy tickets at the Town Clerk's office in Watertown Town Hall, 149 Main St., Watertown.
"You don't have to have the app," Wiener said. "It is preferred to have the app. We are also selling tickets at the town clerk's office. There is a minimum purchase of 10 tickets purchased at a time."
Instruction for Downloading and using the App
The Watertown Connector shuttle uses theTripshot appto provide riders with schedules, real-time tracking, and free boarding passes.
Download the Tripshot app via theiOS App Storeor onGoogle Play.
Select "Pleasant" into the service name.
Register for the shuttle service. Step-by-step directions will show in the app.
Use Tripshot to get your free boarding pass and use it every time you ride.
If you need help setting up your account please contactwatconnector@wedriveu.com.