The Watertown Mall recently changed owners when Watertown Mall Associates Limited Partnership sold it for $130 million to Alexandria Real Estate Equities on April 21. Business owners in the mall spent much of the early summer wondering what the new changes would mean for them, including Maria Zullo, owner of Miss Maria's School of Dance.
Miss Maria's School of Dance (MMDS) was founded 10 years ago in Watertown and has grown into a thriving local business. The studio was originally located on Waverley Avenue in the current location of Suzyn Day Spa, and has since moved three times, growing larger with each move.
The first location had a single dance room, and after two years, MMSD expanded into a three dance room location on Main Street. In its eighth year of business, Zullo was able to secure a lease at the Watertown Mall in the location where the Registry of Motor Vehicles (RMV) used to be. However, classes had to be held in the facilities at Camp Cedar Hill in Waltham for one dance season while the RMV was vacating the space. Between all these moves and the COVID-19 pandemic just in the short time she had run the studio, Zullo was heartbroken when she learned that she may not be able to keep her current space, which she had intended to be the dance school's "new home" for the next 10 years.
Zullo revealed that she only found out that the Watertown Mall might be changing hands through an article in the Boston Globe, and no further news was communicated to her until after the acquisition had closed. Zullo got emotional as she described what learning this news was like for her, especially during the pandemic. 
"I put in my life's savings to build this space and we had only six months where it was blockbuster and then Friday, March 13th arrived and we started realizing the enormity of it all," said Zullo.

After all that, the prospect of not being able to stay in her new space for as long as she had hoped was devastating. However, she seemed confident that Alexandria Corporation wouldn't make any drastic changes "any time soon" and just hopes that she and her fellow business owners will at least be able to stay until the end of their respective leases — Zullo still has eight years left on hers.
While the Alexandria Corporation didn't respond to questions about their plans for the Watertown Mall, Zullo said that her motto has been "no news is good news" as she waits for a more definite answer about the future of her and fellow businesses in the mall.
However, Zullo said that uncertainty aside, the change in ownership was welcome in many ways.
"I'm actually excited about the new ownership because they've been very professional and the communication about the pandemic has been really good," said Zullo.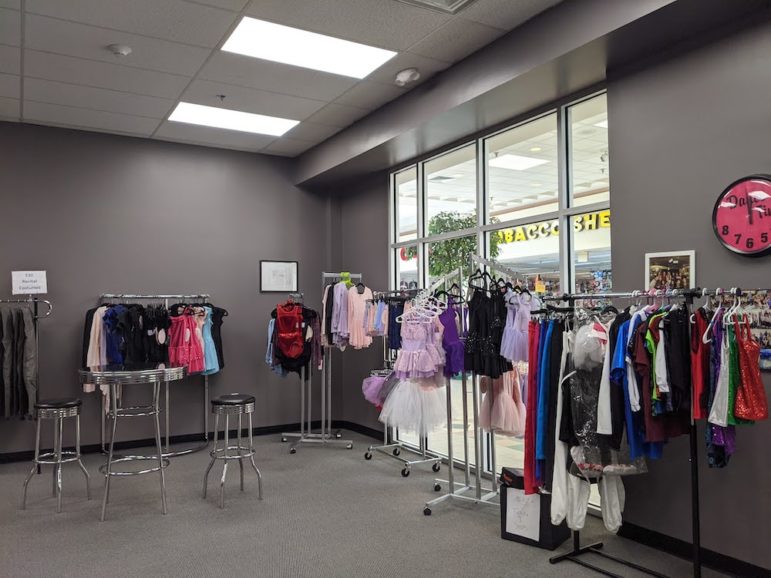 Despite the struggles of operating a small business during a pandemic, MMSD was able to adapt by transitioning to hybrid and zoom learning, and by renting out space to other dance companies who lost their spaces during the pandemic.
Zullo also credited the generosity of dance families as a significant factor in the studio remaining open, saying, "A lot of our customers were great, even some whose kids aren't interested in Zoom still paid for classes."
Additionally, a group of parents bought her a state-of-the-art air filtration system which allowed families to feel safer while having their young kids in dance class with masks on. Aside from financial support, Zullo spoke fondly of all the emotional encouragement she received, saying that during lockdown many dance families sent letters expressing their hope that the studio would be able to survive the pandemic.
"If any of my customers are reading this, I just want to thank them for their support," said Zullo.
The studio reopened to 40 percent capacity on July 6, 2020 with the state's Phase 3, Step 2 and, as Zullo described it, "slowly started to rebuild." Adding, that "The decline to 25 percent capacity in December 2020 was another big blow but we kept doing our best to roll with the punches."
"The goal is to have everything in person [this fall] and keep cleaning. All of my employees are fully vaccinated and we've never had an outbreak here, three kids in total [had COVID-19] out of 350," Zullo said.
She was also heartened to see how quickly many of her dance students adapted to the new way of life.
"Kids evolve and are resilient," said Zullo. "Some kids show up with dolls wearing masks." When the studio reopened, "the kids were coming in so excited that they were doing cartwheels … they were ecstatic to be back."
Zullo concluded the interview with a note of hope, "Please be kind to small business owners. My intention is that my dance school is here for the long term, we have no reason to be closing our doors. I feel like we've made it and I'm excited for this upcoming fall."