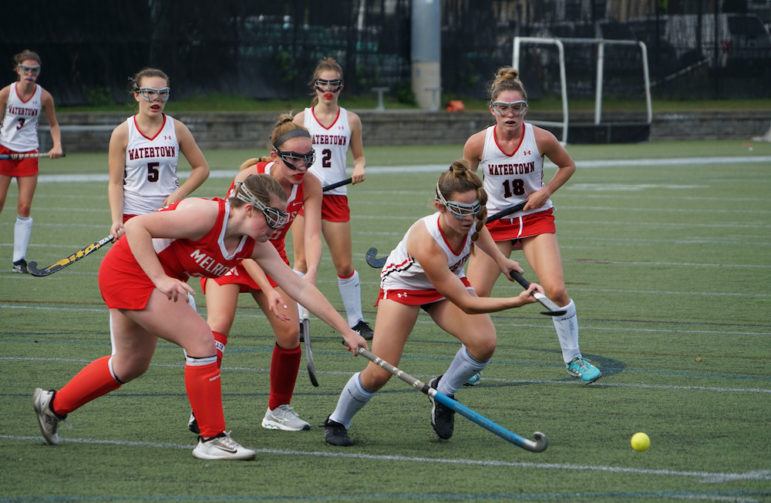 Watertown High School's field hockey team has jumped out to a hot start, winning their first four games without allowing a goal, but the team is not satisfied and looks for ways to improve their performance.
Thursday, Watertown defeated Melrose 7-0, led by a hat trick by Aislin Devaney. Four others scored goals: Taylor Lambo, Lizzie Loftus, Maggie Driscoll and Rachel Egan, and assists were added by Ally Fujix, Maggie Driscoll (2), Loftus (2), Molly Driscoll and Egan. In the first three games, the Raiders beat Wakefield 6-0, Lexington 4-0, and Arlington 6-0.
The Raiders seek to come off the COVID-19 shortened 2020 season to get back to their winning ways, both in league play and in the MIAA State Tournament.
The postseason, however, is not on their minds yet. Head Coach Eileen Donahue wants the players to focus on becoming a more cohesive team.
"They know it's early, only four games, but we are fortunate," Donahue said. "We are trying to get more people to step up and believe they can get the job done. That's actually been a big thing."
Last year, Watertown (and other Massachusetts high school teams) had a severely limited number of games — eight regular season and no postseason in 2020 vs. 17 regular season and the tourney in 2021. Even the practices were limited.
"We had three practices a week, so we made a decision as a coaching group that we are going to focus on their basics, and it started to get better and better," Donahue said. "(This year), we're working on basics, ya, but we're working on strategy. We are trying to up it every game. There's obviously a lot of competition out there."

The players tried to make the most of their time together, even during the off season, said co-captain Maggie Driscoll.
"One of the lessons we learned from last year was how important it was to put in the work in the off-season and try to get the team together as often as we could, even though there were restrictions due to COVID," the junior said.
Co-captain Lizzie Loftus, also a junior, agreed that team building is key to the Raiders' success.
"It is also just making sure that we foster an atmosphere where everyone can show up and put in the work," Loftus said. "We definitely had a lot of good team connections during the off season, so that really helps us coming into this season."
Donahue sees the varsity and junior varsity teams as two parts of a greater whole. Like the varsity, the JV team is undefeated and unscored upon. Players go back and forth between the teams.
"We are a balance between the two teams, so whoever is on is going to be on that field," Donahue said. "So, it's good and both teams are united."
Loftus and Driscoll also served as captains last year, and said while there are a lot of younger players for Watertown, they don't look at it that way.
"We don't really go by year or age, we go by whoever fits in, whoever does to work to be there, and makes our team better," Driscoll said.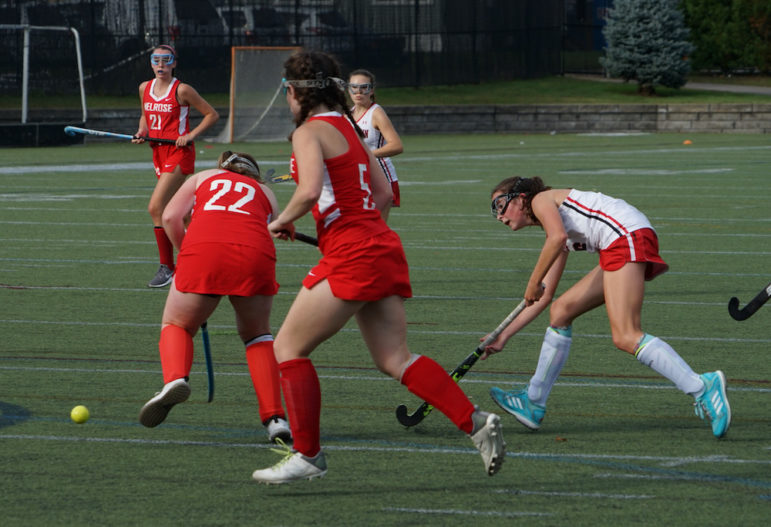 For several years, Watertown field hockey winning the State Championship was like the changing of seasons. After eight straight titles, it has been four years since the Raiders won the State Championship, with losses in the state semifinal in 2018, and the section semifinal in 2019, and the postseason cancelled in 2020.
The MIAA state tourney will look different in 2021. There will be four divisions (instead of two) and Watertown will be in Div. 3, rather than Div. 2. The sections are gone and brackets will include teams from across the state.
Loftus said the Raiders' focus is on the near future with hopes of paying dividends down the line.
"One of our goals is to earn everything, so we just want to make sure we are focusing on the next skill, the next practice, the next game, on the moment," Loftus said. "We are focusing on doing it in the moment, so when the time comes we can be ready."