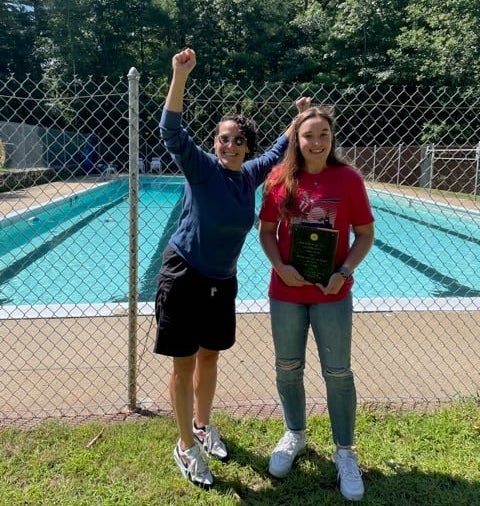 A staff member at the Watertown Boys & Girls Club received an award for her work at the club.
Aquatics Director Erin Hickey was named the Association of Boys & Girls Club Professionals Yankee Chapter Program Professional of the Year.
Hickey began working at the club since she was age 15, and in 2019 she was promoted to Aquatics Director, said Renee Gaudette, Executive Director of the Watertown Boys & Girls Club.
During the pandemic, Hickey was able to maintain a robust aquatics program. Part of her role is coaching the Watertown Wavemakers swim team.
"When the Waltham Club's pool closed abruptly in the fall of 2020, Erin welcomed those
athletes onto her team with open arms and has been able to forge a strong team identity within the combined team. There are now over 60 members of the swim team and a wait list!" Gaudette wrote in her nomination letter.

When the Watertown clubhouse was closed, Hickey switched her focus.
"During the time our Club was closed to members in the beginning of the pandemic, Erin coordinated our efforts to work with local restaurants to provide meals to the families of our members experiencing food insecurity," Gaudette wrote. "When the staff was furloughed during the summer of 2020, Erin continued to volunteer her time to deliver meals to these families."
She also volunteered with the Club Academy Remote Learning Site to support students' academic progress. In addition, Hickey led the "Backpack Brigade," which delivered back-to-school supplies to members, and is the club's "Tik Tok Liaison," which helped keep members connected while the club was closed.
"It is easy to see that Erin's commitment to our community extends far beyond her paid position," Gaudette said.