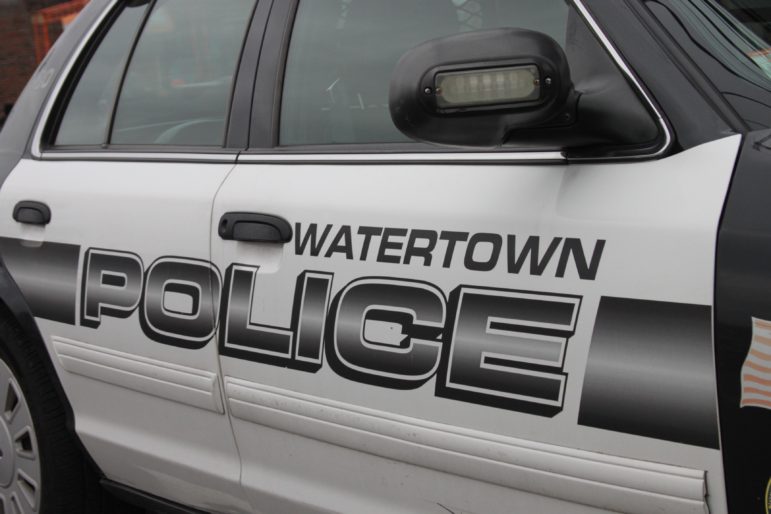 The following information was provided by the Watertown Police Department.
Arrest
Sept. 25, 10 p.m.: Police received a call about an ongoing fight on Elm Street. When officers arrived they found a man who was upset and looked like he had been in an altercation. The man said he had gotten into an argument with his landlord over rent, and he was being evicted. The man said he had paid his rent on time. He said he just got into a verbal argument. Officers observed blood on his tank top and shorts, and fresh cuts on his knuckles. When asked by Police what happened, he said, "Nothing." The landlord said he got a call from another tenant saying the man was acting erratically and damaged the apartment. Another tenant said the man asked to borrow an extension cord, but he didn't have one. The suspect got angry and began punching a hole in a door, and then he struck the other tenant in the face. The man said the cuts on his hand occurred when his dog bit his hand. When police were on scene, the suspect was screaming, caused a disturbance and yelled abuse at the officers. Police got the man's mother on the phone in an attempt to calm the man down, but it did not work. Angel Cruz, 40, of Watertown, was arrested on charges of malicious destruction of property, disturbing the peace, and disorderly conduct. Police determined that Cruz had struck the other tenant, but because it did not happen in the presence of officers Police could not charge him. They advised the tenant he could seek charges at Waltham District Court.
Incidents
Sept. 20, 1:10 p.m.: A Standish Road resident reported that a vehicle had been broken into. It occurred overnight from Sept. 19 to 20. The resident found the glove compartment had been rummaged through but nothing appeared to be missing. The vehicle was left unlocked.
Sept. 20, 3:44 p.m.: A bicycle was stolen from a Grove Street home. The bike was in a common area of the multi-unit residence and was not locked. The bike was last seen at 11:30 a.m. It is a 2019 Specialized Diverge valued at $1,300.
Sept. 21, 12:41 p.m.: A person was seen breaking into a vehicle in the front lot of the Watertown Mall near Best Buy. The witness provided a detailed description of the suspect and police were able to locate the man as he walked away through the Mall's rear parking lot.When the Police spoke with the man he admitted to breaking into the car. The 2003 Mercedes had been left unlocked. He took $25.50 in rolled quarters. He also had a GPS unit and a handicap placard that are believed to belong to someone from Cambridge, and appear to be from an unrelated incident. The 31-year-old-man from Cambridge was summoned to Waltham District Court for misdemeanor breaking and entering during the daytime, larceny under $1,200 from a person over 60, and two counts of receiving stolen property.
Sept. 22: Police received a report of a break-in at a home on Partridge Street. The same night there was a break-in on Longfellow Road in Waltham, which is nearby. During both incidents, the residents were home and asleep when the suspect or suspects were inside. No one was injured. The doors of the homes had been left unlocked. Police had a video of the suspect, that can be seen below:
Sept. 22, 10:47 a.m.: Police went to Standish Road for a car that had been broken into. The 2013 Mercedes was broken into overnight on Sept. 20 to 21. Missing was $3 in coins. The vehicle had been left unlocked.
Sept. 22, 2:17 p.m.: A resident received an email from someone he thought was his boss. The person posing as the boss said he was indisposed and asked the man to purchase $1,060 in Amex gift cards. He did so at Target in Watertown and sent the number of the gift cards to the person who sent the email. Later he learned his boss' email had been compromised, and he reported the incident to Police.
Sept. 22, 4:30 p.m.: A Summer Street resident came home and saw a man riding away on a bike from his apartment building while carrying a bag. The resident went inside his apartment and discovered someone had stolen some of his property. He realized the suspect had taken his rainbow IKEA bag and put the items inside, including a laptop, several electronic devices, a jar of coins, prescription glasses, and a Nintendo Switch. The missing items were worth about $1,600. The apartment was locked, but it appears the suspect got in through an unsecured first-floor window. The suspect is described as an African-American man, about 30 years old, 5-foot-9, 150-160 lbs., and he was riding a foldable gray bicycle. Police are investigating.
Sept. 24, 10:14 a.m.: A resident of the Elan Union Market apartments said she awoke at about 5:30 a.m. when her cats became restless in bed. She looked up and saw someone standing in her doorway. She thought it might have been a guest of her roommate. She heard the man walk around the apartment and then leave. In the morning she talked to her roommate who said no one had been invited over. The suspect was described as an Asian man, with medium build, short black hair, who wore a white T-shirt and black gym shorts. No one was injured. It is not clear how the person got into the apartment building.
Sept. 25, 12:49 p.m.: A woman drove over to Arsenal Yards and parked in the lot near City Works at about 12:30 p.m. She saw a silver Mazda driving around the lot before pulling into the spot next to hers. When the woman got out of the car to go shopping she saw the driver of the Mazda masturbating. She freaked out, got back into her car and drove home. The woman got a picture of the suspect's license plate and provided it to Police, who are investigating.
Sept. 25, 4:11 p.m.: The rear passenger window of a 2008 Nissan SUV parked on Bromfield Street was smashed. It was parked there at about 6:30 p.m. on Sept. 24 and the owner came back at 11:30 a.m.
Sept. 25, 5:30 p.m.: A woman parked in the lot at Oakley Country Club at 11:30 a.m. and when she came back at 5:30 p.m. the rear passenger side window had been smashed and her Louis Vuitton purse was missing. It is valued at $2,400, and she had a makeup bag inside worth $100. The car had been locked.
Sept. 26, 9:30 p.m.: Officers went to Westminster Avenue and Main Street after getting a report of a fight in progress. They found a man who looked disheveled, was bleeding from the knee and had other minor scratches. The man, who is from Framingham, told police he had been "jumped" by three men who were about 30 years old, wearing dark sweatpants and sweatshirts. He told police they ran away toward the Linear Park path. The man and his friend had just picked up food at Halfway Cafe and were crossing the street to get to their truck. The three men approached them and demanded they give them their money. A scuffle ensued, and the suspects did not get any money or other items from the two men. The friend was not injured. The victims could not provide any further description of the suspects. Police are looking further into the incident.