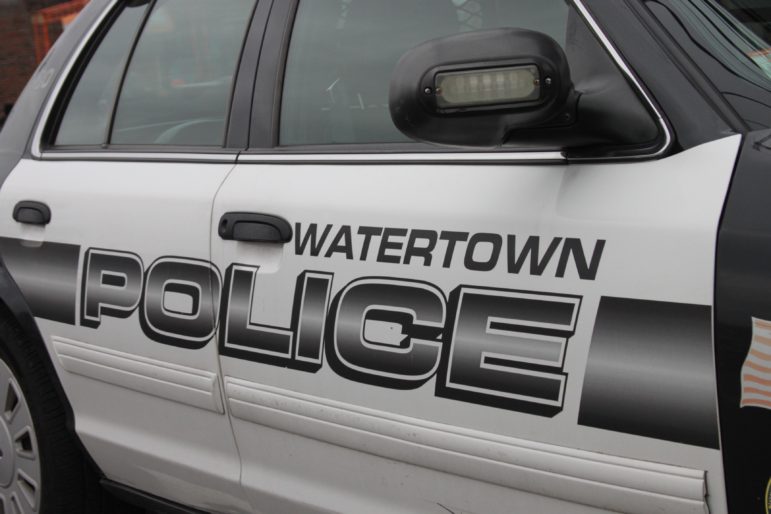 The following information was provided by the Watertown Police Department.
Arrests
Sept. 27, 3:43 p.m.: An altercation in the middle of Lloyd Road involving six people got violent. Police received a report of the incident and when officers arrived they got between the parties. One woman, a 53-year-old from Waltham, had a cut on her face and was bleeding. It appeared that she had been struck by a blunt object. She was treated by paramedics. The fight began when the ex-husband of a resident of the area showed up with his girlfriend. An argument began and the ex-wife came out of her home with a baseball bat and allegedly struck the girlfriend in the head. Others on hand tried to break up the fight, and the girlfriend was able to get her hands on the bat and hit one of the men trying to break things up, and injured him, and then struck another person. When questioned, the people involved gave conflicting statements, but police were able to get access to a home security video that showed the incident. Police arrested the ex-wife, Nicole Rodriguez, 44, of Watertown, on charges of assault and battery with a dangerous weapon and threats to commit a crime for threatening the girlfriend. The girlfriend was summoned to Waltham District Court for two counts of assault and battery with a dangerous weapon (people summoned are not named by Watertown Police).
Sept. 27, 8:06 p.m.: Police went to Main Street after a driver reported a vehicle swerving in the road. The witness saw the car weaving, and had been following it from Trapelo Road in Waltham. At one point the vehicle went up on the sidewalk, and also crossed completely onto the other side of the roadway. The swerving car pulled into a driveway on Main Street. When police found it they saw it was parked and was partially into the bushes and the internal light was on. The driver said she was on her way home from Waltham and was showing signs of intoxication including a strong odor of alcohol on her breath. She appeared confused and admitted to drinking alcohol. Renata Dias, 43, of Watertown, was arrested on a charge of driving under the influence of alcohol.
Sept. 29, 9:23 p.m.: Police went to Prentiss Street to investigate an incident unrelated to the arrest and while speaking with people at the home they discovered one of them had warrants for his arrest. Donald Ahlgren, 37, of Watertown, was arrested on three warrants from Woburn District Court: one for resisting arrest, the second for possession of a Class A drug — a subsequent offense, and a third for possession of a Class C drug.

Sept. 29, 11:37 p.m.: Police went to Arsenal Street for a report of an accident. The driver pulled onto the street from the Arsenal on the Charles, where there was a truck unloading a vehicle outside an auto repair shop. The driver struck the vehicle being unloaded. Police gave the driver three field sobriety tests, which he did not pass. Darren Farrington, 53, of Cambridge, was arrested on a charge of driving under the influence of alcohol, a second offense.
Sept. 30, 3:03 a.m.: An officer on Main Street observed a vehicle going faster than 45 mph in a 30 mph zone. The driver was pulled over near Edenfield Avenue. The officer spotted an object on the floor that appeared to be a digital scale, as well as a brown box which was open and contained a small plastic bag with a brown substance inside. The man said the substance was cocaine. Peter Pierre, 74, of Watertown, was arrested on a charge of possession of a Class B drug and was cited for speeding.
Sept. 30, 2:11 p.m.: A woman approached an officer in CVS and said she was looking for a missing elderly man, who is her father. The man was located at the BofA branch down the street. While speaking with the woman, police found she had a warrant for her arrest. Mona Paak-Zaad, 39, of Medford, was arrested on warrants: one for Cambridge District Court for assault and battery on a person over 60, and another from Dorchester District Court for assault and battery on a police officer and disturbing the peace.
Incidents
Sept. 27, 1:32 p.m.: A Royal Street resident reported a case of ID theft. Police got a letter from a company she had been dealing with and was told her software had been hacked and some of her information had been compromised. She checked her credit report and learned someone had opened a Capital One card in her name and made purchases totaling $453.82. She contacted Capital One and is in the process of being reimbursed.
Sept. 28, 5:19 p.m.: A resident reported to Police that he had been scammed out of $2,983.45. He received a call from someone identifying themselves as an Eversource employee and said his electricity account was in default and his power would be shut off if he did not pay it off. He was told to use Zelle to send money. After sending the money he realized he does not have an Eversource account.
Sept. 29, 6:30 p.m.: A woman was walking down Bacon Street and said someone touched her buttocks as someone rode past on a bicycle. She believed the person used a hand to touch her. She didn't not see the suspect's face but the bicyclist was wearing a gray sweatshirt and was riding a red bike. The suspect turned east on Main Street and rode away. Police are investigating.
Sept. 30, 3:41 a.m.: A woman called police to report that an unknown man had been in her apartment late at night. The woman had called the previous week to report a similar incident. When police got there the suspect had fled. The woman encountered the man in her apartment at Elan Union Market at about 3:30 a.m. She asked him what he was doing there and he turned and ran away. There were no signs of forced entry, and the resident said she believed the door had been locked. The suspect is described as an Asian male with short black hair, who was very tall, and wore a white shirt and black pants. Nothing was taken from the apartment. Police are working with the resident and the apartment management on the investigation.
Oct. 1, 7:53 a.m.: Police received a report of stolen construction materials. The project manager of a construction site at Arsenal Yards said that 1,000 feet of welding lead was taken. There were 10 bundles of 100 feet, which weighed 120 pounds each. The estimated value is $10,000. Police are investigating.
Oct. 3, 8:24 p.m.: A push scooter was taken from Stop & Shop. He parked his scooter at the store at about 5:45 p.m. and left the store at 8:20 p.m. and found the scooter was gone. He could not remember whether he had left it in the entrance or by the shopping carts. The gray scooter was not locked, and is worth an estimated $100.