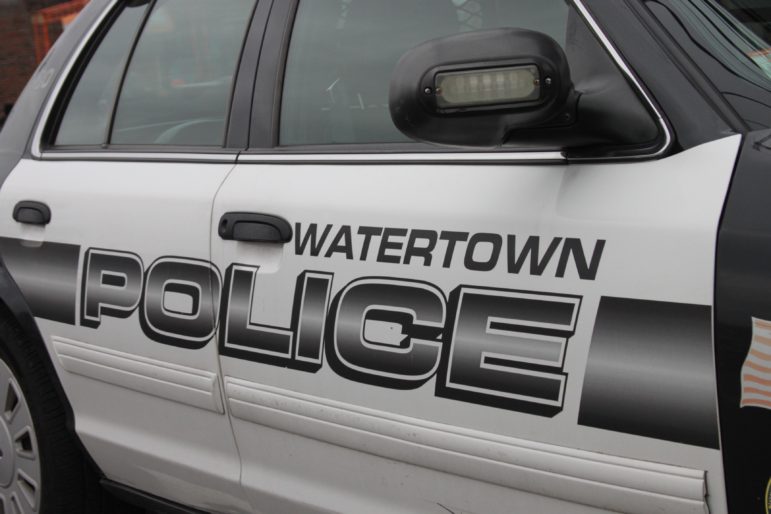 The following information was provided by the Watertown Police Department.
Arrests
Oct. 7, 6:13 p.m.:  Employees at Ricci's Liquors on Main Street spotted a man shoplifting. The man took a bottle of Jack Daniels off the shelf, hid it under his jacket and left the store. One of the employees followed the suspect down the street and the police were called. Officers stopped the man down the street and found the bottle unopened. The suspect also had four outstanding warrants. Mark Rankin, 25, of Everett, was arrested on a charge of shoplifting, and the four warrants: two from Somerville District Court — one for two counts of shoplifting, and one for larceny under $1,200; and two warrants from Cambridge District Court for shoplifting, assault and battery on a person over 60, disorderly conduct, trespassing and breaking and entering a building in the nighttime.
Incidents
Oct. 4, 12:05 a.m.: The front door was shattered at a multi-unit complex on Mt. Auburn Street. It looked like someone had shattered it from the inside. It did not look like anyone had entered the building or that anything was missing.
Oct. 5, 8:25 p.m.: A man parked his vehicle at the Stop & Shop on Pleasant Street at about 7:30 p.m. and came back at 8 p.m. and noticed blue paint on the front driver side tire and the front quarter panel. He told police he wasn't sure if the paint had gotten there when he was at Stop & Shop or at another time during the day. No other vehicles in the lot had paint on them.
Oct. 6, 2:50 p.m.: A man from Watertown came into the station to report a case of fraud. On Oct. 1 he received a phone call from someone claiming to be from National Grid. The caller told him his electricity was going to be turned off due to non-payment of bills. The man made two payments on the Zelle app, for $498.78 apiece. After sending the money he realized it was a scam and he called the bank to report it.

Oct. 6, 3:18 p.m.: A package was taken from an apartment building on Mt. Auburn Street. The resident had ordered a small cable for Amazon that cost $32. It had been confirmed delivered on Sept. 27, and when she went to look for it on Oct. 1 it wasn't there. A surveillance video showed a white male, wearing a navy blue shirt, black shorts, black sneakers and a baseball hat who was buzzed into the front entrance. The man picked up a package and continued to walk into the building. There was no definite indication that the video showed the actual theft, but the resident said the package appeared to be a package that could have been the item she ordered.
Oct. 7, 12:40 p.m.: A woman reported that she had an issue with a forged check in her name. She owns a company in Newton and while checking her bank account she noticed a check that had her company's name, address, and bank account number, but did not resemble her company checks. The check was for $8,837.52 and had a woman's signature on it. A possible person of interest was identified in California. Police are working with the bank and trying to track down the person in California.
Oct. 7, 10:13 p.m.: A Warren Street resident said a front window had been broken. Someone had thrown a hard object through the window. Two adults were at home at the time, but did not see or hear anyone. The cost to replace the window is estimated at $1,400.