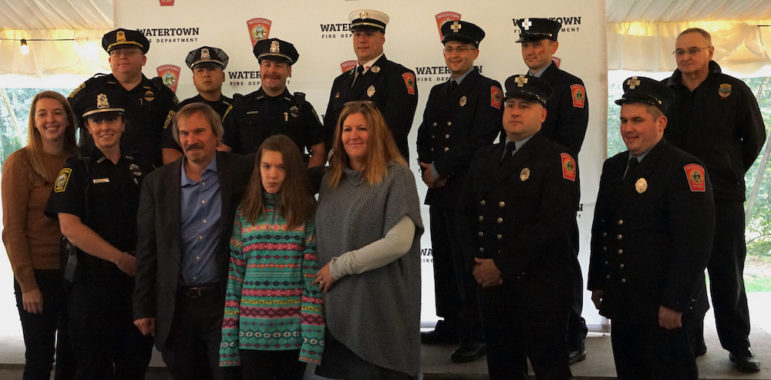 A dozen people received awards for their part in saving the life of a girl in July who was not breathing. Also during the ceremony the three newest members of the Watertown Fire Department officially received their badges.
Jim Patterson, handed out the awards during Monday's ceremony, as his daughter Rachel and wife Jennifer looked on Monday at the Commander's Mansion. The Watertown Fire Department's Commendation Board approved giving the awards to members of the Watertown Fire Department, the Watertown Police Department, and civilian members of the Watertown public safety departments.
After the ceremony Jim said he was grateful for the service the award winners provided his daughter and his family.
"Both departments were just amazing — the response time, how they worked together," he said. "They were just so focused when they showed up at our house, and how they were with Rachel. Words can't describe how grateful we are. They're just amazing — like angels."
The awards were given for the response to a 911 call on July 30, 2021, for an 11-year-old girl who was unconscious and not breathing, said Fire Chief Bob Quinn. Police officers Frank Forde and Don Pham arrived first and began administering CPR on the girl. Sgt. Jean Sarkissian and Officer Casey Dalla Costa maintained control of the scene.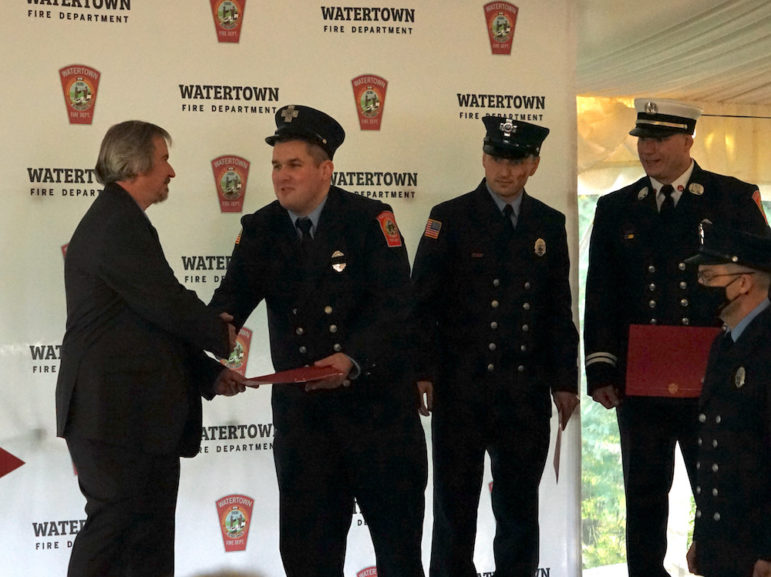 Watertown Engine 1 and Medic 1 arrived and took over CPR. The firefighters deployed the AED (defibrillator) and the Lucas machine. They administered two shocks, and the girl regained a pulse and began breathing on her own, Quinn said. She was taken to Children's Hospital, where she regained consciousness and started talking.

The firefighters who responded to the incident were Captain Michael Anastasi, and Firefighters Matthew Nicholson, Jeffrey Pugliese Jr., Cameron Walsh, and Matthew Callahan. They were awarded the Company Citation Award by the WFD commendation board, which is given to a fire company for displaying quick and efficient actions, which effectively preserve life and property.
The four Watertown Police officers received the Medal of Commendation, given to those inside or outside the department for special alertness or dedication during the performance of duty.
Also honored at the ceremony for their role were Public Safety Dispatchers Phil Dagostino and John Selig and Watertown Police Clinician Colleen Murray, who were awarded a Letter of
Commendation for outstanding performance and service to the Fire Department.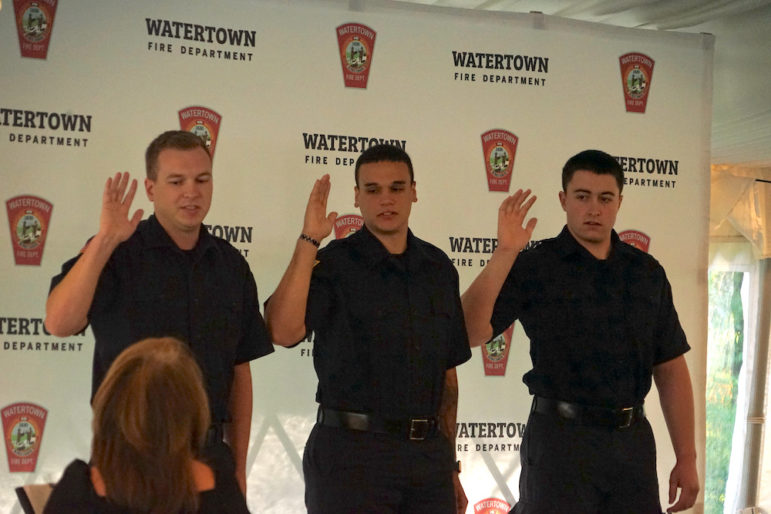 Also on Monday, three firefighters were sworn in by Town Clerk Janet Murphy.
Firefighter Tyler Romanelli was appointed on March 28, 2021, and recently graduated from the Massachusetts Firefighting Academy. Firefighters Angel Carrion and Francis Hession were both appointed on Sept. 12, 2021.
Quinn welcomed the newest members of the Watertown Fire Department.
"It is always an exciting time when new people join the department," Quinn said. "Our newest firefighters have the character to provide professional fire and emergency medical service to the Town of Watertown on a moment's notice while maintaining the core values of the organization. Passion, dedication, integrity, knowledge, courage, compassion, and just a good-old fashioned desire to be your absolute best are the foundation of our service. I hope that these are some of the core values you live by and the reasons you joined the fire service."