At just age 23, Francesca Vigliotta fulfilled her dream. She wanted to open her own salon and she was able to make it happen when she saw an open space in Watertown Square.
Plush Beauty Bar held its grand opening in mid-September, and it is a family collaboration with Francesca teaming up with her sister, Jessica, who is two years older. The salon offers a variety of services, including eyelash extensions, waxing, threading, lifts and tints, spray tans, make up application, and they plan to offer more.
Francesca focuses on the treatments, while her sister Jessica runs the front desk and handles other parts of the business.
"I am a paralegal by trade, I do have real day job," Jessica said. "This is my fun, side day job." 
Francesca first started doing treatments for her friends during her first semester of college, and then decided to pursue that professionally. She enrolled in the Elizabeth Grady School in the Back Bay to learn esthetics and earned her license in 6 months.
She got her first taste of Watertown working at the European Wax Center in Arsenal Yards.

"When COVID hit I realized I wanted to do my own thing. I was at home doing services on family on the side and figuring things out," said Francesca, who lives in Winthrop. "When things started to open up and we were able to bring people back into the house and I had also gotten a job at European Wax Center in Watertown. I was only in there 3 months. Everyday I saw 11 Main Street up for lease. I took tour and went for it and left European Wax Center."
The former massage business was renovated over an eight-week period. In its opening announcement, Plush said: "Walking in, clients are greeted with smiling faces and cheerful music. But the one thing clients can't miss is the neon pink sign hung on a grass wall saying: 'This must be the place.' And indeed, it is."
Plush has been welcomed by local customers, Francesca said.
"The people of Watertown have been so enthusiastic about my salon opening up and have shown a great deal of support," she said.
Francesca has kept some of her clients from her former position, and recently had a visit from a member of the New England Patriots, when his girlfriend came in.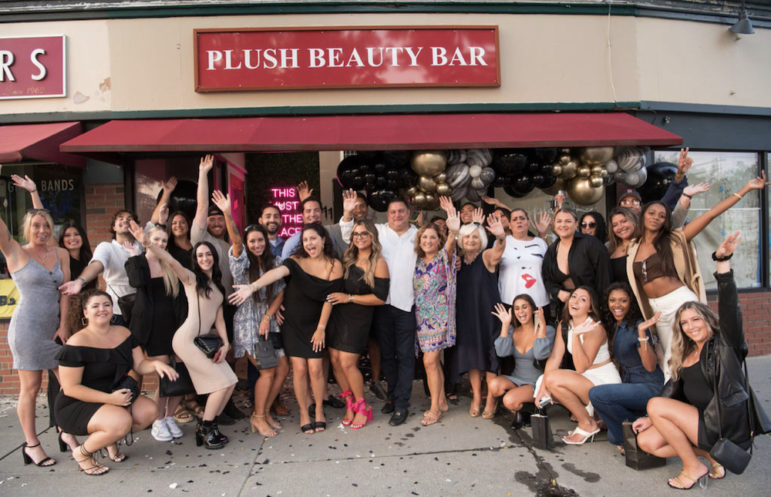 While the salon offers a variety of treatments, Francesca said she is known for her eyelash extensions.
"Honestly, lash extensions are pretty big, and we are really big on eyebrows and spray tans," Francesca said. "We do a lot of weddings and proms — a little bit of everything." 
Francesca continues to add to her range of skills, and she will soon be taking class in nanoblading, a semi-permanent cosmetic tattoo technique used on eyebrows.
Plush also offers its own home eyelash extensions. While the lashes available at the salon can last about four weeks, the home lashes are good for those looking for a one-time use, Francesca said. They also have their own line of clothing featuring the salon's logo.
Plush Beauty Bar is open Tuesday-Thursday 10 a.m.-8 p.m.; Friday 10 a.m.-6 p.m.; and Saturday 10 a.m.-4 p.m. Find out more at www.plushbeautybarboston.com