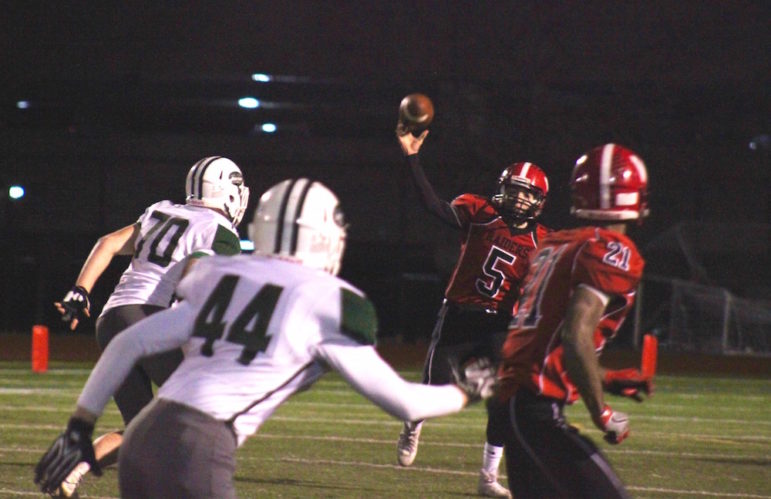 For the second week in a row the Watertown High School football team triumphed in overtime. Next up for the Raiders is a road state playoff game.
The Raiders wrapped up their regular season schedule with a 29-23 overtime win at Melrose. The team improved to 5-3, which earned Watertown the 10th seed in the MIAA Div. 5 playoffs. The Raiders will face seventh seeded Dover-Sherborn (7-1) in Dover at 6:30 p.m. on Friday, Nov. 5.
Head Coach John Cacace said his team is gelling at the right time after winning two Middlesex League games on the road.
"Our team is coming together. We are finding our identity at the right time and playing with confidence," Cacace said. "Those were two great wins that didn't come easy. We fought through a lot of adversity and made plays down the stretch to win those games."
Two weeks ago, Watertown defeated Wakefield 22-20 in overtime. Last Friday, the Raiders took a 14-point lead with a 5-yard run from running back Mason Adrade in the first quarter and a second quarter rushing touchdown by quarterback Johnny Cacace from one yard out.
After Melrose rallied to take a 2-point lead in the third quarter, Andrade took the ball 72 yards for a touchdown. Melrose scored in the fourth quarter to take a three point lead, but Watertown's Rafael Magalhaes kicked a 36-yard field goal to send the game to overtime. Andrade struck one more time on a 9-yard touchdown run to provide the winning score.

Playoffs
The Raiders return to the State Football playoffs for the first time since 2017. When Watertown makes the playoffs, the team has a history of success. In 2017, the Raiders won the North Section and reached the State Semifinals, the section final in 2015 and 2016, and they won in the first round in 2013 (the first year of the expanded MIAA football playoffs). The only time Watertown lost in the first round was in 2014 at Swampscott.
Despite having no players with experience playing in the state playoffs, Cacace said he believes the Raiders will be ready.
"I don't think playing a playoff game makes much of a difference for us," Cacace said. "We play five tough teams in our league every year. Going through that gauntlet sharpens our nerves and prepares us for tough challenges. I think we will treat this game like any other."
Dover-Sherborn won the Tri-Valley League Small Division, and averages 33.3 points per game, while allowing 10.1 points per game.
"Dover is a very good team. They are talented and aggressive," Cacace said. "We need to contain the big play from them. They have some explosive receivers and play makers."
Defensively, Cacace expects Dover-Sherborn to be aggressive and blitz a lot.
The game will come down to basics, he added.
"We need to play physical and execute well to be victorious," Cacace said. "When it's all said and done, it comes down to blocking and tackling. Who will win the line of scrimmage?"
Watertown will have a shorter time to prepare than in most weeks, Cacace said, with the seedings not coming out until Monday.
"That really isn't right for the MIAA to do that. We usually start prepping for a game on Saturday. Now, we are getting started on Monday evening," Cacace said. "We'll make the most of it and be prepared like any other week."
This year, the MIAA had done away with the sections, and all 16 Div. 5 teams have been seeded in one bracket, with the final in Foxborough.
Dover-Sherborn is located at 9 Junction St. in Dover. Tickets to MIAA Tournament Events must be purchased at GoFan.
To watch the game live click here: https://m.youtube.com/user/doversherborncabletv