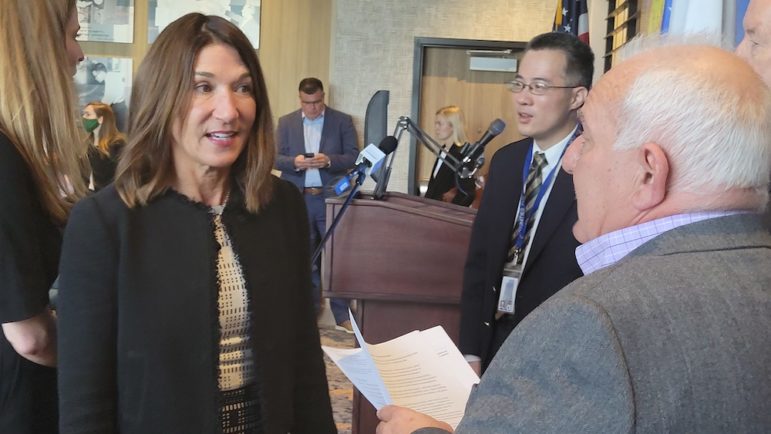 Lt. Gov. Karyn Polito stopped by Watertown on Tuesday to celebrate the transformation of Arsenal Street and to give out more than $3 million in grants to help municipal officials continue the economic growth in the community.
The event took place at the Hampton Inn & Suites, located in the biggest redevelopment project in Watertown — Arsenal Yards.
Polito recalled how she used to visit the Arsenal Mall when she was a student at Boston College in the mid-1980s, when it looked very different. The mall has been replaced by a mixed-use complex with restaurants, retail space, a supermarket, hundreds of apartments, a hotel and over 500,000 sq. ft. of space for biotech companies.
Nearby, 950,000 sq. ft. of space for lab space has been created or will be added in Watertown, including LINX (185,000 sq. ft.), 99 Coolidge Avenue (255,000 sq. ft. permitted), and 23 Elm Street (69,319 sq. ft. proposed). A total of 1,857 permanent, full-time jobs and approximately 500 construction jobs will be created from these new developments, according to the Baker-Polito Administration's announcement.
Polito credited Watertown's administration and the Town Council for laying out the path to redeveloping the area and following through.
"I just want to thank you for your willingness to be creative and being willing to not only take a vision and mapping it out in a plan, but being aggressive, assertive, to get out there and attract the private investment. That has really allowed your visions to become reality," Polito said.
Watertown Council President Mark Sideris said Arsenal Yards was made possible when the Council approved zoning changes in 2016 to create the Regional Mixed-Use District (RMUD) along Arsenal Street. The goal was to turn the area into one with developments that allow people to "live, work and play," as well as, attracting innovative companies, such as the life science research and development companies that has moved into the area in the past few years.
The Town could not transform the Arsenal Corridor on its own. It required private investment and development, including the developers of Arsenal Yards.
"I want to thank Boylston Properties, in particular Bill McQuillan and Mark Deschenes, who have created this vision here for us and they are helping the Town with our vision," Sideris said. 
To help continue the work that has started on Arsenal Street, the Baker-Polito Administration awarded Watertown a $3.4 million grant from the MassWorks Infrastructure Program, Polito said.
The money will go toward making Arsenal Street meet the Complete Streets standards, which focuses not just on private motor vehicles, but also making it friendly to public transit users, bicycling and pedestrians. Improvements include reconstruction of the roadway, bike lanes, ADA compliant sidewalks, MBTA shelters at bus stops and more.
The MassWorks Grant will help pay for the project, Sideris said, which has an estimated cost of $6.9 million. The project will also receive funding from the Town as well as private sources.
State Rep. Steve Owens said the money will got toward new traffic signals that give priority to buses, bicycle and pedestrian focused improvements, and stormwater drainage improvements. He said the improvements are in line with the goals of Watertown's Comprehensive Plan, which lays out the community's planning vision.
"I went back to the 2015 Comprehensive Plan and one of the goals was to transform Arsenal Street into a 'dynamic mixed use corridor.' Well, here we are," Owens said. "There is still work to do. The MassWorks Grant helps fund some safety improvements. They are going to help make Arsenal Street that much more inviting to pedestrians and other users and there is no doubt that Watertown is now a place to come to, not just to drive through on the way to someplace else."
The MassWorks program began under the Patrick Administration when several public works programs were combined to make them easier to apply for. The Baker-Polito Administration took the program and made it a "one-stop" application for a range of grants to stimulate economic growth, Polito said.
Over the past couple years, Polito and Undersecretary of Community Development Ashley Stolba traveled around Massachusetts to hear about how the Administration can be a better partner with local communities. Then each city and town was asked what their top five economic development projects would be and what they would need to make them happen. The MassWorks Grants are part of the program, along with several other grants.
"Apply, and even if you don't get a MassWorks grant you might get one of these other grants to help your project move along," Polito said.
Watertown got two additional grants — one for community planning and one for housing, Stolba said.
"We are so excited about what is happening right here on Arsenal Street. If we are going to stay competitive in a post COVID-19 world it is so critical that we support our innovative companies," Stolba said. "We need to give them the space they need to make the discoveries, provide infrastructure to support all of their activities, and then, of course, to provide the housing that we need for their workforce." 
Watertown received a $250,000 Housing Choice Initiative grant. The money will be used to create the bicycle-pedestrian path segment from Arsenal Street to Watertown Square. This will help link the area to other multi-use paths in the region, Owens said, including the Cambridge-Watertown Greenway — that goes through East Watertown to Fresh Pond in Cambridge — and the Minuteman Commuter Bikeway — which stretches from the Alewife Red Line Station to Bedford.
The other grant awarded Tuesday was a $59,000 Community Planning Grant, which will be used to update the Comprehensive Plan. The money will be used to focus on three areas of the Plan, economic development, land use and transportation, Stolba said.
Greg Reibman, president and CEO of the Charles River Regional Chamber, closed the event.
"I want to say how impressed we have been, Mr. (Town Manager Michael) Driscoll with the work you have done and the entire town has done, and President Sideris and everything the Council has done to make Watertown what it is today," Reibman said.
He also thanked the Baker-Polito Administration for the support it has provided businesses during the Pandemic, including funding for small business grants and workforce training.