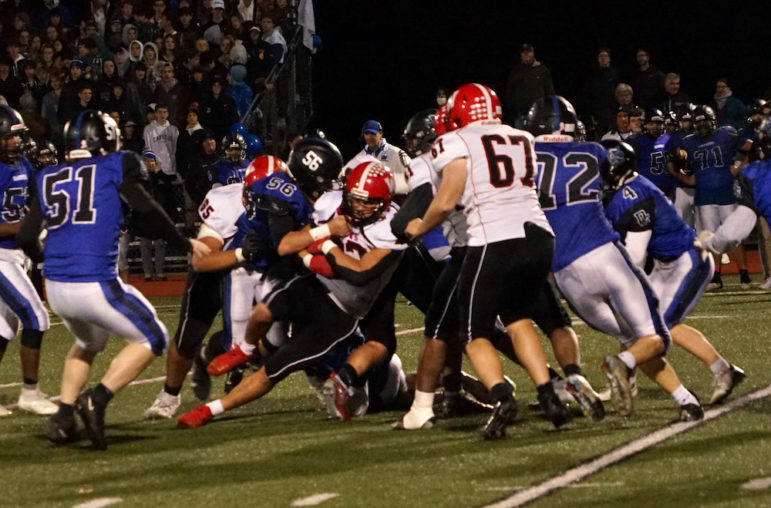 DOVER — Watertown High School's run of wins came to an end in the first round of the MIAA Div. 5 Football Playoffs, with a 21-7 loss at Dover-Sherborn.
The Raiders (5-4) held the explosive Dover-Sherborn (8-1) offense scoreless early in the game, forcing a punt on the first drive and the second ending in a missed field goal. Watertown, however, failed to get any points of its own.
"We needed to grind out some more first downs and control the ball," said Watertown Head Football Coach John Cacace. "We weren't able to."
In the second quarter, Watertown tried a trick play, with running back Mason Andrade rolling out and attempting a pass. The ball was tipped and wound up in the hands of a Dover-Sherborn player at the Watertown 46.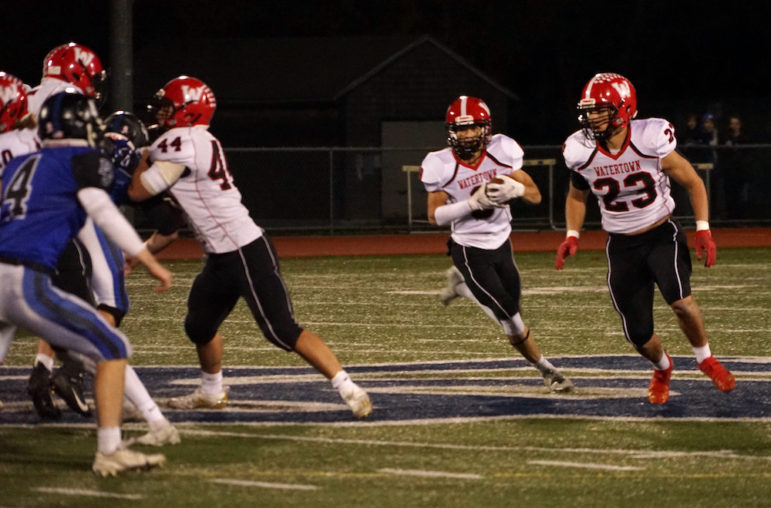 D-S quarterback Danny Sullivan connected on a 14 yard pass and then a 40-yard touchdown strike to Brian Olson to give the home team a 7-0 lead.
The next Watertown drive looked like it was off to a good start on a screen pass to Andrade that would have moved the ball over midfield, but it was called back on a penalty. The Raiders punted and Dover-Sherborn quickly moved the ball with two deep passes. Sullivan found Olson on a 7-yard pass for the second touchdown of the night. D-S went into halftime with a 14-0 lead.
"Things didn't go our way in the first half. We had three penalties that killed some drives, they hit some big plays. They really kind of stuck it to us there," Cacace said.
Dover-Sherborn came out of halftime and put another score on the board. A mix of runs and short passes set up an 11-yard Sullivan to Olson touchdown.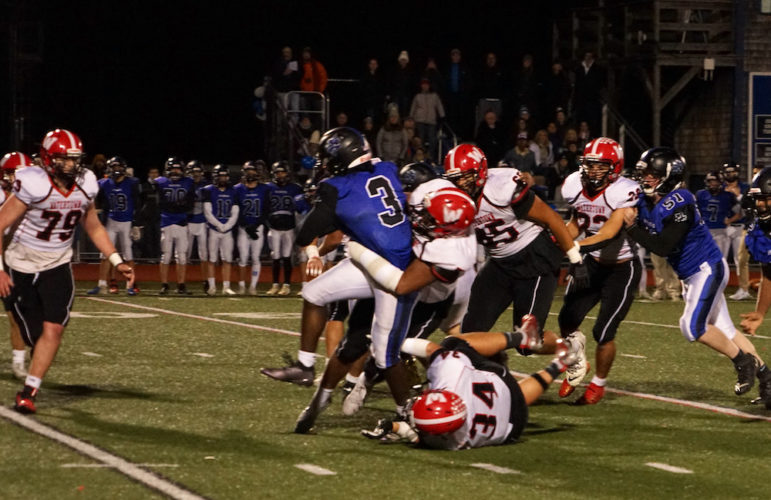 Watertown's offense got on track the next drive, which was kept alive with when the Raiders converted on 4th and 2 just past midfield. The big play of the drive was a 24 yard run by Andrade, who took the ball down to the 2 yard line.
After a penalty pushed the ball back to the 7, Andrade dragged a couple defenders into the end zone to put Watertown on the board. It was 21-7 in the third quarter.
"I'm proud of the team for coming back. That drive in the third quarter was fantastic," Cacace said. "I mean, that was Watertown football right there."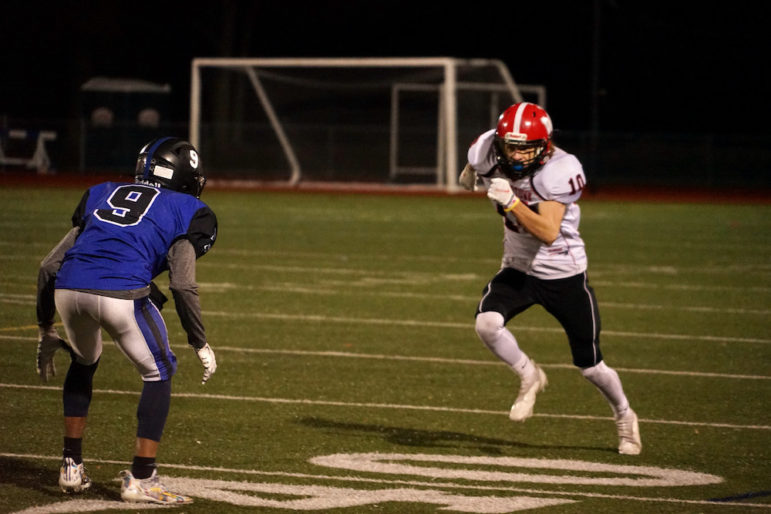 The Raiders defense held Dover-Sherborn scoreless for the rest of the game, including a stop on 4th and 5 at the Watertown 27, and an interception by Nathan Master with 5:03 left in the fourth quarter.
A Watertown drive stalled on fourth down at its own 47, and the next drive ended with an D-S interception on a deep pass. Dover-Sherborn ran the final 4:09 off the clock to claim its first ever state playoff victory.
"We were tough, but they made more plays than we did, to be honest," Cacace said. "They are a really good football team. They had a lot of team speed, they just got out there, they had tacklers and blockers and they played hard. They made more plays than we did tonight."
Watertown still has two more non-playoff games on the schedule before taking on Belmont on Thanksgiving at Victory Field.
"It's kind of the weird thing about Massachusetts football. We have this playoff system and in other states you lose a playoff game and your season is over, but we have a couple more weeks to play and be together," Cacace said.
The coach told his players to make the most of the last few weeks they have together as a team in 2021 and, for some, in their high school football career.
"This is a great senior group. I love them to death, They are great friends, they work hard and they love each other," Cacace said. "I just told them to soak up the moments because there is not a lot left. But we are going to enjoy the next few weeks and try to go out and end the season on a good note."