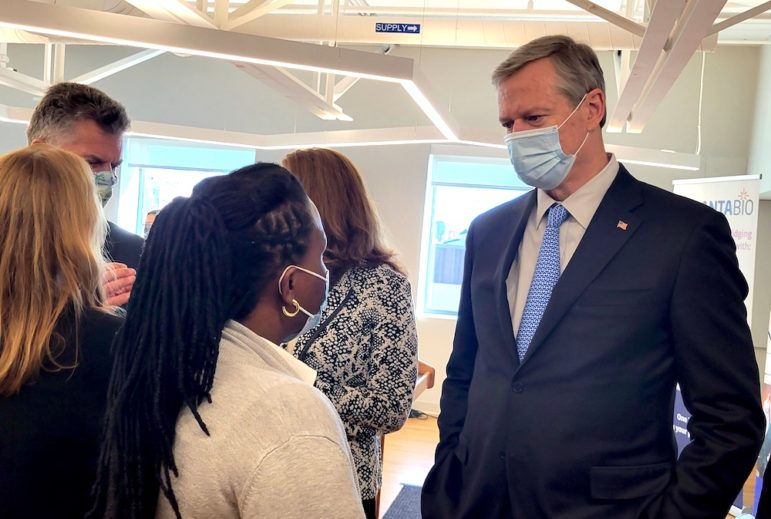 Gov. Charlie Baker visited one of Watertown's life science companies which is doing its part to train workers to participate in the creation of treatments for infectious diseases, inflammatory diseases and cancer through a new apprenticeship program partially funded by the state.
Baker visited Arranta Bio on Pleasant Street on Tuesday to celebrate National Apprenticeship Week. He was joined by, among others, Lt. Gov. Karyn Polito, Secretary of Labor and Workforce Development Rosalin Acosta, and Governor's Councilor Marilyn Petitto Devaney from Watertown.
During the event, the Baker-Polito Administration announced $2.7 million in new grant funding for 19 organizations to support apprenticeship programs across Massachusetts. One program was MassBioEd, which launched an apprenticeship program to train people to become bio manufacturing technicians and clinical trial associates.
Baker said life sciences is one of the fastest growing industries in Massachusetts, with more than 20 million sq. ft. of lab space permitted or already under construction, and the same amount in the planning. Over the next 5-10 years, 50,000 to 70,000 life science jobs will be created, he said.
"I think in some ways there is an enormous opportunity here for Massachusetts to go from one of the most important life science centers in the world to become the most important life science centers in the world," Baker said.
Before speaking to the media, Baker and others toured the lab facilities at Arranta Bio. Polito said the work being done at the Arranta Bio and other life science companies will be life saving.
"I feel, walking through your building, your facility is a very big honor. What you are doing here, as one of you described, is God's work," Polito said. "I looked into the labs and the state of the art equipment and I see in the people working on this equipment a mission and a drive to do the work that you know will help solve some of the worldwide problems that affect people's health and wellbeing, and unlock the potential to either prevent or treat, and give people the longer life they need and want and deserve."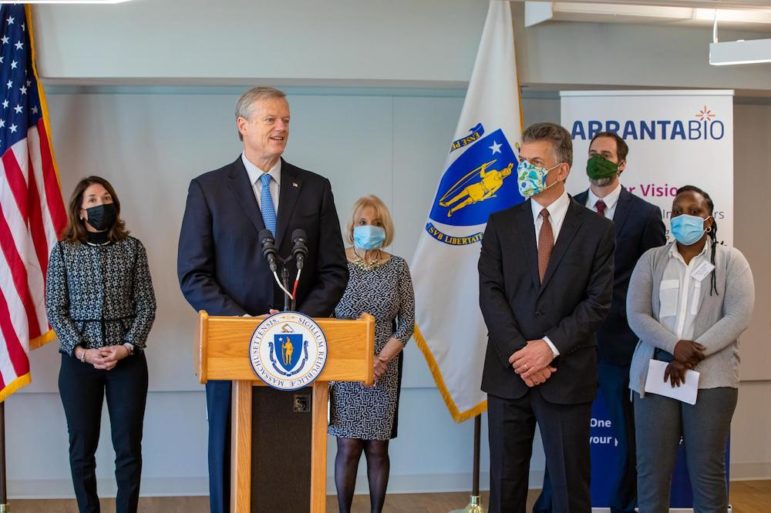 Devaney said the tour was the first time she had been inside Arrant Bio and she was impressed by all the diseases for which the company seeks to find treatments. She added that she likes the efforts being made to find people employment.
"They are working on breakthroughs for autism, cancer, diabetes, Crohn's Disease — this is amazing," Devaney said. "What I like about it is, there will be all types of jobs for apprenticeships. There will be some for college graduates, some for people who have not gone to college."
Baker presented a proclamation to Arranta Bio founder, executive chairman and CEO Mark Bamford as part of National Apprenticeship Week. Bamford said that the company will continue to support the program.
"Arranta Bio is a proud sponsor of the bio manufacturing technicians apprenticeship and we are pleased to participate in the training and career development for four apprentices this year and we have already committed to four additional apprentices for 2022," Bamford said.
The company is also working with Year Up and Flare Education in efforts to train and educate future life science employees.
MassBioEd CEO Sunny Schwartz said that the program has been embraced by companies, and has great incentives for the apprentices.
"This is the most we have seen employers invested in a pre-employment job training program," Schwartz said. "Employers are paying a substantial amount toward the cost of training, and they are also paying the apprentices a stipend while in training so they can afford to work less and study more. They extend an employment offer to apprentices before they start training so that the placement rate is 100 percent."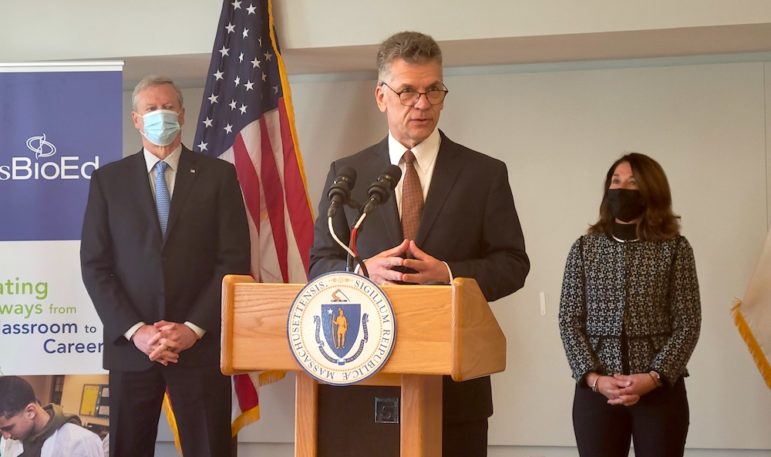 Secretary of Labor and Workforce Development Rosalin Acosta said the Baker-Polito Administration started working on the apprenticeship programs about 4.5 years ago, and they are now coming to fruition. They focused on creating apprenticeships not just in life sciences, but other industries in the innovation economy, including health care, clean energy, IT, and advanced manufacturing. When creating the program, they looked to other industries that have had success with apprenticeships.
"We were really taking a page from our friends in the trades," Acosta said. "They have been doing apprenticeship programs for years and they have been doing it so well and they bring so many people into occupations that folks hadn't even thought they could do."
The MassBioEd program had 30 apprentices in its first group, and a focus has been on those who have not had opportunities to train for a life science career. In 2022, the number of apprentices will be 80 with hopes to double that number the following year, said Marcie Laden, Director of Development and Marketing for MassBioEd.