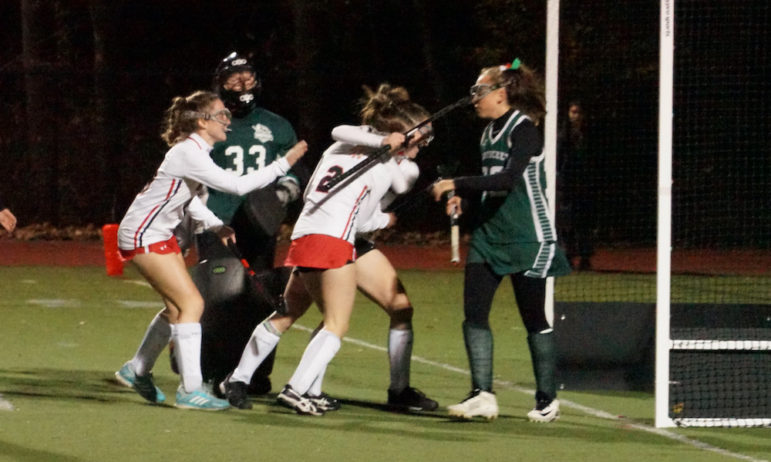 READING — The Raiders are back where they have been so many times before — the field hockey State Final — after defeating Pentucket 1-0 on Wednesday night. The trip, however, will be the first for the current Watertown players.
A goal by freshman Adrianna Williams 3:39 into the first quarter provided early breathing room for second seeded Watertown (22-0) in the MIAA Div. 3 Semifinal. The team was able to hang out the rest of the semifinal against third seeded Pentucket (19-1-1).
The goal was the third of the State Tournament for Williams.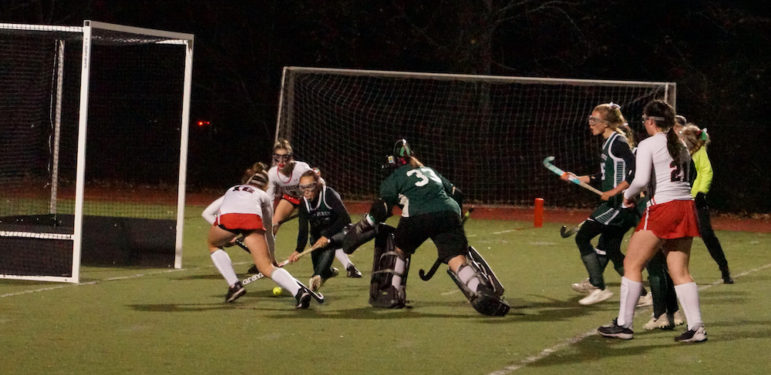 "It felt great, especially with Molly (Driscoll) there to get the cross and give it to me," Williams said. "It was just a team effort in getting it down the field. And just being able to finish — it felt great getting a goal for my team."
Pentucket had some good opportunities to score in the first half, but failed to find Watertown's net. In the third and fourth quarters, the Raiders came in waves, earning several corners, but could not convert. Watertown Head Coach Eileen Donahue said the team has some work to do, but the final outcome was what they wanted.
"More people could have worked harder out there, we agreed on that …" Donahue said. "I'm happy with the end result, with our team, and we get an opportunity to be in the final."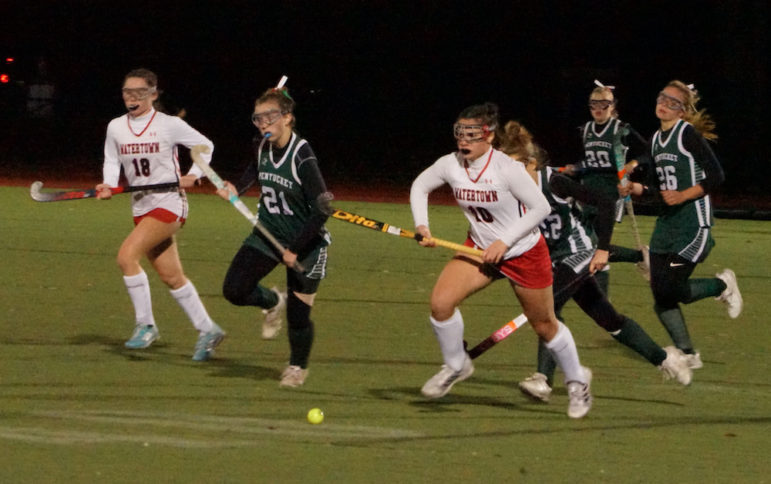 Donahue credited sophomore Molly Driscoll's "beautiful pass" with setting up the Raiders' goal, and said co-captains junior Lizzie Loftus and junior Maggie Driscoll made big contributions on Wednesday, along with senior Ellie Monahan.
"Lizzie was helping us all over the place, and Maggie as well — and Ellie making some long runs," Donahue said. "Adrianna just happened to score the goal but our team is about the team, all the extra stuff that goes on out there."
After a run of eight straight State Championships, Watertown has not made the final since 2017. Last year they did not have an opportunity because the MIAA did not hold state competitions due to COVID-19.
Even though this is the first tournament for the many freshmen and sophomores on the team, Williams said she is excited to continue the Watertown tradition making deep runs in the tournament.
"It feels great," Williams said "We have all the upperclassmen supporting us, it's great to have them."
The Raiders will face top-seeded Sandwich (18-1-2) in the State Final on Saturday, Nov. 20 at 11 a..m at Hanover High School. Sandwich defeated Swampscott 2-0 on Wednesday.