A pair of foodies have opened up their own restaurant in Watertown that serves up bold dishes from around the world which are designed to be taken out and enjoyed at home or work.
Flavor Boom! began about three months ago in a space in a commercial block on Arsenal Street, and now has a menu with 10 entrees inspired by the cooking of places like China, Spain, Indonesia, France and Thailand. Owner Jim Tao said he came up with about half of the dishes and the others were the creation of his cooking partner Harry Liao, or "Chef Harry."
He said Chef Harry is like family to him because Liao's parents are his closest friends, whom he has known since they attended graduate school at the University of Michigan together. Before starting Flavor Boom! Tao worked as a corporate executive for three decades and has lived in many places.
"I grew up in China but I came to this country 30 years ago," Tao said. "I went back to China for some time, lived in Europe — in Switzerland — for several years. Then I was in Miami for several years, I was in Milwaukee, I was here, so I was traveling around the world and one of my passions has always been about food."
Neither he nor Liao, however, have formal training in cooking.
"I'm not a trained chef at all," Tao said. "It is basically home cooking for a family and now for a bigger audience. Hopefully will be true experience people will love."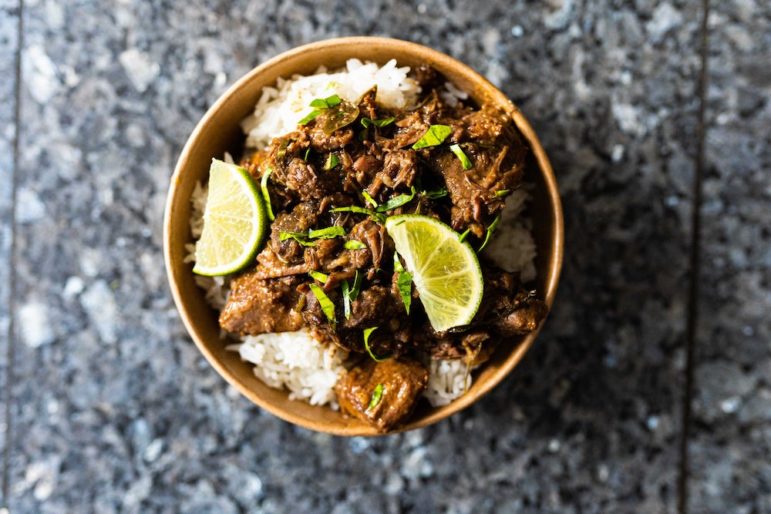 The dishes are designed to be taken out and enjoyed right away, or later on. The pair spent the first few months testing out what worked best for their vision. They tried out sandwiches, but settled on serving the dishes on steamed rice.
"What we do with this is have travel-well food that is easy to store," Tao said. "This is for take out and for home. So, I don't want you to have a sandwich that you eat half-and-hour later and it's soggy."
Some dishes include Singapore inspired Black Pepper Pork, Burgundy Braised Beef, Supernova Shrimp Curry with Thai flavors, and Farmhouse Edamame & Tofu. Tao said some have gravitated to the Garlic Paprika Pulpo.
"We had several people who continue to come back and order octopus," he said. "They say, 'If I order octopus I only have three or five restaurants in Boston where I can get it.' It's a big deal for them to go get it."
The restaurant also offers green beans on the side, and makes its own desserts, including a tiramisu cup.
Tao lives in Concord, but found the space in Watertown. He has enjoyed his time here.
"To me Watertown has the right balance of city, but is also very friendly with families," Tao said.
Flavor Boom! also seeks to feed people working at local companies, said Tao, who recently delivered 70 hot meals to a local company.
Tao hopes that Flavor Boom! becomes a regular part of people's Watertown eating rotation.
"We are very interested in bringing tasty food at a reasonable price and very fast. This is where I think people can have those," Tao said. "We have 10 items. We want them to be good enough for you and have enough variety so you hopefully, eventually, if you fall in love with us you can come back once or twice a week or a month and be part of your family style meal."
Flavor Boom! is located at 224 Arsenal St., Watertown. Find out more information at flavor-boom.com