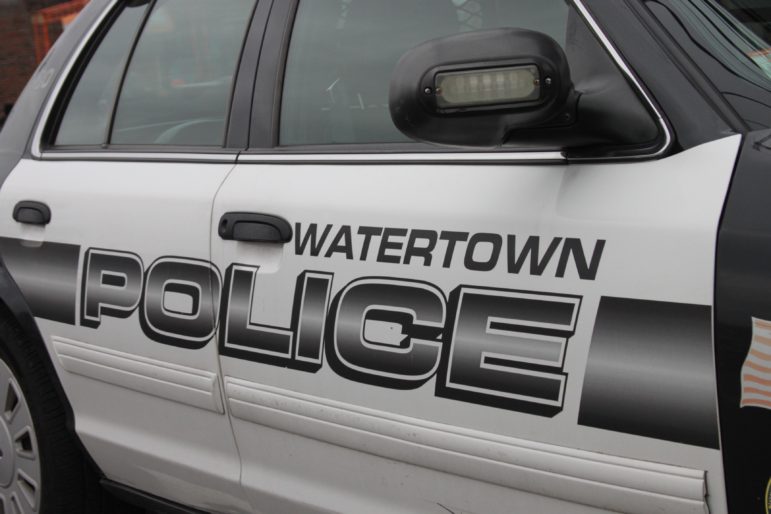 The following information was provided by the Watertown Police Department.
Arrests
None
Incidents
Nov. 23, 7:20 a.m.: A 2015 Chevy Malibu was vandalized on Morrison Road. The windshield was smashed with a blunt object, both driver-side windows were struck with a blunt object and the hood had scratches on it. A large rock found nearby is suspected to be the object used to break the windows. Police are investigating.
Nov. 23, 9:12 a.m.: A Hyper Vortex mountain bike was recovered on Edenfield Avenue. It is a red and silver, adult-sized bike.
Nov. 23, 10:30 a.m.: A bicycle was stolen from Bond Street at Arsenal Yards. The black Giant-brand bicycle has blue lettering and had been parked near the Purple Garage. The owner left it overnight and came back to find that the bike and lock were gone. It is valued at $500. Police are investigating.
Nov. 24, 10:53 p.m.: A scooter was taken from outside Target. The black Cruze Wicked 50 cc scooter had been left on the side of Target near Elm Street at 6:15 p.m. Police are investigating.
Nov. 26, 12 p.m.: A Watertown family rented out their father's car on an app called Turo. The 2016 BMW was supposed to be returned on Nov. 23 at 4 p.m. but it never came back. The person renting it provided a fake name. Police are investigating.
Nov. 26, 4:11 p.m.: A man was taking trash out of his car parked in the lot at Home Depot when another man came up and started yelling at him and pushing him. The second man thought the first one was doing something to his vehicle, which was parked in the next space. The two were separated and police spoke to both men. They said it was an understanding and would not seek charges.
Nov. 26, 9:47 p.m.: A vehicle was parked on the street at Wells and Bigelow avenues. The owner came out and found a large rock had been thrown through the rear window of the vehicle. The vehicle had only been parked there for a short time. Police are investigating.
Nov. 27, 1:30 p.m.: A person went shopping at Target for about an hour, and returned to find streaks and marks on the passenger side of the vehicle and the bumper was slightly detached. White and gray paint marks were left on the vehicle. 
Nov. 28, 2:23 p.m.: Staff at Ulta Beauty at Arsenal Yards reported a shoplifting incident. When police arrived they spoke to the manager who said she heard an alarm from the fragrance area, and saw a man walking away from that section. When staff asked if he could stay he said he had a nice day and he had to go. When the manager checked the area, a shelf had been cleared of perfume. About 24 bottles worth $2,367 were taken. The suspect is described as a white male, age 35-40, wearing a black Nike hooded sweatshirt and gray sweatpants. The manager believes he was working with a woman who was acting as a lookout. She is described as a white female, age 35-40 wearing an olive green hooded winter jacket with fur on the hood.