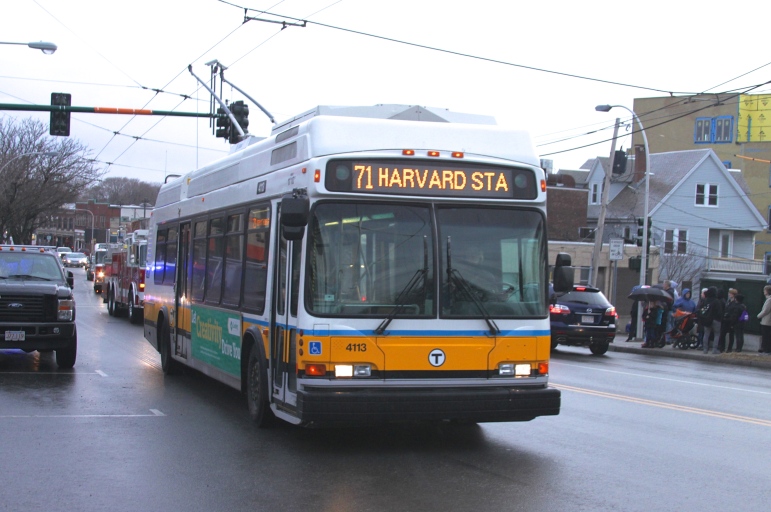 The MBTA announced changes to services beginning on Dec. 19, 2021, including decreased frequency and schedule changes for some bus lines serving Watertown.
The 70 bus line from Waltham to the Central Square area in Cambridge will have decreased frequency during weekday mornings and afternoons, Saturday afternoons, and Sunday afternoons.
The 504 express bus from Watertown Yard to Copley Square will have decrease frequency in the morning and afternoon. (The 503 express bus remains suspended).
The 57 bus from Watertown Yard to Kenmore Square and the 52 bus from Watertown Yard to Dedham, via Newton, will have weekday schedule changes throughout the day.
The MBTA sent out the following announcement about the meeting and schedule changes:
The MBTA announced that upcoming winter service schedules will take effect on Sunday, December 19, 2021. Changes to Mattapan Line and bus schedules will be made as the MBTA and other public transit agencies face a national workforce shortage in the ranks of bus and train operators. With employee attrition outpacing new hires, the T will implement schedule adjustments that reflect the level of services currently being delivered.
To counter the broader workforce shortage being experienced at the MBTA and across other transit agencies, the T has launched an aggressive recruitment campaign to attract candidates to a career at the MBTA.
The winter schedule seeks to preserve access to transit-critical communities with a special focus on maintaining service levels on routes with durable ridership, provide sufficient levels of service to returning riders like those returning to in-person school or work, and support new and changing travel patterns and behaviors. These changes are also aimed at accelerating service adjustments so that the MBTA can increase service as ridership increases, optimize service with the limited resources currently available, and provide the MBTA with the flexibility to make additional changes based on information observed and analyzed this winter.
The MBTA's Service Planning Team will hold a virtual public meeting on Wednesday, December 8, 2021, to outline these changes in detail, and to allow the public to ask questions and provide input. For full and complete listing of all upcoming service changes, please visit mbta.com/servicechanges.
"Like other transit systems across the country, the MBTA is experiencing significant challenges in attracting the workforce needed to meet demands for service," said MBTA General Manager Steve Poftak. "These service changes are not a cost-control measure. The MBTA is budgeted for a full level of service, and ready to add back services when we have hired and trained new bus and train operators. We have teams at the MBTA working to streamline the hiring process and attract new employees, and I encourage all prospective candidates to visit mbta.com/apply to learn more about the many benefits that come with a career at the T."
Subway Service Changes Effective December 19, 2021:
On the Mattapan Line, off-peak service will be increased with the frequency between trains improving from every 23 minutes to every 13 minutes in the late evenings on Saturdays and Sundays. During morning and evening weekday peak periods, schedules will be reduced to reflect actual service levels that have been in place; this will change the peak frequency from every five minutes to every seven minutes.
There will be no changes in service frequency on the Red, Orange, Blue, and Green Lines.
For complete subway service schedules, please visit each line's individual schedule page.
Bus Service Changes Effective December 19, 2021:
Due to a reduced workforce and other challenges, the MBTA is currently dropping about one of every 20 scheduled bus trips. While the MBTA continues an aggressive hiring campaign, short-term bus service changes are being made to better match its scheduled service and reliability with service actually being delivered. With special focus on maintaining service levels on routes with durable ridership, increasing scheduled service on the most crowded routes, restoring service to additional routes to accommodate new in-person school and work trips, and maintaining the flexibility to make changes to schedules as needed, a number of bus schedule changes will go into effect on December 19, 2021.
Bus routes with high ridership serving transit-critical communities continue to be prioritized. Route 111 will operate a new simplified service pattern with all service to/from Woodlawn; this will help reduce bus bunching and uneven passenger loads. The Route 62 and Route 76 will return to service on weekdays during rush hours this winter. A number of routes will operate with increased frequency, some routes will operate with less frequency, and a few routes will operate with both increased and decreased frequency depending on the time of day. There will also be changes to Silver Line 1 service.
For complete bus route schedules, please visit mbta.com/servicechanges or each route's individual schedule page.
More on the MBTA's Hiring Initiative:
The MBTA continues to aggressively hire new employees to join its dynamic workforce. It takes many people to move over a million trips a day, and the 6,500-person MBTA is redoubling efforts to hire hundreds of open positions – from train and trolley operators, to administrative and technical positions, and especially bus drivers who are in high demand to transport Massachusetts residents to work, play, and everywhere in between. Prospective candidates looking for a rewarding career where they can have a positive impact on the entire region should visit mbta.com/apply for more information on open positions and to learn about the MBTA's many benefits and incentives.
The MBTA has gone to over 20 online and in-person career fairs across the region this fall and is updating the way it hires to make it easier and faster to start a T career, including Commercial Driver's License (CDL) permit events at Registry of Motor Vehicle locations (CDL permits are encouraged in applying for bus operator positions), a revamp of the interview process, streamlining the application process, and more. The T has also launched an aggressive recruitment campaign, more than doubling the size of its Human Resources recruiting department since Labor Day 2021 with more anticipated to join soon. A Human Resources team was also recently created that is dedicated to vehicle operator hiring, especially MBTA bus operators.
The MBTA offers competitive salaries, extensive healthcare benefits, free public transit, training programs, tuition assistance, employee assistance programs, and an emphasis on diversity, equity, and inclusion. MBTA employees also receive attractive retirement plans, paid vacation, holidays, and sick time, and flexible spending accounts. Members of the public can view open positions online and visit the MBTA website for more information on insurance and other benefits.
For full information on starting a career at the T, visit mbta.com/careers. For more information on upcoming winter service schedules, visit mbta.com/servicechanges. Connect with the T on Twitter @MBTA, Facebook /TheMBTA, or Instagram @theMBTA.