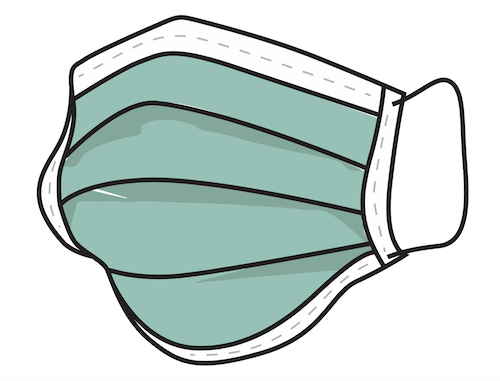 People must wear face masks or coverings in Watertown while inside after the Board of Health reinstated the indoor face covering mandate Monday night.
Health Director Larry Ramdin said cases of COVID-19 in Watertown have increased sharply since early November, and recommended the indoor face mask mandate be reinstated. The Board of Health voted unanimously to start the mandate on Dec. 21, 2021, and it will be in effect until rescinded by the Board.
"We have had an explosion of cases in Town since the 3rd of November," Ramdin said.
During the week of Nov. 3, Watertown had 54 positive cases of COVID-19, Ramdin said, and the most recent week there were 163 cases.
Board of Health member Barbara Beck said the numbers of hospitalizations have increased at a similar rate statewide. On Oct. 31, there were 531 hospitalizations due to COVID-19 in Massachusetts, and as of Dec. 21 there were 4,513.
"The hospitalizations have gone up three fold and the case positive rate has gone up three fold as well, so it is clear we are seeing an increase with the Omicron variant spreading rapidly," Beck said. "Although we recognize that (Omicron) is not necessarily more virulent, I think it is an appropriate public health measure."
The cases are also rising in Middlesex County, said Board of Health member Richard Arnold. He added that the cases are rising in the region despite the high vaccination rates.
"This variant is affecting vaccinated as well as unvaccinated, with maybe different degrees of acuity," Arnold said. "This being said I fully support the mask mandate given the current state we are in, with the understanding that as we get more data and more information in the months to come we can, as we did in the past, step back from that mandate."
The members voted 2-0 to pass the order (the third seat is vacant after the retirement of Dr. John Straus).
The order passed by the Board of Health reads, in part: "Pursuant to M.G.L. Chapter 111, Secs. 31 and 122, the Watertown Board of Health adopts a public health mandate effective December 22, 2021 at 12:01 a.m. requiring face coverings for all persons at all times when inside public spaces or private spaces open to the public." Read the whole order by clicking here.
The mandate applies to people ages 5 and over, Beck said, and there are exceptions for people with medical conditions or disabilities who are unable to wear a face covering.
The Watertown Health Department will enforce the mandate, and may impose a fine of $300.
Face masks will be required in restaurants and dining establishments except when customers are seated. In bars, people may remove their masks when seated at tables or the bar, but must wear them while standing or ordering at the bar.
At hair salons, nail salons and other personal services establishments face coverings must be worn by customers, except while having services directly on the face or beard care.
At performance venues patrons may remove their mask only to eat or drink. Performers can remove their masks if they are 25 feet or more from the audience.
The mandate also applies to gyms and fitness centers, houses of worship, transportation including ride shares and taxis, private membership clubs, and common areas and hallways in hotels and apartment complexes.
Watertown previously had an indoor mask mandate from Aug. 25 to Oct. 21.