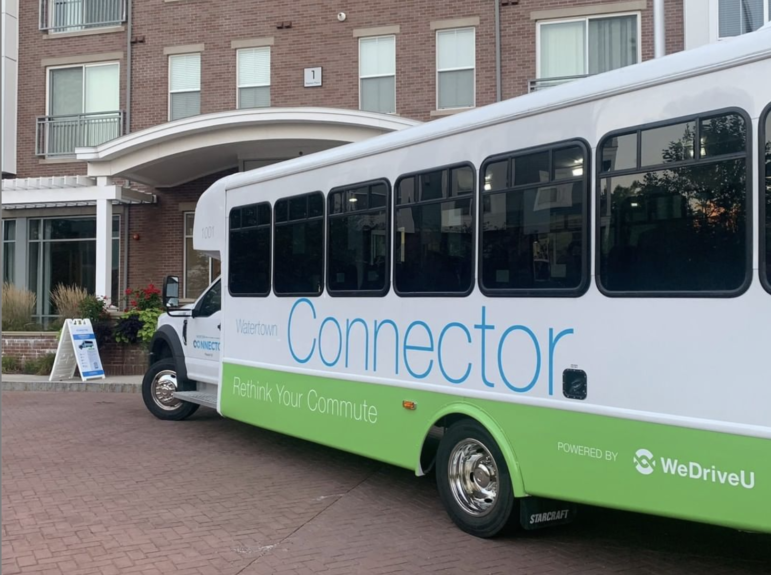 The City of Watertown wants to go green by seeking funds for two electric vehicles for the recently launched shuttle running from the Westside to Harvard Square.
The Council recently signed a letter requesting a three-year grant through the Community Connections program run by MassDOT to lease two battery-powered vehicles to replace the one gas-powered shuttle currently being operated. With two-shuttles, passenger pickups would be every half hour, instead of the current once-an-hour, said Assistant City Manager Steve Magoon.
Council President Mark Sideris said the move would be a good step toward energy efficiency.
"I'm very happy to potentially get a grant to get two electric vehicles," Sideris said. "This sends a strong message that we here in Watertown are concerned about climate change as we have done throughout the (newly constructed) schools."
Magoon said the green aspect was important, but not the only benefit of a successful grant.
"Enhanced services is one aspect of it for us. Going to electric vehicles was as much of a driver, if not the main driver, but by having two slightly smaller vehicles allow us to increase the frequency which would be good. That definitely builds ridership. Having the increased frequency is something riders would appreciate."
Council Vice President Vincent Piccirilli said that he is excited to have the possibility of running electric vehicles, and so soon.
"We have been talking about the shuttle for years and early on we talked about, could we have electric vehicles?" Piccirilli said. "Five years ago they said maybe — in 10 years maybe we could do it. I am so excited to have electric buses instead of diesel buses, and doubling the frequency is something I am extremely excited about. I think it will have a huge impact in Watertown."
The City Council also approved allocating part of the money received from rideshare businesses, such as Uber and Lyft, to go to the operator of the shuttle. Watertown received more than $65,000 in funds from Transportation Network Company Fund through a fee charged for rides originating in the city. The Council approved $37,482 to be cover a portion of the Pleasant Street shuttle operating costs.
Another $20,000 of the funds will be used to pay a portion of the operating costs of Bluebikes in Watertown. The annual cost is about $50,000.
The City is a member of the Watertown Transportation Management Association (TMA) and $8,000 of the funds to pay the City's annual dues for 2022.