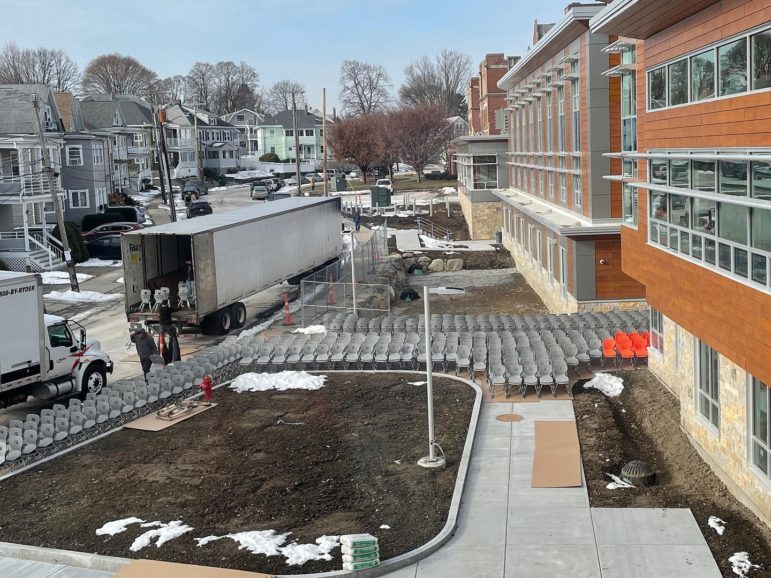 Construction will soon be complete on the new Hosmer Elementary School, and the public will get a chance to tour the new building. The school will be rededicated to the original Hosmers, along with their daughter, a renowned artist.
The ribbon cutting ceremony for the new Hosmer School will take place on Tuesday, Feb. 1 at 4 p.m., followed by tours until 7 p.m. Teachers will begin moving in that week, and the first students will move in the following Monday, Superintendent Dede Galdston told the School Committee on Monday night.
Rededication
The original school was dedicated Dr. Hiram Hosmer and his nephew Alfred, two men who served Watertown and granted the use of the land for public buildings. With the building of a new Hosmer, a pair of Watertown residents petitioned the Watertown Public Schools to include another member of the family when it is rededicated.
Ellen Cross and Lisa Capoccia asked for Harriet Hosmer, daughter of Hiram and cousin of Alfred, to be honored. They found that she had been present at the dedication of the original school building (which was located in the vicinity of the current one and has since been torn down).
"Harriet Hosmer, it turns out, is also a noteworthy Watertown native and world famous 19th century sculptor," reads the request from Cross and Capoccia. "She was not only a highly accomplished sculptor at a time when women were prohibited from attending arts education institutions, but she also developed machinery and processes for sculpture."
The Watertown Free Public Library has the largest collection of her work, according to the Historical Society of Watertown, and other works are in the collections of the Smithsonian, the Museum of Fine Arts Boston, the Art Institute in Chicago, and the Wadsworth Athenaeum in Hartford.
She is buried in Mt. Auburn Cemetery.
The Historical Society of Watertown supported the idea of including Harriet in the Hosmer dedication, saying, "It is time she is equally recognized."
On Jan. 10, the School Committee unanimously supported including Harriet in the rededication of Hosmer School along with Hiram and Alfred.
School Committee member Lily-Rayman Read thanked Capoccia and Cross for their effort and supported the idea.
"I am absolutely thrilled to support this," Rayman-Read said. "Many times certain groups are left out of our history. Women are one of those marginalized groups."
Council President Mark Sideris agreed.
"Having all this information, this should have come to light much earlier," Sideris said. "I think we are kind of righting a wrong. I do think she is deserving of the recognition here."
Moving Schools
Hosmer is not the only school moving in Watertown these days, Galdston said.
The Early Steps Preschool will move into the new Hosmer on Feb. 2 and 3, and there will be no school on Feb. 4 so teachers can get ready to welcome students on Feb. 7.
Meanwhile, students K-5 will move from the old building into the new Hosmer on Feb. 16 and 17.
The same days, Lowell School will move into a pair of swing spaces, one at the old Phillips School for grades K-1, and the former St. Jude's School in Waltham (a.k.a. Lowell West) for grades 2-5. Galdston said items from the Lowell Library and gym have already been moved.
Lowell Principal Stacy Phelan has been busy planning for how to handle splitting the school into two sites, Galdston said.
"She has been working hard to figure out where the assistant principal will go, who will be the lead teacher when the principal is not in the building, do we need two social workers, how are we going to do coaching and reading support," Galdston said. "She's got a very intriguing plan to ensure and do every we can to make sure children are being taken care of."
One way of doing this, Galdston said, is hiring a guidance counselor and a social worker using a grant awarded to the district.
Students will be bused to the interim Lowell sites, Dede said.
"Four buses of little kiddos are going to be transported," she said.
Next fall, the Phillips Building will be home to grades K-2, and students in grades 3-5 will attend class at Lowell West.
"The thought behind that is that the younger grades don't have to move too many times. They just have to move once," Galdston said.